What You Can't Miss at the Denver County Fair This Weekend Pancake breakfasts are about extreme as they sound, but when you pair one with mad genius Andrew Novick (and drop the "e"), you get Saturday's X-treme Pancake Breakfast, with a range of 80-100 toppings like cereal, SPAM, and a whole bunch of butters. It's just six bucks w/ a festival ticket
Worth the ticket price for just Sat alone is 3hrs of free microbrew sampling from 5-8p in the Kitchen Pavilion. The beer tasting is paired with a custom bike competition and live blues music. Drink up
Novick gets even more ridiculous on Sun with an X-treme Breakfast Burrito spread that includes crazy toppings like cactus, Cheez-Its, and chicharrón. It's basically as close as you'll get to heaven on earth
Thursday, August 8th Close Encounters of the Animated Kind is The Denver Film Society's salute to the art form most often enjoyed when you're sitting on the couch eating cereal. The Fest kicks off tonight, and continues through Sun, with a Phil Hartman tribute slated for Sat. Get animated
$35 gets you food and drink from 30 restaurants in Ballpark. Walk around the 'hood to scoop up eats from Amerigo, ViewHouse, Ignite, and Biker Jim's. Dinner is served
Friday, August 9th Join the folks at Oskar Blues Brewery and Cook Street School of Culinary Arts as they host a five-course beer dinner tonight at Cook Street. High five!
Saturday, August 10th If you can't travel around the world, a cheaper alternative is drinking booze from around it. The Galvanize building cafe Gather and whiskey master Robert Sickler are partnering for Whiskies of the World, a comprehensive seminar on the water of life. Drink up
Head to Uptown to party down as the neighborhood hosts an Uptown Block Party starting at 11a, with food from Taita, and food trucks like Sweet Cow and Steuben's. Party hard
Sunday, August 11th Shower off and cap off your epic week with a three-course "contemporary European prix fixe" meal for just $29 at Charcoal, and they'll show off how you'll never be able to cook as well as them. The dry-aged Black Angus filet is calling your name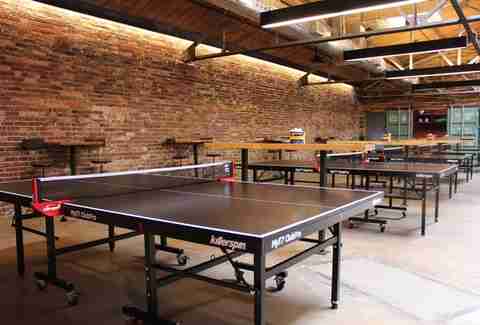 Freebie of the Week
You and a friend could soon be going balls-out at Ace. All you have to do is share this Playbook on Facebook, and we'll randomly select a winner (and a friend) to get one FREE hour of ping-pong at the ever-popular bar/restaurant from 2-10p this Sun. Share it and win, y'all.