Whether or not you've actually braved the out-the-door line, you probably know that Austin-based Torchy's Tacos is now open in the Mile High City. But did you know that Torchy's also offers seven secret menu items that come with a plethora of extras? And with seven choices, how do you know which to try first? The answer is simple: by reading this very gluttonous yet in-depth article. We ordered all seven items, and then dutifully ranked them for you. It was no easy feat.

7. Mad Cow
You know how they say first impressions are important? That is just as true for tacos. This one's at a deficit before even arriving thanks to a name that conjures up visions of deteriorating bovine brain. But we could totally get past all that if the taco itself wasn't just a mushy mess of black beans, corn, and cheese, with over-salted strips of kinda chewy meat. Not even the otherwise heavenly creamy chipotle sauce could save this one.
6. Jack of Clubs
This option may be meat-free, but it's still massive and filling as hell. So why is it ranked so low? The main component here is a fried egg -- fried over-hard, that is -- so you miss out on any delicious runny yolk action, and instead get one massive, rubbery egg-pancake situation. The fried tortilla strips save this a bit thanks to the much-needed crunch that they add, but they'll also cut the shit out of the roof of your mouth if you take one wrong bite, so beware.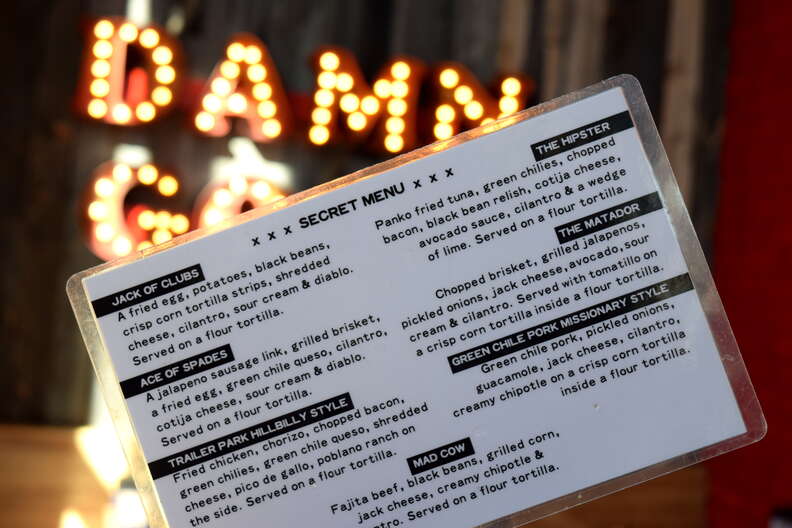 5. Ace of Spades
The staff at Torchy's Denver location say that this spicy pick is the most popular secret menu item, but we're here to tell you the hard truth: you can do better. Like many secret-menu newbies before me, I thought that something stuffed with a long list of ingredients, including a jalapeño sausage link, brisket, and three (three!) types of cheese couldn't possibly disappoint. But apparently, too much cheese really can be a thing, especially when there's a bunch of sour cream plopped into the mix. And the super salty sausage didn't help matters much, either.
4. The Matador
This one's pretty straightforward. It has tender brisket, a smoky tomatillo salsa, and all the extras, including a generous amount of avocado. It's also served on both a fried corn tortilla and a flour tortilla -- a technique which works really well on another, higher-ranking choice, though here, it just added a lot of grease. The Matador is tasty, but also forgettable.

3. The Hipster
In news that will surprise no one, two of the top three tacos on this list include bacon -- like The Hipster, which features big chunks of tuna coated in crunchy panko breading. You won't see the fried tuna anywhere on the regular menu, so this gets bonus points for including an actual secret main protein. Plus, all the ingredients here actually work to complement the main event, instead of just masking it in a sea of sauce and cheese.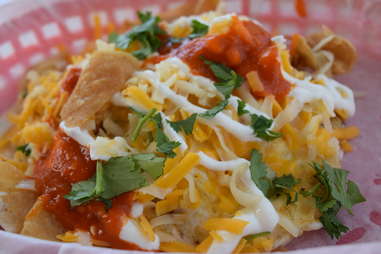 2. Trailer Park Hillbilly Style
Bacon, fried chicken, chorizo, queso... no, I'm not trying to cast some kind of food coma spell on you. That's a bit of what you'll find on the amped-up version of Torchy's perennially popular Trailer Park taco. And though I thought this was a shoo-in for the top spot, it was only almost perfect. There was a severe lack of fried chicken happening -- mine came with only one piece that filled about half the tortilla. But even with that blatant error in taco-building mastery, this choice still reigns as runner-up.
1. Missionary-Style Green Chili
I fully expected this to be tasty, but DAMN. It's a total taco masterpiece that easily took the win, with a massive amount of tender, flavor-packed green chili pork heaped onto a double layer of tortillas. The addition of the crispy corn tortilla adds a nice crunch, and is necessary to hold this behemoth together, making the added greasiness a non-issue since there's so much juicy pork to distract you. More like a mini burrito, just one makes a respectable meal. And the fact that it's doused with Torchy's gift to humanity (creamy chipotle sauce) cements its rightful place as ruler of the secret menu.
Sign up here for our daily Denver email and be the first to get all the food/drink/fun in town.
Molly Martin is a freelance writer in Denver, CO who's still recovering from this massive endeavor. Find out if she'll ever eat another taco again @mollydbu on Twitter and Instagram.