Suppose you had 24 hours left in Denver, what would you eat before leaving? With all the great things to eat in Denver, deciding on a last meal is almost impossible, unless, of course, you work for a certain site that rhymes with "illest": behold our picks for a 16-course farewell feast you'll remember long after you're gone. Also, a feast so big that if you actually ate it you'd give "gone" a whole new meaning...
Bread: Fresh bagels, pita, and pretzel rolls
Rosenberg's Bagels & Delicatessen (address and info), Phoenician Kabob (address and info), Old Major (address and info) 
Various locations
Imagine a basket overflowing with Rosenberg's everything bagels, the puffed-up pita rounds that start a meal at Phoenician Kabob, and Old Major's soft, salt-dusted pretzel knots -- all warm and straight from the oven. Then add ramekins of the scallion cream cheese, Lebanese garlic dip, and spicy mustard butter you'd get, respectively, with each.
Recommended Video
These Tacos Are Made for Dunking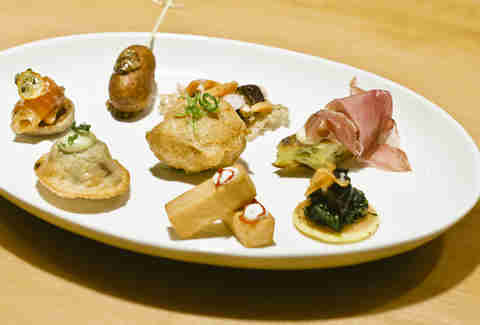 Amuse-bouches: A selection of "Each"
Lower48 Kitchen (address and info)
Ballpark
Actually, one of Denver's most startlingly original dining destinations no longer groups its smallest plates -- a couple of bites for a couple of bucks -- under the heading of "Each." But these palate-pleasers (to use the literal translation of "amuse-bouches") are still integral to the menu; in fact, chef-partner Alex Figura is a master of miniatures, be they tiny hash browns dabbed with potato salad and comeback sauce, baby twice-baked potatoes, or elegant shooters of chilled romaine-green tomato soup.
Appetizer #1: Escargot potstickers
Bones (address and info) 
Capitol Hill
Ever think, "I bet Burgundy's classic dish of snails in garlic-herb butter would be even better if you stuffed them into half-moon dumplings drenched in more butter spiked with Korean red pepper?" No? Good thing Frank Bonanno and the crew at his modern noodle bar Bones have done your thinking for you.
 
Bonus appetizer: Kaya toast
ChoLon Modern Asian Bistro (address and info) 
LoDo
Combining buttered and toasted white bread, poached eggs, and coconut jam, Lon Symensma's take on a Singaporean street snack is literally the greatest thing since sliced bread. All other things need not apply.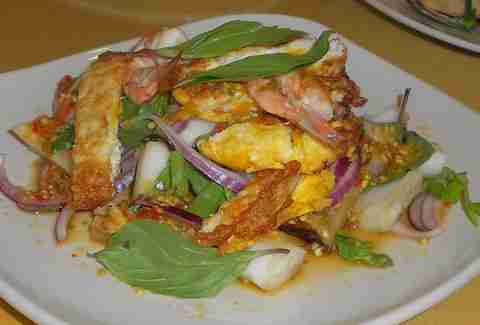 Salad: Eggplant salad
Thai Flavor (address and info)
Aurora
Chunks of velvety-soft roasted eggplant, glistening strips of pan-fried omelet, and plump chilled shrimp tossed with cabbage, red onion, and basil in a tangy-sweet, chili-laced dressing: this exhilarating mixture reminds you that the transliteration of the Thai word for salad, "yum," is funny because it's true.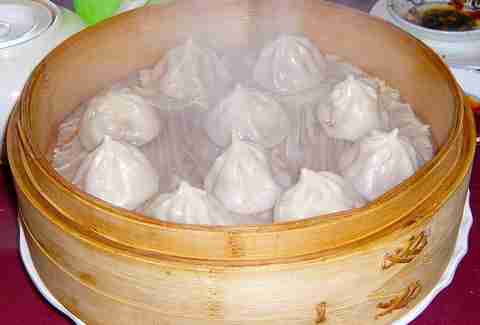 Soup: Xiao long bao
Lao Wang Noodle House (address and info)
Southwest Denver
No one said your soup had to come in a bowl, did they? The soup-filled purses of steamed dough at this beloved Taiwanese shop are so glorious they also made our Denver bucket list, which means you can kill two birds with one spoon by eating them before flying the coop.
Pasta: Pansoti in salsa di noci
Lo Stella (address and info)
Golden Triangle
Run by a Ligurian native, the Mile High City's own little slice of the Italian Riviera doesn't make a pasta that isn't goodbye dinner-worthy -- or chow that isn't ciao-worthy?! -- but this herbed ravioli with rich, creamy walnut sauce in particular will knock your boxers right off. (Which is fitting, because Europeans prefer briefs anyway.)
Seafood: Build-Your-Own Smorgasbord
Trillium (address and info)
Ballpark
From sushi bars to chowder shops, Denver's proof that, in the age of flash-freezing and overnight shipping, great seafood is as easy to come by in a mountain town as a coastal one. What's special about Trillium, though, is its mix of modern Scandinavian and quaint Great Lakes influences, which chef-owner Ryan Leinonen smartly brings together on the Light Bites section of his constantly changing menu. In addition to standards like caviar and aqvavit-cured salmon, you may at any given time score pickled herring or perch, cherrywood-smoked whitefish, and -- best of all -- cornmeal-fried smelt with lemon-vodka tartar sauce. You could only get luckier if you wound up in Finland and Michigan at the same time.  
Poultry: Cracklin' chicken
The Plimoth (address and info)
Park Hill
Regulars at this sparkling little neighborhood bistro love it for chef-owner Peter Ryan's creative restlessness, not his constancy. But he's no diva; if his crisp-skinned, juicy-fleshed skillet chicken is to him as, say, "Creep" is to Thom Yorke, he doesn't let on, insofar as it rarely disappears from the menu. And that's a good thing, because we could eat it a lot more often than we could listen to Radiohead without getting bored.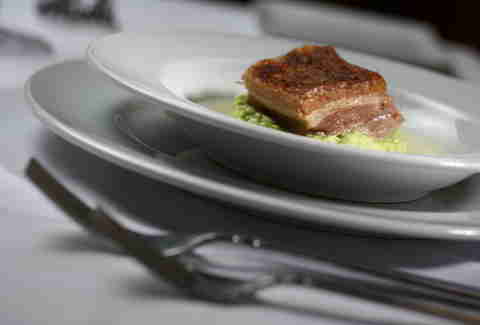 Pork: Fresh bacon
Rioja (address and info)
LoDo
If there's one dish that prompted this town's transformation into a sprawling meth lab for pig addicts, it has got to be Jennifer Jasinski's cardamom-brined and roasted pork belly over curried green-garbanzo puree. She dubs it "fresh bacon," but you might prefer "meat candy," seeing as how it resembles a petit-four in all its cubic layers of fat and caramelized sugar... and how you'll crave a second order for dessert.
Beef: Sugar steak
Bastien's Restaurant (address and info)
City Park
Not to slaughter a whole herd of sacred cattle at once, but most of Denver's dining landmarks are worth visiting only to say you've been. The top stop in our ranking of old-school chophouses is an exception to the rule, however, for the steaks it famously seasons with a blend of brown and white sugar and sears just until the interior is medium-rare, no further. Now that's some holy cow!
Lamb: Nose to tail
Colt & Gray (address and info)
LoHi
Speaking of, uh, slaughter: in their onsite meat-cutting and -curing facility, Nelson Perkins and his merry band of butchers find a way to turn every part of Colorado's patron protein, from the loin and the shank to the tongue and kidneys, into tartare, charcuterie, toasts, roasts, and other goodies even Clarice Starling might devour with a side of fava beans.
Casserole: Ddeokbokki
Funny Plus (address and info)
Aurora
Okay, there's no such thing as a casserole course -- but there's no such thing as this entire meal, either, so why start insisting on realism now? Besides, as we noted in our roundup of Denver's best fried chicken, missing this Korean strip-mall shack's rice-cake casserole would be a serious minus (heh). A mess of pork dumplings, ramen noodles, hard-cooked eggs, sliced fish cake, cabbage, and carrots as well as chewy, mildly sweet rice-flour tubes, it's served simmering with scallions and sesame seeds in a bath of gochujang sauce too fiery to remain that way for long, because you'll totally dilute it with your sweat and tears of pain and pleasure.
Side dish: Peppers five ways
Work & Class (address and info)
RiNo
Hey, it's your last meal here. May as well throw in a few more chiles for sentiment's sake, right? The beauty of this dish is that, well, a) it's beautiful, and b) it's basically a game of roulette you play with your taste buds. Since heat levels can vary wildly from peck to peck of peppers, you never know which ones might blow your tongue to smithereens: the bacon-wrapped jalapeños or the grilled shishitos, the Fresno poppers or the mixed pickles, or even the chile jam chef-partner Dana Rodriguez pairs with grilled bread. And by the time you find out, you'll be too blissed out to care.
Dessert: Baum cake
Glaze (address and info)
Congress Park
If you're thinking, "I can have cake anywhere," think again. Glaze founder Heather Alcott owns the first rotisserie oven in the United States specifically built for baking the German-Japanese sensation called baumkuchen -- and while she does ship the irresistibly sticky, concentrically layered confections out of state, seasonal flavors like orange-fennel or ginger-clove are available right here and here only. Too bad for you in your terrible new hometown.
Late-night snack: One last elk, reindeer, or pheasant link
Biker Jim's Gourmet Dogs (address and info)
Ballpark, Highlands Ranch
Come on, did you really think we'd forget Denver's own sausage king?
Sign up here for our daily Denver email and be the first to get all the food/drink/fun in town.