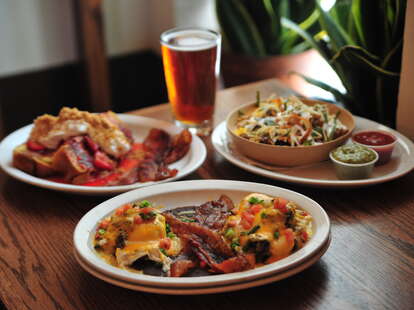 The first thing everyone thinks after waking up from a night of partying is, "I am proud of the many sound, smart decisions I made last night!" "UGHHHHHHHHHH, WHYYYYYYY???", which is immediately followed by, "I could go for brunch. And more beer." We're here to help, with what to order for brunch at five of Mile High's finest bars, along with suggested beer pairings to make your morning/early afternoon a little brighter.
Bar:Highland Tavern
The unassuming LoHi spot sports a ping pong table, a killer patio, and an incredible brunch. The move here is the Pig and Grits, a dish with twice-cooked smoked pork, buttermilk grits, and a slow poached egg. Pair it with the delightfully hoppy Ska Brewing's Modus Hoperandi IPA.
Bar:Tavern Uptown
The Tavern has a rep as a party bar, but brunch shouldn't be overlooked. And given the size of their massive chorizo burrito, overlooking their brunch is also physically impossible. It's stuffed with scrambled eggs, cheddar, chorizo, and potatoes, all smothered in green chili. Wash that beast down with Durango's Steamworks Steam Engine Lager.
Bar:The Hornet
Homemade pop tarts and pupusas are reason enough to drag your butt out of bed on a weekend. But don't sleep on their savory Bourbon Banana French Toast served with bacon and potatoes, which'll mesh nicely with Breckenridge's Agave Wheat.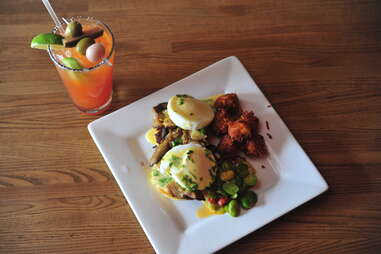 Bar:Vesper Lounge
This Gov Park bar may be small, but they dish out huge Greek and Spanish-inspired flavors. A shaved lamb benedict with mint hollandaise and housemade tots should sop up any leftover booze in your system, and is especially great paired with an Upslope michelada.
Bar:Billy's Inn
Another Highland highlight is the neighborhood watering hole where dishes like the huevos con queso potato boats (warning: these are only buoyant in gravy) are menu highlights. Two poached eggs, three cheeses, sauteed Poblano peppers/ onions, and applewood-smoked bacon pair best with a beer that won best IPA at the World Beer Cup: MAN BEER from Bull & Bush.