Ordering all 14 tacos on the menu at the bustling new Agave Taco Bar will leave no room in your stomach to enjoy any of their other delights, or life itself for 8-9hrs after -- so take our tour through their can't-miss tacos, order only the best ones, and save room for their ever-changing lineup of aguas frescas and margaritas.
Rank: 14
Taco: Quinoa Con Elote
Tasting Notes: The refried black beans, guac, queso fresco, and crema try their best to dress up the quinoa, but it doesn't quite do enough to make it worth eating. The only reason to order this is if you're a vegetarian and/ or if you have an irrational fear of awesome tacos.
Rank: 13
Taco: Lengua
Tasting Notes: The CO-sourced cow tongue is tender, but since it's flavored so blandly, there's no real reason to put another tongue in your mouth.
Rank: 12
Taco: Chicken Tingas Con Papas
Tasting Notes: The pulled chipotle chicken has a mild-yet-sweet flavor, but it's mostly muted by the crema. Like a trophy wife, the potatoes must be there to look pretty, as they didn't pack much flavor.
Rank: 11
Taco: Nopalitos
Tasting Notes: Yet another vegetarian taco left us unsatisfied, though this one featured a more exotic ingredient: cactus leaves sauteed in Mexican oregano. These green chile look-alikes are a common food in Mexico, and to our gringo palates, it's weird in a good way. And fun to chew!
Rank: 10
Taco: Arrachera
Tasting Notes: Can't go wrong with skirt steak, especially one marinated in citrus, and topped with cilantro, onion, lime, and tomatillo salsa. But while the meat itself is tender and tasty, it's sadly all we could taste.
Rank: 9
Taco: Pato Rostizado
Tasting Notes: Pulled, roasted duck with a grilled peach/ chipotle salsa and cabbage chiffonade could've been crazy good, but there wasn't anything distinct about the flavor, other than the cabbage. And a cabbagey taco is not ideal.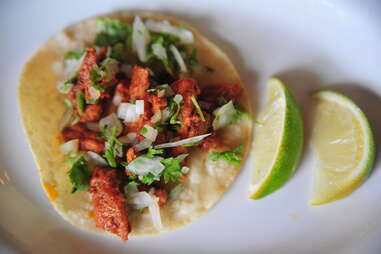 Rank: 8
Taco: Adobada
Tasting Notes: This is a simple, well-done, pork adobo taco. Cilantro lovers will find a lot to enjoy, while those who don't like cilantro never seem to want to go with you to Chipotle might wanna skip this one.
Rank: 7
Taco: Rajas Con Queso
Tasting Notes: Roasted poblano strips, Oaxaca cheese, queso fresco, corn, crema, and cabbage chiffonade all combine to offer a full-bodied flavor.
Rank: 6
Taco: Pollo Chile Relleno
Tasting Notes: The mini-chile relleno atop the chicken is the real winner here. The charred tomato salsa is not super noticeable, but the taco's solid overall.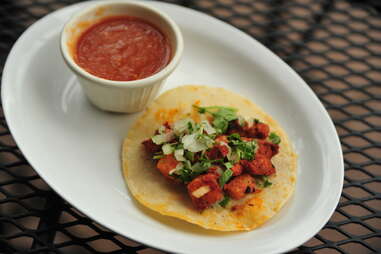 Rank: 5
Taco: Al Pastor
Tasting Notes: The tender pork holds its own against the onion, cilantro, lime, and salsa, while the caramelized pineapple adds a sweet and juicy component, like those tracksuits girls wore in 2004.
Rank: 4
Taco: Pescado
Tasting Notes: Yeah, that's a black squid ink tortilla. The fish inside it is always changing. When we ordered it, it was served with a roasted jalapeno aioli, cabbage chiffonade, and avocado-pineapple salsa that gave it a decidedly tropical feel.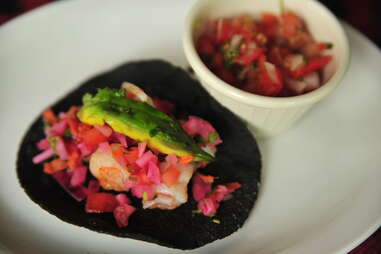 Rank: 3
Taco: Camaron Ala Parrilla
Tasting Notes: The citrus-grilled shrimp is bursting with fresh flavor (it must be locally caught!), and has a habanero finish that lingers tastily.
Rank: 2
Taco: Panza
Tasting Notes: This house-braised pork belly joint topped with an apple-cilantro slaw is an exercise in taco simplicity. The apple flavor is light, and adds a nice crunch.
Rank: 1
Taco: Carnitas
Tasting Notes: The meat is so tender it practically melts in your mouth. The avocado crema and pico de gallo are perfection. The only thing that could make this not awesome is if you'd just eaten 13 other tacos. Don't make that mistake.