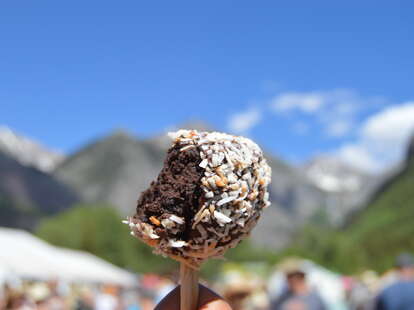 Kiran Herbert
Kiran Herbert
The Telluride Bluegrass Festival returns to... Telluride... during the Summer solstice every June, and this year marked the 41st annual celebration, full of world-class music, scenic views, and loyal Festivarians -- who tend to get hungry. Lucky for them, there's always a collection of loyal food venders, some of which have been with the festival since its inception. These are the best things we tried -- make a mental note for next Summer.
Cake Pop
The best thing about this cake pop, aside from its fudgy interior and coconut shell, is the fact that it's served straight from the icebox. When you're in the hot sun at over 8,700ft, that's an essential dessert quality. The crew that makes them (in a booth named Chicken) is also known for giving out free ones to curious writers-- errr... children. We mean children.
Dumplings
By far the most popular stand at the festival, Sisters' Pantry was named by National Geographic Traveler as one of the places you have to go if you've only got 48 hours to spend in Boulder. For those who can't make it to the brick and mortar, you can catch them at a bunch of popular Colorado festivals throughout the Summer (and they've even started selling frozen dumplings and sauces at Colorado Whole Foods and Lucky's Market in Boulder). Those bad boys pictured above are the chicken and basil dumplings, with complimentary spinach and cream cheese wontons and a spicy peanut sauce that's well worth the extra dollar.
Snappa Fish Taco
Though everything on their menu brings it, nothing beats Snappa's fish taco. It's got great value at $9 a plate -- blackened fish topped with balsamic vegetables, salad, cheese, corn salsa, and a side of chips -- and it's the only thing we ate twice over the course of four days. Note: because of the regulations set by Planet Bluegrass, the folks who put on the fest, all utensils and plates used by vendors must be 100% compostable, so you're doing something good for the world as you gorge yourself.
Flank Steak Sandwich & Corn on the Cob
This booth specializes in two things (guess which two?!) and does them right. The steak sandwich is tender and juicy and accompanied by a liberal helping of grilled peppers and onions, while the corn makes for a convenient, yet respectable delivery system for more butter and salt than you ought to be consuming.
Pulled Pork & Seasoned Fries
Bluegrass and barbecue go together as well as cajun seasoning and those fries. The sauce, made locally by Fat Alley BBQ (the actual restaurant is called Oak), has a perfect balance of sweet and tangy. Deciding between this and their fried soft-shell crab po' boy was profoundly difficult.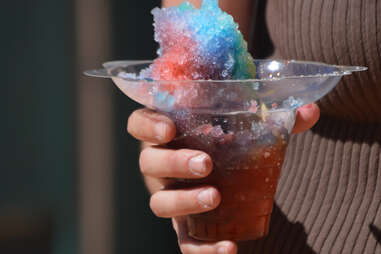 Snow Cone
Don't like snow cones? Who are you, Stalin? Seriously, are you Joseph Stalin?
Chicken & Waffles
Boneless, fried Red Bird chicken served with a Belgian waffle and topped with maple syrup and Cholula butter. Pro-tip: get it early, as it tends to sell out. After all, it's kind of breakfast-y!
The best part of eating at Telluride? The view.
Kiran Herbert is Thrillist's homepage editor and a proud Festivarian. Join her in counting down to the 42nd annual Telluride Bluegrass on Twitter.