New Mexican food: that's a well-known thing. So are Tex-Mex and Cal-Mex. Arizona-Mex is a thing if you call it Sonoran-style. But Colo-Mex cuisine? Not a thing. Not according to the omnipotent Google; or to the Oxford Encyclopedia of Food and Drink in America, whose entry for Mexican-American food doesn't give Colorado so much as a sentence; or to the University of Denver's lauded Husted Cookery Collection, where you'll find decades' worth of locally published cookbooks, but only one explicitly dedicated to Mexican food. Copyrighted in 1981, its title is, get this, Blonde Chicana Bride's Mexican Cookbook.
And yet, Spanish speakers have been here for centuries. Mexicans founded our first permanent settlements just prior to statehood. Self-identified Hispanics represent 21% of our population today. Given that context, you'd think Colo-Mex cuisine would also be, you know, athing. So why's it so hard to pinpoint? I decided to find out.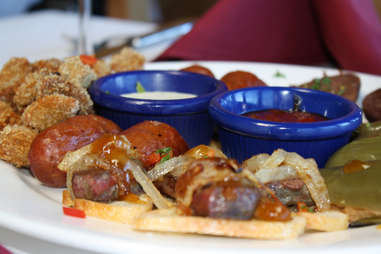 Of course racism was involved
One possible answer is that, as of the Gold Rush era, Anglos simply began to dominate in Colorado far more than they did in neighboring states to the south, and their prejudices squelched the hyphenated regional cuisine that could have flourished. Food historian and James Beard Award recipient Adrian Miller -- who tells me that one of the earliest area cookbooks he's come across in his research, from 1901, was written in Spanish -- loaned me a bunch of materials that illustrate what I mean. Think about this excerpt from a white frontiersman's journal, printed in a 1931 issue of The Colorado Magazine under the title "Diary of a Freighting Trip From Kit Carson to Trinidad in 1870":
Looked round in the morning and what piles of wagons, oxen and Mexicans. Not one word of English can they speak…These Mexicans are small, thin, dark, dirty, ragged, and generally ugly looking beings...Dined at 11 o'clock on coffee, cakes and fresh meat, cooked in a deep frying pan; each got some coffee in a tin cap and all hands sat round the frying pan and dipped their bread in the pan among the gravy, or rather water and red pepper, and picked the pieces of meat out with their not overclean hands.
Charming, isn't it? No wonder Robert Autobee -- another food historian I spoke with, whose family arrived here from Mexico in 1833 -- had trouble tracing the early history of Mexican-owned restaurants in Denver for a paper titled "No Plato Like Home: Denver's Slow-Burning Romance With Mexican Cuisine."
That history starts with chile parlors, which abounded on Larimer St at the turn of the century. According to Autobee, who quotes a 1902 newspaper article, the chile parlors' specialty was not the pork green chile we've come to love, but "a kind of soup, made from beef, beans and chile peppers" -- Tex-Mex-style chili with an "i". Miller's documents show it popping up in mountain towns like Telluride, too, where enchiladas, "hot tamales," and more were being served. But here's the thing... they were all run by people with names like Dunn and Fitzgerald and Walz. Autobee points to an ad by one Svensk Lunch that proudly proclaims itself "The White People's Restaurant." As far as English speakers were concerned, Mexican-run restaurants were "hiding in plain sight," he says. "They had no phones, they weren't listed in city directories. Advertising wasn't in these people's lives." This proved to be a smart move, since, by the 1930s, the state government was actively trying to deport them. In other words, in "an era when many Mexican families would quickly replace tortillas with white bread if someone knocked on the door at dinnertime," per Autobee, Anglos were running the show.
And all this didn't quite change until the '50s and '60s -- which means that, as Mexican restaurateurs here in Denver were finally starting to serve a larger cross section of the population, they were undermined by the sudden popularity of chains that were redefining comidamexicana as a cheap, generic, corporate commodity. Most of them were founded, of course, by gringos -- eventually including Colorado's best-known homegrown franchises, Chipotle and Qdoba.
And then we started to get a little more original
We have, first and foremost, our green chile. At its most distinctive -- as epitomized by The Original Chubby's (aka Chubby's Burger Drive In) -- it is thick as wallpaper paste and hot-damn orange, sometimes even borderline tomato-saucy. Chubby's is also famous for perfecting the Mexican hamburger: a beef patty layered with refried beans, wrapped in a tortilla, and smothered in, you guessed it, green chile. Then there are the crispy chiles rellenos found at a number of similarly long-running, crossover local establishments like La Fiesta and Patzcuaro's -- which are not made with egg batter, but rather, wonton skins. Dishes like these have long been championed by Westword founder Patricia Calhoun and her columnists (including Gustavo Arellano of "Ask a Mexican" fame) as uniquely ours, as have the deep-fried tacos with American cheese from Mexico City Lounge and El Toro (although I've come across variants at restaurants in places as far-flung as Doylestown, PA, and St Paul, MN).
Other local curiosities include the concept of "half-and-half" chile as instituted by Santiago's -- which isn't half-red, as in New Mexico, but equal parts mild and spicy. And the jalapeño cream cheese burger, which, it wasn't created here, has definitely become associated with institutions like The Cherry Cricket and My Brother's Bar. And how could we forget the open-faced Pueblo Slopper? It's arguably the ultimate Colo-Mex specialty in that it combines two of our most favored foods: beef, and homegrown chile peppers. You could even point to the "canolis" claimed by Denver red sauce staple Lechuga's, which are marinara-doused pockets of pizza dough stuffed with sausage, cheese, and, yes, green chiles, that come off like a calzone-burrito hybrid. Autobee says his own parents have been eating them for decades.
But -- and there is always a but -- do a few specialties served at a finite number of restaurants equal a regional cuisine, or are they anomalies? Could you fill a cookbook with original Colo-Mex recipes, or would you run out of ideas after a few pages? After all, even the green chile around here, ubiquitous as it may be, is served Santa Fe-style just as much as it's served Denver-style.
How to make Colo-Mex cuisine a thing
It's worth noting that similar questions are constantly being asked about Colorado cuisine in general. For instance, I've always wondered if the difficulty lies in the fact that Colorado is, in its own way, a border state, located at the cultural-geographic crossroads of the Southwest, the Great Plains, and the Rocky Mountain region.
With this in mind, I asked Holly Arnold Kinney, owner of Morrison landmark The Fort, for her thoughts. Since 1963, the replica of the 19th-century trading center Bent's Fort, built by her father Samuel, has been serving food derived from his period research. Southwestern to the core, the menu blends the same Native American, Mexican, and Anglo influences that distinguish New Mexican cuisine, but with a much heavier emphasis (shared with the legendary Buckhorn Exchange) on the likes of lamb and prime beef, game such as elk and quail, and bison in every way, shape, and form -- from roasted marrow, to braised tongue, to even raw liver.
"All of these things were being served at Bent's Fort," Kinney says, where "Mexican traders were some of the biggest buffalo hunters." Like their forebears who came here in the 1700s, they also raised sheep and goat as well as cattle, while growing crops like melons and pumpkins alongside wheat, corn, and beans of all kinds, just as the Pueblo, Hopi, and other natives did.
Why we Coloradans don't see these ingredients much in traditional Mexican restaurants today is open to speculation. But Kinney theorizes that, as the landscape shifted toward mass production of beef, corn, and wheat, the rest was relegated to specialty agriculture, which was less available and more expensive. (That's certainly true of the only recently stabilized bison population.) And to this day, thanks to Taco Bell and its ilk, most Americans still balk at spending more than a few pesos on their combo plates.
Still, you could argue that our checkered past points to a positive way forward for Colo-Mex cuisine, as do dishes like the buffalo burritos at Sam's No. 3, founded in the '20s by a Greek family; or the lamb tacos available at contemporary taquerias like Pinche and Los Chingone; or the beautiful cabrito (roast goat) and adobo lamb sausage Dana Rodriguez currently offers at Work & Class. Maybe it's hard to define because it exists in so many misunderstood manifestations. And maybe if we start taking a little more pride in, and credit for, the diversity we do have, we'll do a better job of promoting it.

Sign up here for our daily Denver email and be the first to get all the food/drink/fun in town.
"The Pueblo Slopper" is Ruth Tobias' superhero name. But you can also call her @Denveater.