Green-chile crawl: great idea. Dinner at Casa Bonita: terrible idea. Some Denver dining decisions are as easy as pie. (Pie: great idea.) Others may not be so obvious -- until the damage is already done, that is. Here are 18 mistakes you'll avoid if you know what's good for you... and your belly.
 
Recommended Video
Acquired Taste: Live Octopus With Timothy DeLaGhetto and Trevor Wallace
Eating Rocky Mountain oysters on an empty stomach
Sure, everyone should go to specialty meat mecca The Buckhorn Exchange for deep-fried bull's balls at least once. But if you're the least bit squeamish about feasting on the privates of a fellow creature, keep in mind that hunger can exacerbate nausea and start with some bread or something. Otherwise, you might yak all over your broiled yak, and that would be wack, because it's big-ticket.
 
Heading to The Big Wonderful on a full stomach
You say you're just gonna catch some rays, groove to some live music, maybe browse some cool handicrafts. But deep down, you know you're about to stuff your already-stuffed face with pulled pork, mini donuts, and whatever else the local vendors are dishing up that week... because you did the same thing last week.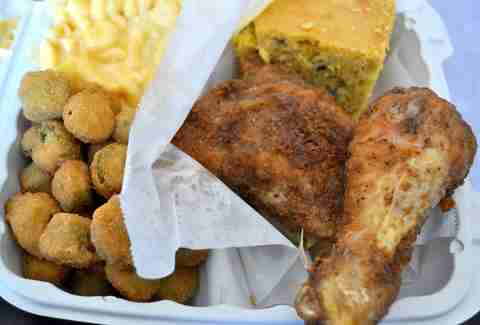 Hitting Tom's Home Cookin' at 2pm on a weekday
You snooze, you lose: if this lunch-only Southern-food fixture has anything left at all, it'll be slim pickings. And speaking of snooze...
 
Getting vanilla ice cream at Sweet Action
The flavors du jour at one of the nation's best scoop shops include cannoli, horchata, honey cornbread, black sesame, and freaking tequila-jalapeño cream cheese, and you're standing in the endless line for that?
Hitting Snooze at 10am on a weekend
Look, we love the nutty pancakes and the brutal Bloodies at this ever-expanding franchise as much as the next guy, but... wait, no we don't, because the next guy is the one who spends hours in line to get them, while we're already vacuuming up a bowl of Onefold's ham congee; knocking back some French 75s and frogs' legs at Sassafras on Capitol Hill; or washing down a meatloaf-and-egg English muffin with canned wine at Masterpiece Deli. Save Snooze for a workday, when you've got nothing to do but, you know, work.
 
Cruising the Green Mile without stopping at Maria Empanada
It'd be a crying shame to settle for Hot Pockets when you could have cured the munchies with stuffed pies like these.
Cruising East Colfax without stopping at To the Wind Bistro
Royce Oliveira and Leanne Adamson's home away from home is one-tenth the size of most restaurants, so it's easy to overlook, but it's 10 times as good as most restaurants, so it's stupid to overlook.
 
Ordering a beer at Williams & Graham
It's not that you can't; Sean Kenyon and crew pride themselves on their hospitality, and they'll serve you that IPA as graciously as they would anything else. But they've built a national reputation on the strength of their bartending skills. If your mom invited you home for a fancy steak dinner with all the trimmings, you wouldn't show up with a pizza, right? By the same token, when in a renowned cocktail bar, get a damn cocktail. Bet they could even make you one with IPA in it (and serve you a steak dinner, too).
 
Ordering a macro just about anywhere
In this town, even the saddest old-man bar is bound to carry a local craft brew or two. And though we literally just told you to do as the Romans do, sad old men on their fifth Rolling Rock are not Romans, so don't feel weird about insisting on a 90 Shilling. Or you could just go to an actually good beer bar -- one with cleaning supplies and food that's not from a vending machine -- and then do as the Romans do, because swigging a Utica Club when there's some amazing barrel-aged one-off to be had amounts to treason around here. And that's a crime the Romans punished with beheading.
Getting a table at Lower48 Kitchen, Stoic & Genuine, Acorn, D Bar, or Sugarmill
When a restaurant is really built around an open kitchen, sitting anywhere but the chef's counter is like going to see your favorite band with a blindfold on: sensational as the experience may be, a view of the action would give it a whole new flavor. And so, for that matter, would a piece of the action: with a front-row seat, you never know when the cooks might treat you to a little something special. (Of course, lots of places in town have chef's counters, but these five put on a hell of a show, à la sushi bars, where, of course, you should also sit at the counter.)
 
Filling up on generic junk food at Denver International Airport
From margaritas at Tamales by La Casita and deep-fried franks at Steve's Snappin Dogs to Root Down's bento boxes and full-on prime-rib feasts at Elway's, you can do way, way better before a flight than soggy burgers and limp fries.
Filling up on generic fast food, anywhere
Colorado has proven a laboratory for quick-casual concepts of all kinds; how cool is it that you get to be the guinea pig at Biju's Little Curry Shop, Chop Shop Casual Urban Eatery, Cart-Driver, and others instead of a regular pig at the brand-name chains?
 
Being a taco snob
Neither the unidentified lonchera parked in an alley on Federal Boulevard nor the shiniest temple of "gourmet street food" has a lock on tacos in this town. If you frequent only one or the other, you're missing out on some pretty incredible experiences. So ¡andale and broaden your horizons already!
Skipping dessert at Glaze, Guard and Grace, or Steuben's
Glaze has a full menu of savory plates, so if someone with a sweet tooth drags you here, you won't starve just because you think you don't like cake. Still, trust us, you will like the crazy, concentric-ringed, rotisserie-baked cake this cafe is known for. A lot. Meanwhile, the pastry chefs at both Troy Guard's namesake steakhouse and Josh Wolkon's mod-retro Uptown fixture are rising stars; you'd be a fool to let a little thing like a 22oz ribeye or green chile cheeseburger get in the way of sampling their creations.
 
Whining, haggling, or otherwise being that guy at Domo or El Taco de Mexico
At Gaku Homma's shrine to Japanese country cooking, decent service is a crapshoot even when you're totally agreeable, so you're only hurting yourself by requesting soy sauce, substitutions, or special treatment of any kind. And as for El Taco: it's a local institution, not Taco Bell. You know what you're really asking for when you ask for free chips or beans without lard or, for Pedro's sake, a discount? Bad karma.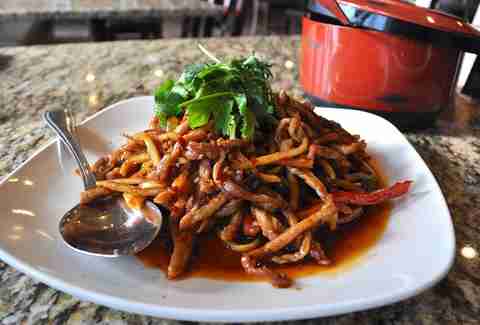 Comparing Denver's dining scene to that of any other city
Any sentence you start with "Well, I'm from New York/LA/Portland, so..." is bound to end with "Ouch!" after a native punches you in the face. From Aurora's treasure map of global culinary riches to the nationally recognized hub of hot spots that is RiNo, this city no longer has anything to prove to newcomers who'd better think -- and eat, and drink -- before they speak.
 
Not ordering the wine your server recommends at Frasca Food and Wine
Unless you're a sommelier yourself, we guarantee you don't know as much about regional Italian wine as Frasca's dishwashers, never mind the waitstaff. Just sit back and let the pros handle the pairings.
 
Mainlining a smothered burrito from The Original Chubby's after midnight
Or, wait... could this be the best decision ever? Only one way to find out.
Sign up here for our daily Denver email and be the first to get all the food/drink/fun in town.