10 things you didn't know about Better Made
If you're from Detroit, you know that sometimes you need a salty snack to go with that sweet, sweet Vernors. You also know that there's no better purveyor of said snacks than Better Made, whose chips, pretzels, and popcorn have satisfied many a Michigander craving. But still, there are probably some things about said snacks that you didn't know...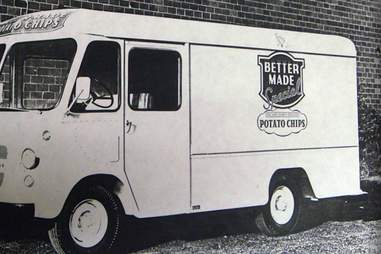 Better Made
1. They go back… WAY back.
Started in 1930, the company was originally called Peter's and Cross Inc., named after founding fathers Cross Moceri and Peter Cipriano. Both set goals to make a better potato chip (ah ha!), hence the brand name, which first came into use in 1934.
Better Made
2. They go through just a few potatoes.
Today, Better Made uses 60 million pounds of chip potatoes every year. They're purchased in bulk, weighing in at roughly 45,000 to 85,000lbs per truck load. The potatoes are unloaded from said trucks via hydraulic lift, which lifts the truck at an angle that allows the potatoes to roll out and into a metal base conveyor.
Courtney Ochab
3. They have mad flavor.
Better Made has released 22 flavors of chips (plus other snacks like chocolate covered pretzels, cheese curls, and pork rinds), ensuring that your hands are always full. And probably salty.
4. They get the Rachael Ray stamp of approval.
The salt and vinegar chips were mentioned in Everyday with Rachel Ray as the best in their category, because they "pack some serious pucker power." That kind of flavor takes more than 30 minutes to whip up.
5. They know how to celebrate an anniversary.
On their 60th anniversary, in 1990, they released special edition bags of chips with a unique flavor: ketchup. And you probably didn't even remember to get them anything!
6. When a rival stumbles, they take advantage.
In 1985 a six-week teamsters strike against Frito-Lay helped boost Better Made sales by 20 percent. Due to this increase, the company was able to make it through Michigan's bad-potato-crop-ocolypse in '86 and '87 (remember that?!) without increasing prices or cutting workers' pay, even expanding the factory twice during those years.
7. Rainbow Chips? They're Burnt Chips.
Rainbow Chips were actually burnt chips. The dark chips that had a sweet, burnt taste -- a result of the caramelizing of the sugars that occurs during frying -- were removed and rejected from most packages. Better Made collected the rejected chips and packaged them as Rainbows, but supply was limited and they were unable to meet rising demand, so now they're intentionally producing a darker chip rather than collecting their misfits for sale.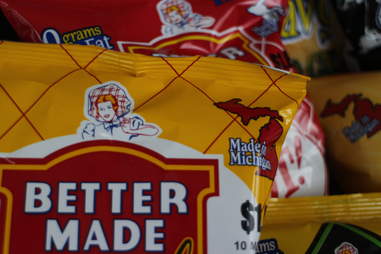 Courtney Ochab
8. The maid doesn't have a name, yet…
The maid on Better Made's package does not have a name. However, there is a future contest in the works to give her one. Helen? She looks like a Helen.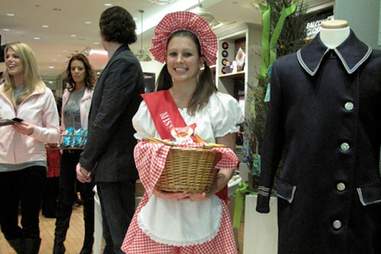 Better Made<br />
9. But she does come to life.
Lisa Papiez is Miss Better Made, who has spent the last six years bringing the character to life at grocery stores and festivals. She doesn't get unlimited supplies of free potato chips, though she does taste them all and says that while the onion flavor is her favorite, the ketchup chips are surprisingly good.
Courtney Ochab
10. They want to rub your meat.
Better Made is taking the flavoring from their Red Hot! Chips and packaging it as meat rub. Served in a 9oz bottle, it contains brown sugar, turbinado sugar, paprika, dehydrated garlic, salt, onion powder, and mustard flour -- it has the flavor profile of sweet BBQ with a subtle hint of paprika.