Here's the deal: Michigan is one big, forest-covered, lake-havin', peninsula-lookin' state. And although we at Thrillist Detroit like to keep our focus on Michigan's largest city most of the time, there's a whole slew of eateries out there worthy of praise, celebration, and loose-fitting pants. So here they are, in our look at the Mitten's 15 best restaurants outside of the D.
The Root Restaurant & Bar (info and address)
White Lake
When they aren't busy with Jimmy Fallon (What? Different guys? Moving on...) The Root rolls with the Michigan seasons to create culinary masterpieces like Michigan pork shoulder with coffee and cherry mustard, and the roasted Michigan beet salad with Michigan honey. Everything on the menu (as you may have noticed) comes from local farmers, butchers, brewers, and the like, so it's no surprise it's one of the state's best -- this state has lots of great stuff.
Recommended Video
This Burger Has a Pizza Bun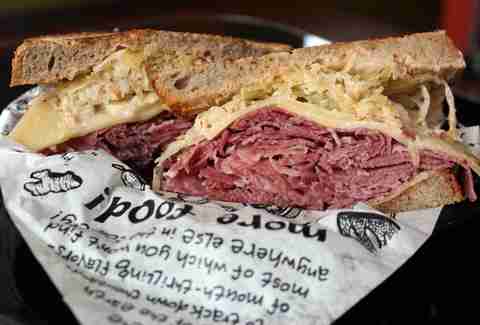 Zingerman's Delicatessan (info and address)
Ann Arbor
This is where President Obama comes to eat whenever he's in town. It's also where you spend $14 on a sandwich and say, "yep, that was completely worth it" -- particularly if you get the Reuben (which Mr. President deemed "killer"), or the Detroit St BBQ chicken sandwich, or the Cuban Conundrum. Deemed one of America's best college sandwich shops by leading authorities (even though Ann Arbor already knew that), Zingerman's also excels at making everything from coffee and cheese to ice cream and chocolate.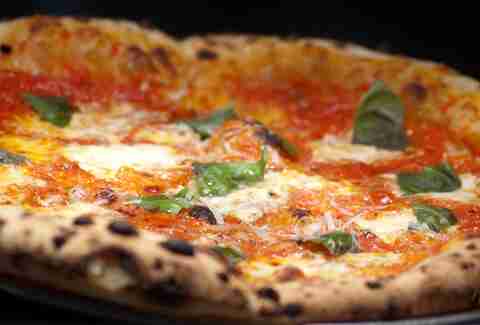 Mani Osteria and Bar (info and address)
Ann Arbor
At Mani, you get the best of both worlds. There's the traditional Italian fare like the calamari or the gnocchi with braised veal, and then there's the eclectic, inventive Italian, like the red onion and pistachio pizza, which, like all of their pies, is baked in their wood-fired Mugnaini Pizza oven. Visitors have included Chefs Bobby Flay and Mario Batali, and the owner, Adam Baru, has worked under two other Iron Chefs… so yeah, he knows what he's doing.
Sidetrack Bar and Grill (info and address)
Ypsilanti
Right alongside the rails in Depot Town, Sidetrack boasts some of the best burgers, chili, beer-battered pickles -- and various other glorious unhealthiness -- in the state. They've garnered attention from no less an authority than Oprah. They always have a fine selection of craft beers (both in and out of state) and (if you must) a satisfying selection of vegetarian options as well.
Toast (info and address)
Birmingham
Toast embraces variety, and although the Birmingham culinary crowd isn't always the easiest to please, the gourmet selection of eggs, sweets, sandwiches, and cocktails has made Toast a top spot for any meal of the day in the metro area. It's a combination of big-city feel, homey vibes, and familiar-yet-fancy eats ranging from Cider Mill donut holes to agnolotti with braised beef cheeks and roasted chestnuts.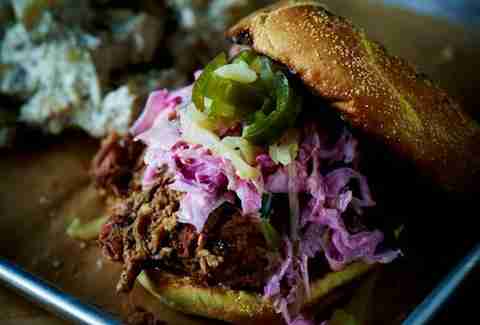 Union Woodshop (info and address)
Clarkston
If you're looking for BBQ in Metro Detroit, what you're really looking for is Union Woodshop. Their slow-smoked ribs, wood-fired pizzas, and Vermont/Pinconning cheddar Mac and Cheese have gained reputations as some of the best in the land. Kid Rock is a big fan of this place, and if he likes it, you know it's good… right? RIGHT?!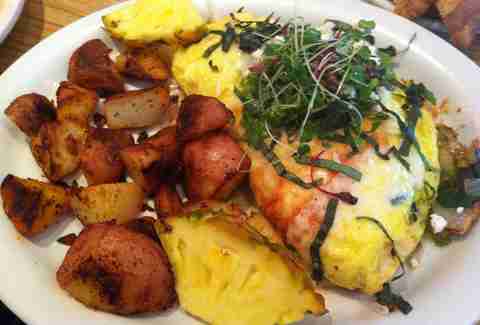 Golden Harvest (info and address)
Lansing
The breakfasts here are powerful. Like, wait-in-line-for-an-hour-in-the-rain kind of powerful. Beneath the skull and knife/fork Jolly Roger flag there's one cook, one waitress, blaring music, and about 34 seats. You can get the Sexy Omelette, Cap'n Crunch French Toast, and a whole slew of sweet and savory breakfast combos.
Food Dance (info and address)
Kalamazoo
Food Dance has been into the whole eat local/seasonal, farm-to-table thing from the get go, and their foresight and creativity show in their menu selection. Aside from award-winning breakfasts and burgers, standouts include the curry-dusted popcorn chickpeas, the French Twist sandwich with turkey, Brie, apple chutney, and avocado, and the Ultimate Mac & Cheese with bacon, spinach, and caramelized onions in an aged cheddar sauce.
Grove (info and address)
Grand Rapids
There're a lot of good eats and drinks on the West side of the state, but there might not be a better spot than Grove, which partners with over a dozen local farms for fresh fish, chicken, lamb, beef, and more. The menu is inspired by Polish, German, South American, and Latin cuisines, and although you never really know what's going to come out of their kitchen, you know you're going to like it and want more of it.
The Green Well (info and address)
Grand Rapids
If you're in Grand Rapids, chances are you're there to both eat AND drink. Arguably, the best place to do that is at The Green Well, where there's an extensive and Michigan-centric beer list, along with several beer-inspired dinners like the Michigan Stout-Braised Beef or the Michigan Beer-Steamed Mussels. The people here are friendly to begin with but all that beer and beer-infused food doesn't hurt, either.
Marie Catrib's (info and address)
Grand Rapids
In Grand Rapids, Marie Catrib's is what to do for breakfast, lunch, and the meal in between. It's a warm, friendly family restaurant (though it means a lot more than that to a lot of people) that serves up incredible Turkish coffee, hearty breakfast plates like the Rock the Hash-Bah, and all kinds of vegetarian, vegan, and earth-friendly fare for the enviro-conscious.
Trattoria Stella (info and address)
Traverse City
In the cellar of Traverse City's former mental asylum is some insanely (!) good food. The Italian-focused menu changes daily according to what's fresh, what's local, and what's in season. The bruschetta with Traverse City cherries makes for an addictive appetizer, and the beef, pork, and cheeses from nearby farms are spectacular no matter how they're served. The wine list, complete with some of Traverse City's finest, makes this a must for anyone visiting the area.
The Cooks' House (info and address)
Traverse City
Over the years, Traverse City has evolved into one of the culinary capitals of Michigan. Bon Appétit has given it a shout out as one of the top five foodie towns in America, and Mario Batali (there he is again!) freaking loves it there. His favorite restaurant in T.C. -- The Cooks' House. They're all about local, sustainable cuisine and so their menu features regional specialties like walleye, whitefish, and roasted rabbit with honey, chocolate, Michigan hops, and steel-cut oats.
Brown's Fisheries Fish House (info and address)
Paradise
Every morning, the folks at Brown's go fishing. If they don't catch anything, they don't open. When they run out of fish to fry, they close. But they ought to add at least two more "F"s to their title at Brown's -- Fresh and Famous -- because the whitefish or perch you're eating was likely swimming in Lake Superior that day, and people come from miles around for a taste. If you get there on a good day, get the whitefish basket, the smoked fish dip, the fish chowder, or all of the above.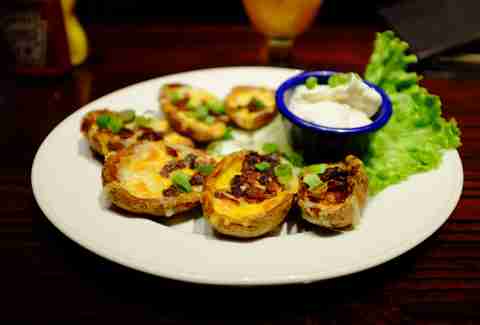 The Stonehouse (info and address)
Escanaba
Where else can you get a Monte Cristo, a rack of lamb with cracked whole grain mustard, 'tater skins, and steak au poivre all under one roof? Only at The Stonehouse. The restaurant is white tablecloth, but the bar is decidedly lounge-like. It's a seamless blend of fine dining and casual, and the combo makes it perhaps the most beloved restaurant in the entire UP.