Everyone knows Ann Arbor is famous for… waitforit!... trees. Just kidding! Obviously, it's The Big House, Jim Harbaugh's khakis, and being one of America's best college towns to eat and drink in -- at least according to some lifestyle site that rhymes with "illest." But if that's not enough to convince you, our list of the 16 most important restaurants in Ann Arbor totally should...
 
341 E Liberty St
About an hour after MO opened in 2011, owner Adam Baru's ascent on the city's dining scene began its meteoric takeoff. He's now on the verge of opening his third restaurant in Ann Arbor, but Mani Osteria still holds it down as the favorite Italian café in town. The menu is stripped down, but still full of everything from artfully curated small plates like charcuterie and cheese, to a handful of salads, and three or four wonderfully burly Italian sandwiches, to pasta that is made fresh daily. There are also wood-fired pizzas in flavors like wild mushrooms and ham with a garlic cream sauce; pepperoni/sausage/ham-meatball; and about a dozen more in between, all with perfectly crisped crust.
Recommended Video
This Mojito Hot Toddy Is the Destroyer of Colds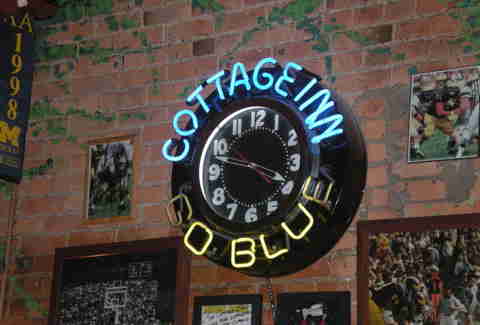 512 E. William St
There are plenty of pie-slingers any way you turn. But in a city like Ann Arbor, with its 43,000-plus University of Michigan students (not to mention the approximately 111,000 people who cram into the football stadium on Saturdays), the Original Cottage Inn pizza stands above the rest. Opened in 1948, it was the first establishment to serve pizza in the city. It will also more than likely be the last, thanks to traditional deep-dish Sicilian and hand-tossed pies that have made this rustic, brick-heavy spot a go-to 'za spot for generations. Oh, and while OCI excels at the pizza game, its menu is strewn with Italian and Greek offerings. 
422 Detroit St
Zingerman's is applauded globally for its constant dedication to excellence, so there is no better deli or sandwich option than ZD's, not just in Ann Arbor, but in the Midwest. The line can be long, but the custom sandwiches, like the BLT w/ Arkansas peppered bacon on grilled farm bread, and everything else from corned beef to fish, make this place worth the wait. And if they didn't, there's everything else behind the counter: loaves to go, sliced meats and cheeses, and cold Thai noodles, plus hard-to-find condiments and rich desserts.
112 W Washington St
We could simply type "crepes!" and then, in the media equivalent of a mic drop, boldly stop writing about this AM-eats destination, but then we couldn't tell you that in addition to ultra-thin pancakes stuffed with both sweet and savory ingredients (the Complete w/ ham, eggs, Havarti and crème fraiche; the Normandie w/ sautéed apples, walnuts, cranberries, a honey and Chantilly crème drizzle, and powdered sugar; etc.), CZ also has… uh, never mind. Crepes!
608 E Liberty St
Sometimes, the food makes the restaurant. In other instances, the chef's name can carry a place. At Ann Arbor's best Japanese fusion house, it's both. Chef Takashi Yagihashi (the very man who opened the legendary dining room Tribute in Farmington Hills, among numerous other popular restaurant holdings) deftly jells Far Eastern traditionalism with Japanese comfort food. Spicy homemade ramen; cold and hot small plates; sashimi, nigiri and maki rolls; and fun, funky experiences like the yellowtail tartare tacos make for fantastic, flavorful fare.
609 E. William St
In a burger landscape where everyone seems to want to outdo the other (here, let me top that grass-fed patty with some fried quail egg and foie gras), Hunter House rests comfortably atop the hamburger hill. The sliders are legendary, but the restaurant's back story is just as juicy. Opened since 1952 in Detroit's northern suburb of Birmingham, Hunter House has appeared regularly in everyone's "best of" lists when it comes to burgers. But back to the sliders: they're covered with sautéed onions, come with locally made buns, and are the perfect combination of beef, cheese and grease. Oh, and if that's not vein-clogging enough for you, there's always the chicken and waffle slider -- perfectly fried bird, sandwiched between two lattice pieces of house-made waffle.
 
30 S Ashley St
Steak and eggs at 4am? Pancakes at noon? The FD is your place. With all-breakfast fare all hours of day and night, this iconic diner is a cornerstone of the city's restaurant scene. Served swiftly and with much care, Fleetwood's omelets (we prefer the Gyro, with meat, tomatoes, onions, and feta), and Hippie Hash are so good this spot's long-ass formica countertop should end up in the Smithsonian.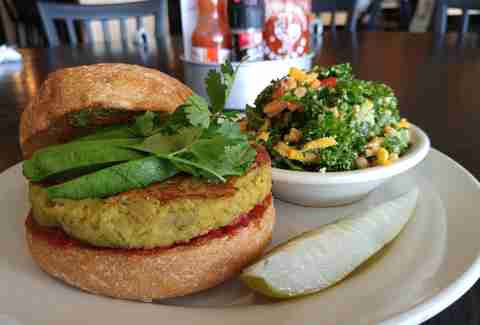 Best vegetarian: Seva
2541 Jackson Ave
One of the best vegetarian dining rooms in Ann Arbor, if not metro Detroit, Seva has great range -- dishes like Gouda tater tots, Thai salad, sweet potato enchiladas, hearty portobello burgers (we prefer the spicy mayo), grilled pesto pizza sandwiches, and baked mac and cheese challenge diners to select among numerously tempting options. The full bar, with its distinct lineup of custom cocktails, completes a comprehensive dining experience.
Best place to eat when your parents are paying: The Earle
121 W Washington St
If the parents (or anyone else) are picking up the tab, gently steer them to The Earle for one of Ann Arbor's finest fine-dining experiences: dark and dimly lit, with jazz tones hanging in the air, it offers can't-miss options like beef tenderloin with Roquefort, as well as sautéed duck breasts, and has the kind of wine list anyone… err, OK probably just your parents, will appreciate. There is a dress code, so ditch the hoodie (or better yet, throw it in the wash) and grab something with a collar.
 
Best happy hour: Ashley's
388 S State St
It's not that it has a head-turning happy hour, rather, Ashley's delivers everything perfectly. The prices hit for average here -- $3 select Founders pints, $4 well drinks, discounted appetizers (some, not all) and $1 off wine -- but with 60-plus taps representing the elite of Michigan brewers, and a cunning menu (spicy waffle fries topped with Stilton, anyone?), the 3-6pm slot on your calendar now has a considerably nicer look.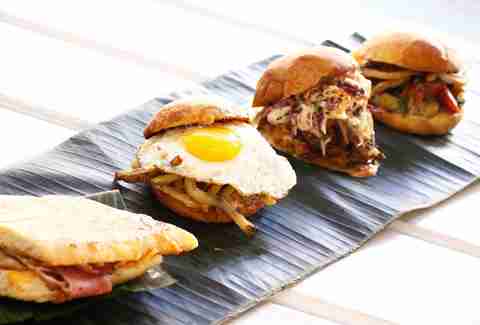 117 W Washington St
OK, so the name sounds like a children's book, but that's where the games end. Diners are greeted with a fun and imaginative Cuban-inspired menu that's highlighted by a selection of fritas (aka, Cuban burgers), made with chicken, black beans, fish, or beef topped with your choice of anything from bacon and egg to avocado spread, and best eaten with a fruity "Batido" milkshake inspired by the tropics and a side of crisped plantains.
114 E Washington St
ABC was one of the first brewpubs on the scene, opening in 1995, and there are still upwards of 20 house-crafted taps waiting for discerning hop heads in this spacious, yet cozy brew house. A raging food menu accompanies, inviting visitors to stuff themselves with meatloaf with a stout gravy, mushroom pierogies, or dozens of other high-quality appetizers and entrees.
 
1201 S University Ave
In its funky, colorful, well-lit dining room, China Gate slings unapologetically Americanized versions of Chinese classics. Lots of them. Like 140 of them. But fear not, because your favorite Chinese mainstay dish will be crafted expertly no matter what you pick. Even better: lunch combos are gleefully economical (less than $9).
Washington St, between First and Ashley
A recurring collective of popular food trucks parked in a small Downtown courtyard makes for the finest midday meal and a sacred ground of culinary diversity. It leans towards fresh and ethnically wide-ranging fare, done with swiftness. You can get Indian street food from one truck, authentic Chinese dumplings from another, and garlic prawns and empanadas 10ft away at yet a different truck. Typically six trucks total. Oh, and there's a beer garden adjacent to the courtyard. So, that's lunch.
 
Best place to take a date: Dominick's
812 Monroe St
The captivating outdoor fountain, the open air, the sangria. The stately and stunning University of Michigan law library across the street. All of that, and a couple of Mason jars filled with Dom's signature sangria, and you've just set the table for the perfect date spot. The long rows of communal picnic tables might not be as romantic as a dark booth, but Dom's outdoor patio and vast upper decks (there's a nice view of Ann Arbor up there) cancel any impediments, while creative apps -- including mac and cheese bites, spring rolls, and chicken wings -- don't hurt either.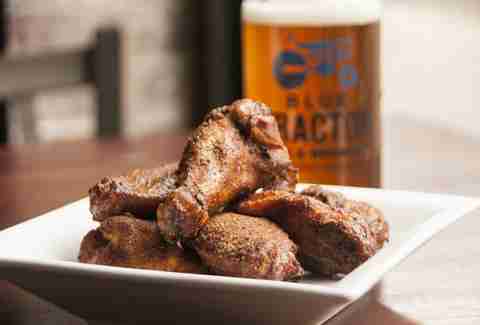 Best place for bourbon. And BBQ. And beer: Blue Tractor
207 E Washington
Blue Tractor has assembled a choice menu that combines what we all love: smoky food, majestic bourbons, and great beer. Much of it comes from the cellar, aka Mash, a sub-level extension of Blue Tractor where all the beer is made, the bourbons/ryes/whiskeys (all major high-end labels) sit, and oftentimes, there's a little live music too. When it's time to eat, go for the Thai BBQ salmon, Carolina pulled pork, or the a decadent mac and cheese. Failing that, try the Carnivore, a massive half-pound beef burger topped with pulled pork, bacon, cheddar, and fried jalapeño chips. But no matter what you get, wash it down with one of the aforementioned beers or one of BT's can't-miss cocktails.
Sign up here for our daily Detroit email and be the first to get all the food/drink/fun Motor City has to offer.
John Horn is a Detroit-based journalist and freelance writer, who can't decide between bourbon, BBQ, and beer, either. Find his work at johnqjournalist.com.