Ah, breakfast: the most important meal of the day. Aside from its nutritional importance (waffles are nutritious, right?), it's the only meal where you can eat meat and potatoes alongside pastries without the judgmental stares. It's also one of the few things aside from coffee that make early mornings bearable.
From simple diner omelettes to designer waffles, it's hard to go wrong with breakfast foods, making a truly great breakfast something to be remembered. Start your day out right at one of the 13 best breakfast joints around metro Detroit.
Downtown
Since 2014, this Downtown hotspot has been dishing out delicious and unique breakfasts seven days a week. (Take that, weekend brunch spots!) The location features a variety of eggs Benedicts, omelettes, potato hashes, and breakfast sandwiches, utilizing prime ingredients like house-confit duck legs and house-made sausages. If you're feeling sweet, try the malted Belgian waffle for a simple yet interesting twist on the breakfast classic that would make even Leslie Knope proud. Healthier options like fresh steel cut oatmeal and yogurt parfaits are also available, but in light of the rest of the menu, are hard to justify.
Birmingham
Three words: Breakfast. Fried. Rice. Yes, it's a real thing, and not just when you're slamming leftovers in the morning. For the bacon-fried rice, Toast pairs jasmine rice, bacon, a sunny-side-up egg, avocado, pickled vegetables, and onion strings for a wonderfully salty and filling morning entree. Of course, given the name, you can also expect top-notch French toast, like the B-Street, made with cinnamon challah, candied bacon, banana, and drizzled with a bourbon sauce. Savory or sweet: It's you're choice, but regardless, you might need a nap.
Eastside Detroit
Confidently self-named the "ultimate diner," Rose's dishes out homestyle breakfasts made from scratch using local ingredients. Favorites include Grandpa Richard's pancakes, described as, "Northern Michigan flapjacks at their finest," and served with Michigan-made maple syrup and house-churned butter. Celiacs never fear, you're covered. The Lucy's buckwheat pancakes are gluten-free and just as delicious. Eat up and feel good about your meal. Rose's not only pays their employees a living wage, but tips are also split between front of the house and the kitchen, with a portion donated to a staff-selected, Detroit-based charity each month. Philanthropy, pancakes: It doesn't get much better.
Eastpointe
No, that's not a spelling mistake. It's one of Eastpointe's best-kept secrets. You can probably safely guess the star of the menu here. From pancake-house originals to international selections, there's a hot cake for every palate. Aside from the old-fashioned pancakes, with options like chocolate chip, apple, and banana, the spot features crepes, hefty potato pancakes, and Palestine pancakes, thin and lacy, stuffed with sour cream. And while the cakes take center stage, you can always opt for other breakfast staples like French toast, waffles, and massive egg skillets. Prices for almost every dish are beyond reasonable.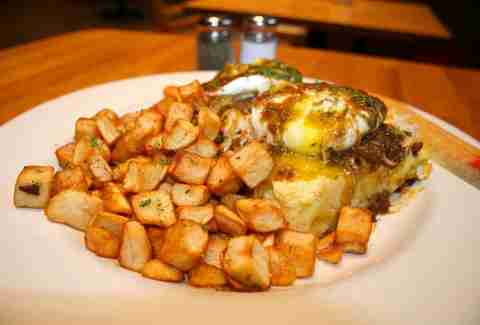 Downtown
We'll be the first to admit -- technically the Hudson serves brunch. However, with weekend hours starting at 8am, it's fairly safe to call the selections breakfast. Options are seemingly endless, with the massive menu devoted strictly to items like waffles, omelettes, and eggs Benedict. It's also one of the few places featuring multiple vegan and gluten-free options for those with dietary restrictions. Specialty items like the Thanksgiving omelette, stuffed with turkey sausage, spinach, cranberries, and Swiss cheese are warm and filling, perfect for the season.
Eastern Market
Gyro omelettes are a breakfast staple in the Southeast Michigan as much as the Coney Islands themselves. Still, there's something special about Zeff's, graciously stuffing the omelettes with feta, tender meat, and onions. Other favorites, like massive portions of corned beef and pastrami hash fresh from the market or hefty steak and eggs, are always a safe bet. It stands by the fact that you won't be disappointed.
Downtown
Headed by husband-and-wife team Jason Yates and Deveri Gifford, Brooklyn Street Local features delicious and inexpensive breakfast items, using organic and locally sourced ingredients. Everything on the breakfast menu, other than the totally-worth-it eggs Benedict, is under $10. Specials change daily, with recent favorites including an omelette stuffed with smoked pork loin, lovage, and Parmesan cheese.
Eastern Market
Right outside of the main market, Louie's isn't kidding around when it advertises those giant omelettes. The crown jewel of the breakfast menu is easily the homemade corned beef hash, a salty-soulmate for sunny-side-up eggs. Portions are big enough to share, with most plates on the extensive breakfast menu less than $10. Rough morning? No worries. Louie's has a drive-thru window for carry out.
Corktown
This tiny French cafe tucked away in Corktown is the perfect spot for a simple and relaxing breakfast. Items here are fairly light compared to other contenders, but just as enticing. Outside of the classic buttery croissants, savory items like the Saucisson crepe, filled with French sausage and pickles (it's not weird), are enjoyable in the morning or afternoon. For a sweeter dish without the guilt, options like granola, yogurt, and fresh fruit are easy picks.
Ferndale
You can't talk breakfast without mentioning the Fly Trap. Everything on this finer diner's breakfast menu is anything but ordinary. Savory specials like Green Eggs and Ham, made with poblano pesto, Jack cheese, and city ham, come served alongside of smashed garlic fried potatoes. The location also totes daily specials like fresh mini-muffins and breakfast entrees like wasabi eggs with shiitake mushrooms, edamame, cream cheese, scallions, and spinach. Come see what all the buzz (sorryyyyy) is about.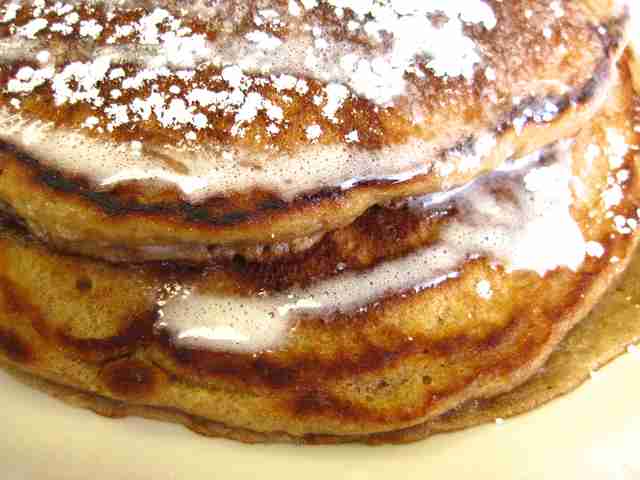 Farmington Hills
Hey, hey, hey, hey!!! The breakfast menu here, as one would expect, is massive. From chicken & waffles to a breakfast quesadilla, Crème brûlée French toast to sun-dried tomato pesto breakfast bowls, the entrees here are as diverse and unforgettable as they are numerous. This Breakfast Club earns every last star but they close at 2pm so you're out of luck if you've got Saturday detention.
Southwest
Sometimes you just need a good old-fashioned diner breakfast. Look no further than Southwest's finest greasy spoon: Duly's Place. While the breakfast menu might not look like anything special -- simple assemblies of meat, potatoes, and eggs -- there's something special about this tiny Coney Island. If you know Duly's, you know seating is limited to the counter. Carry-out and eating in your pajamas at home is highly encouraged.
Downtown
If you're a local foodie, you've probably at least heard of the mammoth cinnamon rolls, coated in sweet frosting and served in a personal cast iron skillet, at Parks & Rec. Other house specials like cornmeal pancakes and oatmeal brûlée will definitely satisfy your sweet tooth for a fraction of the usual guilt. Feeling salty? (We all have our days.) Try the meat and pickles crepe, featuring a house-made terrine, pickles, and local brie, for a breakfast unlike anywhere else in the city.
Sign up here for our daily Detroit email and be the first to get all the food/drink/fun the Motor City has to offer.