With this many brunch options in Detroit, it's challenging to decide which of Detroit's best restaurants to overindulge at. You're probably not feeling up to any challenges on those rough mornings, so we've spared you the long and winding group text where no one can't figure out what they want, and handpicked the best spots for bacon, pancakes, and Benedicts in your neighborhood. That way, you and your friends can skip straight to the important decision: bottomless mimosas or bottomless Bloody Marys?
Core City
Ochre Bakery
Sister café of Astro Coffee sets up shop in redeveloping neighborhood
Creamy scrambled eggs, flaky and buttery croissants, and excellent coffee await you at this sunny café housed in a former-upholstery factory. Located near chef Brad Greenhill's upcoming Magnet restaurant and the live/work True North Quonset Huts, Ochre Bakery is part of a wave of new businesses and projects in this neighborhood that has seen a lot of development interest in recent years after decades of boarded-up buildings and disinvestment.
Corktown
Brooklyn Street Local
Locally sourced brunch favorites, including legit Canadian poutine
Since 2012, this Corktown favorite has made poutine -- that overly gluttonous and ingenious combination of fries topped with gravy and cheese curds -- a Detroit brunch staple. It's ubiquitous on menus around town, but the poutine here is the breakfast of champions, available with your choice of beef or mushroom gravy, lardons, or tempeh, and a sunny-side-up egg. Vegans can indulge too by swapping in Daiya cheese and tempeh. Plus breakfast favorites like quiches, omelets, and Benedicts highlight produce and products sourced from Detroit farmers and makers.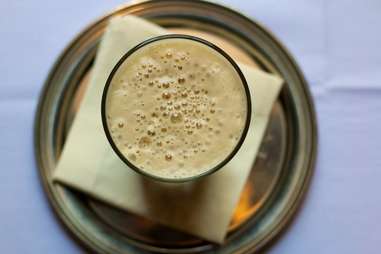 Downtown
Grand Trunk Pub
Hop on this brunch train for upscale bar fare in a preserved historic building
Grand Trunk Pub has been around for years, building its reputation on supporting local beer and producers before it was even a thing. But its brunch is one of the most underrated in the city. The food is on point and the setting is unparalleled: It's housed in the former ticket office of the Grand Trunk Railroad. Not to be missed are the Benedicts, from the working-class hillbilly (sausage, poached eggs, American cheese, and sausage gravy on an English muffin) to the bougie lobster. The hefty 24-ounce My Bloody Valentine and Hair of the Dog Bloody Marys perfectly complement the hearty dishes.
East Village
Rose's Fine Food
A finer diner on the east side
Featuring made-from-scratch food highlighting locally sourced produce, Rose's Fine Food proves that delicious food doesn't have to be complicated. While all of the requisite breakfast dishes are represented from pancakes to egg sandwiches, you won't want to miss the more unique offerings like Breakfast Noodles with house-made pasta or the New Staff Favorite with heirloom rice sautéed with mushrooms, kimchi, avocado, and fried egg. Just try to fight the temptation of those inviting baked goods on the counter (spoiler alert: you'll probably lose). Rose's Fine Food also believes in paying its staff a living wage so they don't have to work for tips, but all gratuities are split evenly among the team.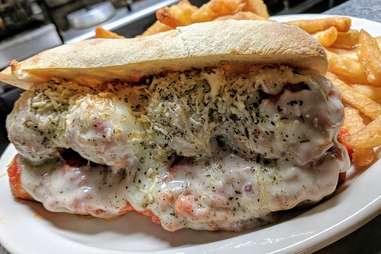 Eastern Market
Vivio's
Drink your brunch at this market institution
Bloody Marys are the specialty at this Eastern Market watering hole, so much so that the beverage gets its own menu. The classic Loaded Bloody Mary is stuffed with asparagus, bacon, olives, and pickles, so who even needs eggs and potatoes? You can fill up on drinks alone. If you came here actually looking for something other than vodka, tomato juice, and garnishes galore, they have an impressive selection of mussels as well as your standard burgers, salads, and sandwiches.
Islandview
Le Petit Dejeuner
Bring the whole brunch squad to this family-style restaurant
Originally a restaurant on the stage of TV Lounge and in Brush Park before that, this restaurant has settled in on the east side. Don't miss out on the crepes (choose from chocolate, strawberry, or build your own with veggies, meats, and cheese) or the pancakes, including creamy corn and carrot cake with cream cheese maple syrup. Can't decide? No problem. Specializing in family-style dining, Le Petit Dejeuner offers the option to order all the things and share with your best brunch buds for a set price.
Marina District
Sindbad's Restaurant and Marina
For when avocado toast just won't cut it, belly up to this buffet
Detroit has seen its fair share of new and fancy brunch in recent years, but sometimes nothing beats a good old brunch buffet where you stuff yourself like a Turducken. Sindbad's spread is teeming with cold options like fruit, cottage cheese, smoked salmon, and salad, while the hot food choices include eggs, potatoes, sausage, biscuits and gravy, and angus roast beef carved by a chef. Paired with the breathtaking water views, at $18 per person, there's no wonder this has been a Detroit classic for decades.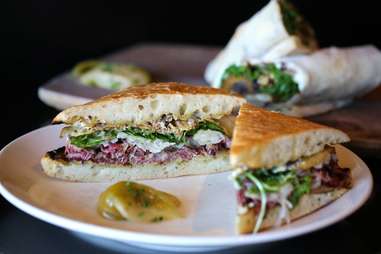 Midtown
Selden Standard
New American small plates that are big on flavor at a Detroit favorite
One of Detroit's best restaurants, Selden Standard never disappoints when it comes to a consistently delicious and expertly executed meal. Start things off with This Morning's Pastry and follow it up with one of the seasonally focused mains. The dinner menu is constantly changing to reflect what's available locally and the seasons, and the brunch menu is no different. A recent menu featured a chorizo hash with poached egg and grilled corn salsa as well as a fried squid sandwich with avocado and garlic aioli. No matter what's on the menu, they're sure to pair up perfectly with one of the craft cocktails, which are also made from seasonal fruits and house-made ingredients.
North Rosedale Park
Detroit Vegan Soul
Plant-based brunch classics with a soul food twist
With dishes like "Catfish" Tofu, Detroit Vegan Soul has made a name for itself by doing miraculous and tasty things to bean curd. And brunch is no different with the Homestyle Breakfast (scrambled tofu with veggie sausage and potatoes), Southern Fried Tofu and Waffle, and of course "Catfish" Tofu & Grits. Satisfy your sweet tooth with Sweet Potato Stacks -- pancakes with maple syrup sprinkled with cinnamon and walnuts.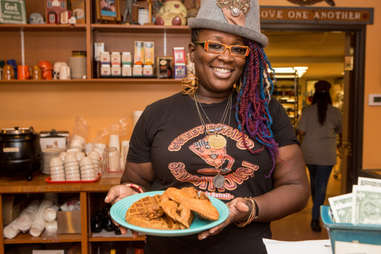 Old Redford
Sweet Potato Sensations
Sweet potatoes get the star treatment at this beloved bakery
This mom-and-pop neighborhood institution got its start with matriarch Cassandra Thomas selling sweet potato cookies in the late '70s. Over the years it's built up its legendary status with its savory menu. Feast on J.T.'s Special (a thick Belgian sweet potato waffle and your choice of three fried Amish chicken wings, house-spiced turkey sausage patties, salmon croquettes, or fried turkey chop) or the Daddy-O, made with three massive sweet potato pancakes and house-spiced turkey patties. Stay for #cakeandkaraoke, held every Sunday afternoon.
Palmer Park
La Dolce Vita
Live the good (brunch) life
La Dolce Vita may say it's Detroit's best-kept secret, but people in the know have made this a fixture on the Detroit brunch scene. Along with the usual brunch suspects like a Benedict (served with shrimp or classic style) and the LDV platter boasting two eggs with potatoes, breakfast meat, and croissant, there's also an Italian-style French toast stuffed with mascarpone cheese and Fettuccine Florentine (egg pasta with spinach and portabella mushroom slices in a light basil pesto cream sauce). Sip on bottomless Mimosas and Bloody Marys while listening to live music on the patio, which is the major draw here. While LDV has a classy vibe, feel free to show up in your pajamas every second Sunday of the month. Bottomless booze, eggs, and pajamas? The good life indeed.
Rosedale Park
River Bistro
Brunch with Caribbean and soul flair in a casual neighborhood spot
Chef Maxcel Hardy came back home to Detroit after cooking for the likes of NBA star Amar'e Stoudemire to open River Bistro, a stylish and cozy restaurant on the northwest side where he grew up. The menu is brief but with choices like shrimp and grits with gravy that you'll want to slurp straight up, chicken and waffles, steak and eggs, and avocado toast, you have some difficult decisions to make. Save some room for the Walk of Shame, aka the dessert menu.
Southwest Detroit
El Asador Steakhouse
Fresh, modern Mexican brunch off the beaten path
Far from the flashier, sometimes touristy Mexicantown restaurants is El Asador Steakhouse, just off the Springwells exit off I-75. It's long been a destination for tableside guac, tasty steaks, and zero pretension, and recently answered our brunch prayers by adding a morning menu. Not to be missed is the chili relleno with eggs over bacon and smothered in chipotle tomatillo sauces and the huevos y tamales con salsa ranchera (crispy tamales topped with over-easy eggs).
West Village
Marrow
Meat-forward menu with an Asian spin at neighborhood favorite
You won't find standard, boring brunch choices here. The Big Bao (marinated egg, maple sausage, and cheese), Bing Bread (apple-walnut, duck egg, and apple salad), and Breakfast Burger with a dry-aged beef patty are just a few examples of creative brunch choices you won't find anywhere else in Detroit. Following the Asian-inspired theme are dim sum-like bites such as Turnip Cake with XO sauce and Breakfast Dumplings. Vegetarians can feast on umami-packed dishes like Coconut Grains with sesame greens, fermented vegetables, yakitori mushrooms, and a poached egg. Pair your meal with a House Bloody with your choice of meat or veggie garnish or the House Mimosa.
Sign up here for our daily Detroit email and be the first to get all the food/drink/fun Motor City has to offer.
Dorothy Hernandez is a Thrillist contributor.