It was a wise man (or lady?!) indeed who first awoke at 11am, couldn't decide between pancakes or a sandwich, and decided to make both… and then added a Bloody Mary for good measure. Today, brunch isn't a meal -- it's an institution. Actually, it's thankfully totally still a meal, too. These are the best places in Detroit to enjoy it.
Corktown
Thanks to this place, you don't have to cross the river to get some decent poutine. But aside from calorie-laden Northern delicacies, their brunch lineup also includes banana pancakes with caramelized walnuts, an inevitably delicious quiche-of-the-day, and of course, the Hangover Special -- a platter of eggs, toast, and breakfast meats, and (why not?!) poutine. Bonus: true to its name, BSL sources just about everything on their organic menu from local joints.
Northern Detroit
LDV considers themselves "Detroit's best kept secret", and although the place is certainly well kept and tucked away like a precious gem, it ain't no secret. In the Springtime/Summertime, their classy outdoor patio is hopping with smooth jazz, salmon hash, and decadent selections like the shrimp Benedict -- easily the best brunch to be found North of Midtown.
Midtown
If you're aiming to do casual brunch the vegan or vegetarian way (note: you don't need to BE vegetarian or vegan to do this), then Seva's what you're looking for. The eggs rancheros always satisfy and the Big Breakfast includes eggs, pancakes, soy sausage, rosemary potatoes, and Michigan maple syrup. Their lineup of mimosas, including the delicious beer-mosa, is also very much on point.
Downtown
Here's what you need to know about brunch at Cliff Bell's: there're bottomless mimosas and Bloody Marys, fancy stuff like a croque madame with Dearborn smoked ham and Gruyere, and classics like chicken and waffles with jalapeño maple syrup. The live jazz also helps, if you can hear it over the Hallelujah chorus that's playing in your head.
Midtown
After a night of debauchery, brunch is often the only thing that can bring you back to even, and there's no better place to do that than Honest John's. Even if you were just there the night before throwing back some Short's, they're always there with several warm, non-judgmental plates of elephantine omelets, restorative breakfast sandwiches, and some much needed hair of the dog… starting at 7am.
Downtown
It's always a good sign if the brunch place you're considering keeps proper brunch hours, and at Hudson Café the red velvet pancakes, graham cracker-crusted French toast, and Voodoo Eggs Benedict are all on deck from 8am 'til at least 3pm every day. And although Sunday can mean an hour -long wait for a sweet and/or savory brunch, that graham cracker French toast DOES come with cream cheese drizzle…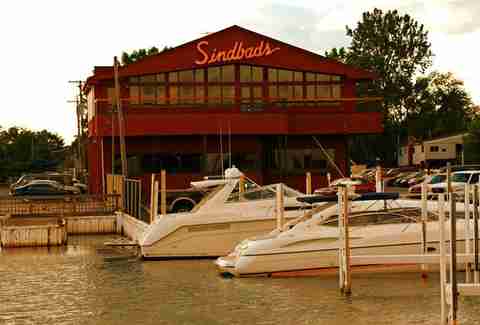 Marina
Sinbad's is an old-school Detroit classic that still delivers a mean buffet-style Sunday brunch. The eggs Benedict is timeless. The opportunity to load up your plate with a boderline insane amount of seafood is never to be passed up, and the riverside location makes the whole experience feel all the more classy.
Sign up here for our daily Detroit email and be the first to get all the food/drink/fun Motor City has to offer.