Detroit, you don't need another list with Miller's, Redcoat Tavern, Motz's, Telway, Green Dot, Bronx Bar, etc., etc., on it. You already know they've got great burgers. But there are a lot of new restaurants in metro Detroit, and a lot of other burgers -- some new, some old standbys -- that are worthy of your attention.
Townhouse Burger
Townhouse
Address and Info
Downtown
Have you been to the new mini-Las Vegas in Downtown Detroit? It's called Townhouse, and it's quite the dining experience, right down to the neon and the highly conscious Detroit theme, which is handy in case you ever forget what city you're in. If you thought this new location would be anything at all like the old Birmingham spot, you were so, so, sooooooooooo wrong. One thing the two locations do have in common, though, is the much-applauded Townhouse Burger: 10oz of a proprietary blend of 28-day-aged steak cuts, prepared daily and hand-pattied to order, served on an "authentic Plugra butter brioche bun" (psst, that's a fancy European-style butter), and topped with bourbon-glazed onions and aged white cheddar. It just sounds sexy, you know? Plus, THAT PATIO.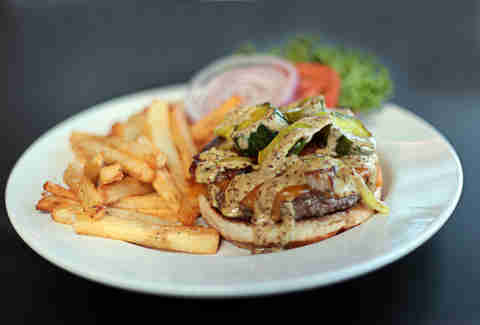 The Taproom burger
Rochester Tap Room
Address and Info
Rochester
There's a new beer bar in Rochester, and it's worth your precious time to visit. With 60 taps -- the most in Oakland County -- the beer selection has a lot of love for Michigan and keeps it interesting with an ever-changing lineup of unique, hard-to-find beers from Michigan and all over the world. A beer program like this deserves a thoughtful gastropub menu that goes beyond standard bar fare, and chef Travis Waynick delivers, especially on the signature Taproom burger: a half-pound Angus patty with aged cheddar, house bacon, stout mustard, and sweet & spicy pickles on an artisan baked roll.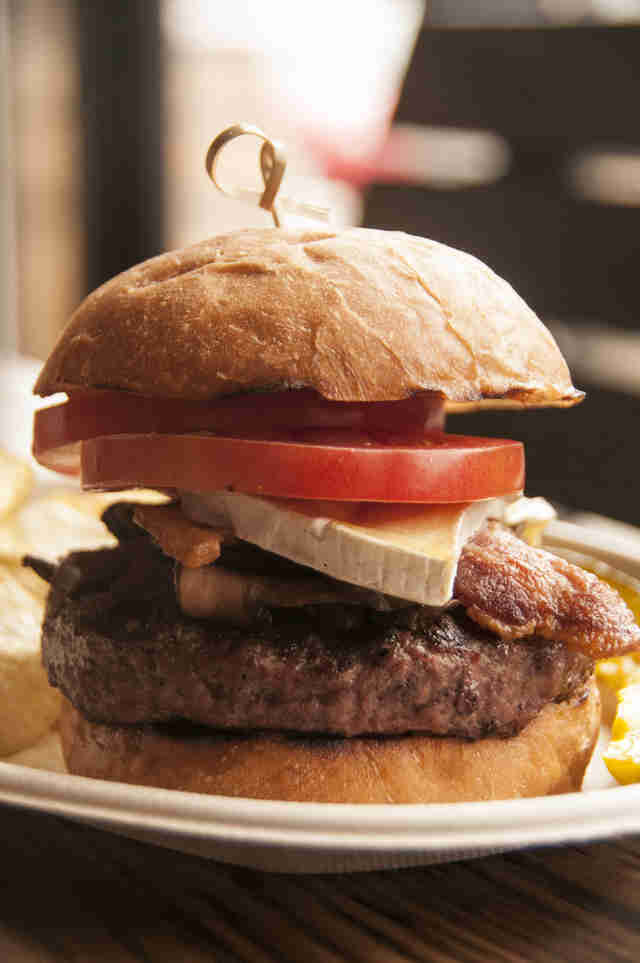 JP Burger
Jolly Pumpkin
Address and Info
Midtown
Tart beers pair well with decadent, fatty items... at least that's what you should tell yourself when you order the JP Burger, topped with cambozola cheese, smoked bacon, cremini mushrooms, and tomatoes on a challah roll. That is, of course, once you've figured out how to order it. Follow the "order here" signs. It's not that hard, we promise!
Barrel Burger
Cornerstone Barrel House
Address and Info
Downtown
It's a whiskey bar and a sports bar and (downstairs) a techno bar, and soon, also a jazz bar. OK, so it's a little of this and a little of that, but there is one thing that is consistent: the food. It's a step up from your average whatever bar. The Barrel Burger, made from a Prime custom beef blend and dressed with "Barrel Sauce," aged cheddar, and LTO, is proof.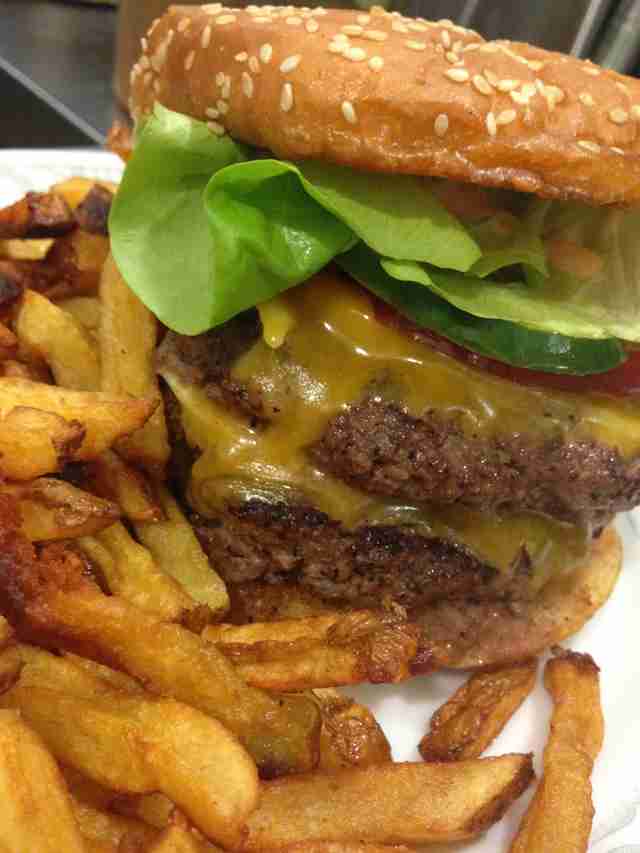 Double Tower Burger
Campau Tower
Address and Info
Hamtramck
It's a tower of a burger, for sure, and when you're stumbling from one of the local watering establishments sometime after 2am, it is a godsend. Get it with a fried egg and bacon on top and go all in.
Duck Confit Poutine Burger
Ale Mary's Beer Hall
Address and Info
Royal Oak
THERE IS POUTINE ON THE BURGER. And not just any poutine! Ohh, no no no no no. Duck confit poutine. ON the burger! If that's not a reason to eat it, then we're just out of damn reasons.
GCG Burger
Gold Cash Gold
Address and Info
Corktown
Gold Cash Gold specializes in no-fuss food that secretly has quite a lot of fuss behind it, and that's what makes it all so brilliant. Its burger -- called the "GCG Burger" -- is available on the brunch and lunch menus, and features two grass-fed patties, pimento cheese sauce, iceberg lettuce, Thousand Island dressing, and bread & butter pickles on a house-made pretzel bun. It's a classic burger with a gourmand's twist, and that's really what GCG is all about.
Betty Burger
One-Eyed Betty's
Address and Info
Ferndale
Betty's is damn proud of its burger, and it should be: it's been named one of the best burgers in Detroit by a slew of local publications, and has earned every accolade it has accumulated. It is topped with bacon, sharp cheddar, garlic aioli, greens, tomato, and onion, and served with hand-cut fries, and is just the beginning at this multi-tap beer bar with food that goes beyond the usual boring bar fare with a menu that expertly complements its fine craft beers.
Paddy Melt Burger
HopCat Detroit
Address and Info
Midtown
HopCat is always rotating its burger menu, each one more confoundingly delicious than the next. The current iteration: the Paddy Melt. Though we're nowhere near St. Paddy's Day, this burger is just as debaucherous, stacking corned beef on top of two patties with Wisconsin Swiss and cheddar cheese. The beer-laden vegetable toppings, stout carmelized onions and porter mushrooms, follow thematically in tow. While you're there, don't skip the Crack Fries!
The Balkan
Downtown Louie's Lounge
Address and Info
Downtown
If it's lamb you really want, then go with The Balkan at Louie's, which is topped with roasted Hungarian peppers and garlic yogurt on a rustic Old World bun, and served with a side of Albanian salad (made with tomatoes and cucumbers), and really isn't... sorry'boutthis!... baaaaaaaaaa-ad.
Pork burger
Dime Store
Address and Info
Midtown
So, it's not a beef burger, it's a pork burger... and that's, like, even better! This sucker boasts a 6oz house-made pork patty with onion, arugula, smoked Gouda, and peach mustard on a brioche bun. If for some reason you're being un-American, Dime Store still has a pretty damn tasty old-fashioned beef burger sourced from Knight's Market in Ann Arbor, which has some of the best beef in the state.
Nifty's Choice
Clubhouse BFD
Address and Info
Rochester Hills
Clubhouse BFD has made a name for itself with its beer, landing on DRAFT magazine's annual list of 100 best beer bars in the country every year since it opened. It truly has one of the finest beer selections in the state, even with HopCat's 1,000-handle East Lansing location (or whatever). But! It doesn't just take its beer seriously here. It takes everything seriously here, including the burgers. The Nifty's Choice is made with aged cheddar, thick-cut bacon, BFD sauce, and topped with an onion ring. The BFD sauce is Clubhouse's version of "special sauce," which is standard-issue burger fare. BFD's might not be the most outlandish burger on this list, but it is damn tasty and among metro Detroit's best of both the old and new guard.
Sign up here for our daily Detroit email and be the first to get all the food/drink/fun the Motor City has to offer.