Rosh Sillars/Thrillist
Rosh Sillars/Thrillist
Editor's Note: This story is the 12th entry in Thrillist's Burger Quest, Kevin Alexander's yearlong mission to find America's best cheeseburger. Follow along @ThrillistBurgerQuest, and use #ThrillistBurgerQuest to let Kevin know places he needs to hit.
Detroit is a fine burger city, and though everyone seems to recognize it for its Coney dogs and certain style of increasingly popular pan pizza, it makes sense that the city would possess a rich burger history, considering burgers and cars go together like, um, two things that go together relatively well.
And because Detroit is such a car-friendly city, the burger love is spread all around, which meant I basically spent my entire 48 hours in Detroit driving all over the place, from Dearborn to Royal Oak to St. Clair Shores, to Corktown, Southwest Detroit, and Hamtramck. I felt like I really earned each burger I ate. Also, it helped that I had former Tasting Table editorial director Karen Palmer there with me as a co-pilot, and lovely hand model for burger photos.
In case you're new to my rankings, here are some guidelines: if the restaurant had multiple burgers, I tried to order its signature burger, or if that was too outlandish and stunt-y, the closest to a classic cheeseburger. If it came with options, I always picked American cheese and grilled onions. If you think I missed something, please yell at me in person, or fax me some swear words, but until then, here is my ranking of the 10 best burgers in the Detroit area:
10. Cheeseburger sliders
Green Dot is basically just a slider spot, OK? It has 22 sliders on the menu (including a mystery-meat option, which sadly, or thrillingly, wasn't cafeteria mystery meat) but we had many other burgers to eat, so we just got the cheeseburger sliders (and maybe the fried chicken ones too because of sage maple syrup).

All in all, there is not a lot to write home about here, honestly. The sliders were fine -- the meat was overcooked and a bit dry, but the bun was soft and the actual flavor of the meat and cheese blending together with the onion and acid from the pickle was also... fine. There just wasn't a ton of action.
9. The Classic with American and grilled onions
Positioned right across the street from where I stayed in Corktown, Mercury is a cool spot that has a lot of solid food (get the fried bologna sandwich) and an extremely pleasant outdoor beer garden. It also has an extensive menu of burgers, and I think it suffers from what a variety of places with lots of crazy burger options suffer from: consistency in just nailing the basic model.

There were some good elements -- the special sauce was tangy and the meat was of a good quality and grind, but it just wasn't griddled or seasoned enough. The grilled onions were also a little light on the grilling side, and though the bottom bun was griddled, it still ended up getting soggy. This is by no means a bad burger, but a few of the different elements need to be shored up before it's on par with some of the other contenders.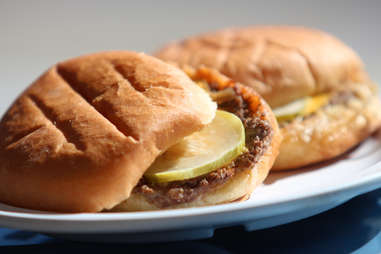 8. Cheeseburgers
Telway actually seems more like a Cash 4 Gold type situation when you walk into the place, especially thanks to the bare-bones metal takeout counter and what may or may not be bulletproof glass. The cheeseburgers here are McDonald's-level cheap, at about $1.10 each, with a patty that is as thin as you can possibly make meat. Envision something along the lines of a meat Fruit Roll-Up. But I have to say, the flavors were all there: the mustard, ketchup, pickle, and fried onion on the cheeseburger made it seem like a much better version of a White Castle slider. For the money, it's a great deal, even if you now have to contend with visualizing meat Fruit Roll-Ups for the rest of the time you're reading this. Sorry about that.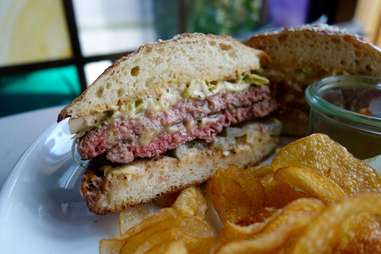 7. GCG Burger
While Telway felt like a Cash 4 Gold, Gold Cash Gold is actually in a former version of that venerable city institution, though you couldn't tell that now thanks to its sleek design. The burger here is good in a lot of ways -- great seasoning on the double patties, well cooked, good char, homemade pickles, and a nice contrast between the salty pimento cheese and the pickle's acid. Pimento cheese as a burger topping always creates an issue; the cold mess doesn't melt without some broiler action, so it slides off of anything hot, which meant biting into this burger had the immediate effect of launching cheese out the other end (though that was actually kind of delicious when it fell on the chips).

My main issue, though, was the pretzel bun. It was too salty and dense, and not toasted, so that the outside was crunchy but the inside got really soggy thanks to all the cheese and Thousand Island and everything else. As pretty as the pretzel bun is to look at, I think Gold Cash Gold should trade that for a more traditional bun, and then I'd say it'd have winner on its hands.
6. Cheeseburger
There are no windows on the front of Motor City Sports Bar. But the awning does have a picture of a burger on it, so that was a good start. On a relatively gritty block, Motor City is a spacious, traditional sports bar, with pool tables and lots of TVs throughout. When we came in on a rainy Wednesday, everyone in the mostly empty bar was watching Champions League soccer and bullshitting, so I immediately felt happy.

After ordering, one of the guys watching soccer got up and made the burger behind the bar on a little griddle (a move I'd end up seeing quite often in Detroit, and which was reminiscent of Matt's Bar in Minneapolis). The burger itself was great -- a really well cooked medium, bright green lettuce, red tomato, and a sesame seed bun that was toasted enough to mostly hold up to the juices pouring out of the salty meat. All in all, it tasted like a delicious backyard burger: nothing out of the ordinary, but each element done well enough on its own to make you come back for another.
5. Cheeseburger
God, I loved Nemo's. Everything about this classic Detroit bar energizes you: the intricate design on the ceiling, the well-worn wood bar, the neon Stroh's sign, the papers hanging up celebrating Detroit sport successes of the past (my personal favorite read "Go Home, Yankees"), the free shuttle to Tigers games. The bartender who took our order also cooked the burgers on the grill behind the bar, much like at Motor City.

And in many ways, those burgers remind me of each other -- sesame seed toasted buns, juicy well-cooked meat, perfectly melted cheese (he puts a little metal bowl over the burger to melt it quickly). The difference maker for me was that Nemo's has these pickles that nearly taste like fresh cucumbers; they're salty and briny, but have a great snap, and the way that the pickles balanced out the meat was a home run for me. And yes, that was an intentional sports reference.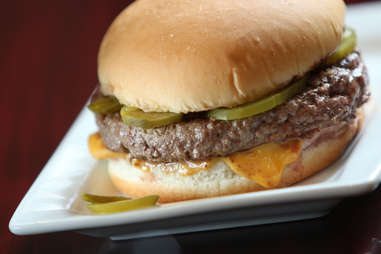 4. Cheeseburger
There is no menu at Miller's Bar. And the waitress got a little surly when I asked her a question. But the mix of business men, old, retired regulars, and chubby guys wearing Eric Ebron Detroit Lions jerseys during the lunch rush didn't need menus. Everyone was eating burgers. And for good reason too; the Miller's burger is extremely flavorful, cooked perfectly and simply, with a thick wad of Velveeta cheese poking out of the bottom, and some raw white onion as well. The execution of all of those elements is nearly flawless, especially if you add a couple of the hamburger dill pickles into the mix.

But what kept it from moving higher on this list was the bun, which was not toasted at all and got mushy very quickly from the juicy, perfectly cooked medium cheeseburger. If I wasn't scared to say something, I might quietly urge the good people of Miller's to consider lightly toasting those buns just to give their incredible burger a chance to shine even more. Just please don't yell at me.
3. Double cheeseburger with extra fried onions
In what honestly feels like the middle of nowhere in Southwest Detroit sits Motz's, a legendary, tiny shack of a place. When I showed up on a sunny Tuesday, the clientele was diverse; the only two people in there were a man wearing a suit, and two dudes who came in a Jeep with those giant, comically hilarious tires, and what we used to call Sprewell spinner rims.

The burger itself is almost like a fried onion burger from El Reno, Oklahoma; the onions set into the meat, and the buns steam from the heat off the meat and onions and cheese. The cheese seemed to be put on cold at the end, and though the middle melted, the ends of the cheese remained relatively uncooked. I didn't really have a problem with that, especially when I bit into the melted middle and got a few bites where everything came together: the melty cheese blending in with those deliciously charred onions and salty, flavorful meat. I just wished every bite was as good as those three or four where all the elements did their "with our powers combined" Captain Planet magic.
2. Cheeseburger
As this was the 12th city I'd traveled to for Burger Quest, it's easy to get in a little bit of a rut, or look for ways to dismiss burger joints that are far out of your way or aren't universally lauded. I didn't want to go to Travis Coffee Shop in St. Clair Shores. It was too far away on the map. It was a rainy day. Our Senior Editor Andy Kryza had recommended it, and I openly try and avoid listening to him.

But in the end, Karen and I ended up there, and thank God we did. Travis Coffee Shop is a throwback, one of the old guard of coffee shop diners that used to exist in most middle-class suburbs of Eastern cities. Family-run (pictures of different members of the family hang above the counter), with insanely cheap prices (a cheeseburger is $1.85 and you can get six of them for $9.50 if you take them to-go), it is the burger steal of the century.

The burgers are the perfect diner-style burger: super-thin, with incredibly flavorful grilled onions. The bun is soft and well-buttered and griddled too, and everything blends together in that cheesy, onion-y, meaty way. It is the closest burger I've found that can replicate what I love at the White Hut in West Springfield, MA, and that is one of the highest compliments I can pay. After eating at Travis, I wanted to buy a dozen burgers, drop a $20 on the counter, and retire for the rest of the day. Unfortunately for them, we had one other burger place to go to north of the city.
1. Classic Burger with Sharp American
This is not my style of burger at all. I am a Travis Coffee Shop man, a diner-burger lover, and so I often take on more traditional, bigger pub burgers with a weary resignation. And that was the case at Redcoat, a place in Royal Oak I was told I couldn't miss by nearly everyone I asked.

We walked in for lunch on that rainy Wednesday and, despite being there before noon, the place was almost full. Our hostess, speaking with what might've been a faux-English accent, took us to a red booth bathed in red light. Redcoat takes its color scheme seriously.

Anyway, when I took a bite out of the burger, I was a changed man. The meat in the Redcoat Tavern burger is seasoned and cooked perfectly. There was a garlic undertone, great salt & pepper flavors, and a perfect, crispy char on the outside, holding together a juicy, loosely ground, perfectly cooked burger. The "special sauce," which is just really good mayo with minced onion in it, combined with the shredded lettuce to offer the perfect complement for the fatty meat and melted sharp cheddar. The bun is toasted well and stays out of the way without getting soggy. It was so good that I kept taking bite after bite even though Karen told me, "You're going to regret that." But, even after eating five other burgers that day, I never did. It's really that good.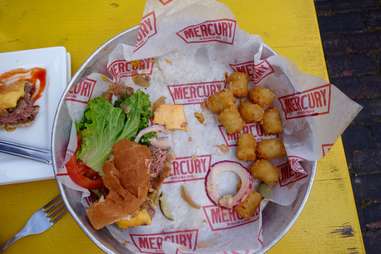 Sign up here for our daily Detroit email and be the first to get all the food/drink/fun the Motor City has to offer.