It used to be that Eastern Market was a destination reserved for an eclectic subset of individuals. Those people who had dramatic on-again-off-again relationships with Russian kale vendors. Those that classified themselves as "Professional Street Buskers." Those that liked to fill their fridges and countertops with aspirational fruits and vegetables, simply to make their visitors feel shame over the wilting celery in their own crisper. But over the past decade or so, the sheds along Russell St have filled with exciting new retailers, enticing a different crowd down to the old stalls on Saturday mornings. And hidden among these merchants are a slew of tantalizing prepared food vendors and food trucks, offering up all sorts of ready-to-eat bites -- everything from savory meatball sandwiches to bagels to detoxing raw juice. Here are 12 of the tastiest eats in Eastern Market you absolutely have to indulge in this weekend:
One of the original vendors to arrive when the food truck zone first opened in 2012, the line of customers trailing from the storefront window of Beignets 2 Go should be the first clue that you're in for a heavenly treat. Here, you'll find beignets nearly as enticing as those you'd find on any sidewalk in the Big Easy: sugar-covered doughy pillows, so hot you can barely hold them in your hand. Luckily, you won't be holding them for long -- you'll want to scarf those babies down. Order an authentic café au lait, kick back, and zone out to the sweet sounds of "Careless Whisper" resonating from the rusty horn player nearby. It's not New Orleans, by any means, but it's about as close as you can get anywhere in the D.
Fifteen years ago, owner and Chef Mark Sienkiewicz was an inspector in a tool and die shop; these days you can find him in a big, white truck parked in Shed 3, serving up Coney Island-style favorites to the ravenous masses. Farm Fresh is one of the few food vendors that remains open Monday through Saturday in the market, dishing up its homemade favorites to regulars and new customers alike. Sienkiewicz says that it's his chicken and sausage gumbo that brings loyal clientele back for his unique and savory mix of Hungarian peppers, onions, rice, and jalapeños. Spicy enough to lure you in and tasty enough to make you want another plate immediately.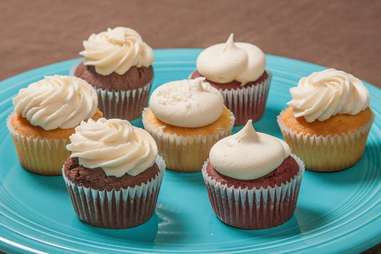 The Hot Blondies, Pecan Dandy's, and Brownies over at the Ethel's Edibles stall in Shed 2 are the supreme mid-afternoon snack: chewy, sweet, chocolatey -- and surprisingly 100% gluten free. But these cookies, bars, and brownies don't taste like health food; they are indulgent, first-choice snack extravagances that will have you asking gluten what?
Get schooled in bagel excellence at the Detroit Institute of Bagels stall, where you can dig into a rosemary and olive oil bagel or bring home a dozen salt, jalapeño cheddar, and poppy seed to satisfy your cream-cheese-schmeared urges until Saturday rolls around again. Wasn't it Confucius who said, 'Seven days without bagels makes one weak'?
Between the hearty meatballs and the bread-y bagels and the sodium-laden pickles, you're probably pretty thirsty right about now. Drought Juice is bound to look like a beckoning oasis in Shed 2, and the people waiting in line (because it's THAT good) will probably start to seem very infuriating. Wait your turn, Mr. Salty -- Drought's worth waiting for. If you're a raw juice novice, opt for the Green #1 and let the healing chard, cabbage, apple, celery, kale, and lemon steep into your stressed digestive system and DO WORK.
El Guapo was the very first food truck licensed in Detroit and its silver and black taco-mobile has been a constant presence on Saturdays in the market since 2012. But the fare at El Guapo extends way beyond the mundane triumvirate of meat, cheese, and tortilla; at this truck's window you can sink your teeth into uncommon delicacies such as the popular pork belly tacos, brimming with pork belly confit, cilantro, onions, guacamole, and the ever-mysterious, ever-delicious Guapo sauce. All that for four bucks. Add a glass of its "famous" jalapeño lime-ade for a dollar and half more and you can call lunch done, son.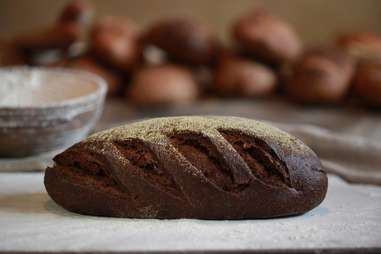 If you want to snag the best sellers at the Avalon Breads stall -- the Blueberry Buckle Coffee Cake, the Challah bread, the savory baguettes, or the Leelanau Cherry Walnut loaf -- you'll have to hit the pavement early. These sweet goods are often completely sold out by 11am on a busy summer Saturday morning. But don't fret -- even if you stumble into Shed 2 around closing time in search of the perfect confection to soothe last night's lingering mojito-inspired affliction, Avalon also sells stacks of cookies. Try the Jan's Classic Oatmeal Raisin Cookie. We don't know who Jan is, but she understands exactly what you need in a baked good.
You could probably gather up a mishmash of carrots, pineapple, and pecans from the farm stands and spend the next three hours in your kitchen, slaving away over a hot oven to craft an Instagram-worthy carrot cake. Or you could just nab a slice of German chocolate or moist red velvet from Five Star Cake Co. and chow down on the fruits of culinary mastermind Starlett Simmons' labors. While you weigh your options, we'll be over here in Shed 2 with a fork in our mitts, digging in.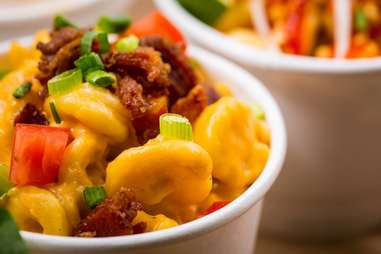 Piping hot noodles smartly dressed with wild mushrooms, caramelized onions, and shaved Parmesan is known as a Papa Smurf over at the Mac Shack truck window and you won't be blue if you order this dish up (you know we had to, right?). Or, for five bucks you can feast on an order of Amazeballs, three deep fried mac & cheese balls served with ranch, marinara, or Buffalo sauce. It's gourmet comfort food in portions big enough to share. The question is, though: do you really want to?
There may come a time when you awake on a Saturday morning with a fever. A spicy burning fever for a hearty, saucy meatball sandwich -- one you just cannot suppress. Thankfully, Saucy Joe's has just the prescription. All-beef meatballs blanketed in provolone on a soft ciabatta square will cure what ails you. And Joe's other specialty food truck fare, including the vegetarian Sicilian Pizza Panini Sandwich (green peppers, mozzarella, onions, and spicy pepper rings), is tantalizing enough to rejuvenate all your senses.
A cool partnership between Detroit Food Academy and 10 different high schools in the city of Detroit combine for a sweet business pairing over at The Detroit Pop Shop cart. These grown-up frozen confections are a steal at three bucks a pop and feature summery tastes such as strawberry lemonade, kiwi pineapple, and grapefruit habanero. Or cool your jets on flavors inspired by old-time Detroit favorites like the lip-smacking Faygo Red Pop.
Perhaps pickles aren't the first snack you'd consider to be pret a manger, but if you're over in Shed 2, you should consider a petite stop at the McClure's stand. First, all of the various briny wares are out for sampling, and second, you can taste test your favorite before you snag a jar to take home. But don't forget the quick eats at this stop -- they are kind of a big dill (the puns are endless!). Try the savory single-serve bags of "picklefied" garlic dill kettle cooked potato chips -- they're too often overlooked and an overall Best In Shed.
Sign up here for our daily Detroit email and be the first to get all the food/drink/fun the Motor City has to offer.
Nicole Jankowski
had a brief, ardent romance with a Romaine lettuce vendor once, a very long time ago. It tore her to shreds. Follow
@momof4istired
on Twitter.