It's tough to pick a favorite neighborhood in metro Detroit. Within city borders alone, highly acclaimed new restaurants and classic favorites challenge my palate (and heart) when I'm forced to pick a single place to eat out. Throw in the surrounding suburbs and ask me to rank them all -- that's a pretty tenacious (and delicious) task. But for you, our readers. I'll take it on.
In an attempt to fairly execute this monstrous undertaking, I've ranked the following neighborhoods on the basis of quality, noting customer reviews and personal experiences, as well as proximity to bars, venues, and other activities. Although I've named over 70 spots in this listing alone, one girl can only eat so much. Let us know some of your favorites in the comments below. With that large disclaimer aside, here are the 12 best neighborhoods for eating out around metro Detroit.
Recommended Video
This 10-Pound Stuffed Pizza Is a Crust-Lover's Dream
12. West Village
Essential restaurants: Craft Work, Sister Pie, Detroit Vegan Soul
This small neighborhood on Detroit's east side has seen a surge of culinary expansion within the last five years. This summer, Reilly Craft Creamery, hidden in a house on Kercheval Ave, opened its doors. Favorite Craft Work also launched a revamped menu with a new chef at the wheel. Although heavy-hitters like Sister Pie and Detroit Vegan Soul have called the area home for a while, massive renovations and refurbishments of the buildings along Kercheval will soon make way for a rumored French cafe, sushi restaurant, barbecue joint, and New Orleans-inspired restaurant and venue. Although there's still plenty of room to grow, West Village is quickly turning into a hotspot for food and drink in Detroit, warranting its inclusion on this competitive list.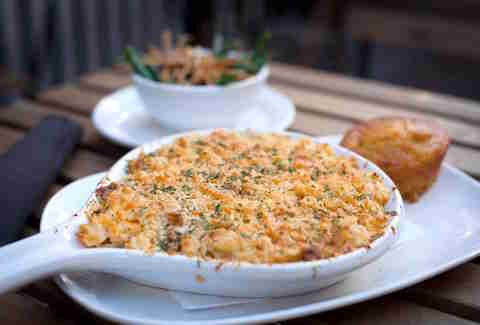 11. Greektown
Essential restaurants: Redsmoke, Pegasus Taverna, Pizzapapalis
Going to Greektown was a family tradition when it came time to celebrate birthdays, anniversaries, or a Stanley Cup win. Classic spots like Pegasus Taverna or New Parthenon (every family has a preference) serve up Balkan favorites like flaming saganaki (opa!), savory lamb, and fresh, crusty bread. And, of course, you can't visit Greektown without stopping at Astoria for dessert. Take home flaky, sticky baklava tied tight with the iconic red string or newer additions like cronuts. The only thing keeping Greektown farther down on this list is the lack of new spots -- namely, places that aren't Wahlburgers. Other than some new weekend attractions and casual burger joints, the strip doesn't look much different than it did 10 years ago.
10. Midtown
Essential restaurants: Selden Standard, Chartreuse, Grey Ghost
Don't you roll your eyes. As much as we might be sick of hearing about it, Midtown really is continuing to grow as a fine food mecca. Home to this year's Detroit News Restaurant of the Year, Chartreuse, and Hour Detroit's Restaurant of the Year, Selden Standard, it's hard to argue against that. It's easy to spend a day eating and drinking your way through Midtown. Enjoy a brew at Motor City Brewing Works, HopCat, or Jolly Pumpkin, or a serious cup of joe at Great Lakes Coffee, then walk over to numerous art and history museums. Check out some of the newest openings like Grey Ghost, serving up craft cocktails and meaty entrees, or Rock City Eatery's new location, including a lunch menu. And yes, it's technically in Chinatown, but I'm going to loop The Peterboro in here, too, if for no other reason (though there are plenty of others) than the cheeseburger egg rolls.
9. Dearborn
Essential restaurants: Al Ameer, Osteria 222, Miller's
"Oldies but goodies" certainly applies to the restaurant scene in this Downriver suburb. Not only is Dearborn home to the best damn bar burger around -- you just can't beat Miller's -- there's an abundant selection of spots serving up everything from authentic Middle Eastern cuisine to fresh crepes and handmade pasta. Favorites include La Fork, with a menu highlighted by "international" poutines and specialty crepes, and Brome Burgers & Shakes. Once you have a cornflake milkshake, you'll never be the same. If you're looking for quick eats, Moo Cluck Moo is the place to be. While it may be "fast food," the selection of burgers, sandwiches, and fries are sourced from 100% natural ingredients. Room for dessert? Finish out your evening with sweets from New Yasmeen Bakery with options like fresh bread stuffed with dates, cupcakes, or even cannolis. While it may not be your first thought, Dearborn has plenty of options for a delicious night out. The only setback? I want more. Since 2015, there's been a lull. Hopefully future eateries will see the value of opening their doors in the city.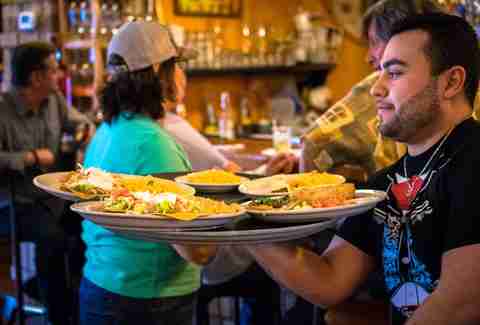 8. Downtown Wyandotte
Essential restaurants: Nanna's Kitchen, Coastal Thai, Joe's Hamburgers
Downtown Wyandotte is a no-brainer for folks in Downriver looking for a great meal. Unlike its city counterparts, the area boasts selections that are typically inexpensive and family-friendly. Simply cruise up and down Biddle Ave for everything from Thai and Mexican food to gastropubs and whiskey bars. Located just off the main strip is favorite Magdaleno Ristorante, serving up Italian cuisine as good as any big city. It's easy to see why -- the kitchen is headed by chef Ernesto Magdaleno, formerly of Bacco, who trained in Little Italy. Looking for something more local? Stroll down the Detroit Riverfront to enjoy a meal on the water at Portofino, a Downriver classic. Or, if you're feeling spicy, Angelina's or Camino Real serve up serious Mexican bites for relatively cheap. (Taco six-packs for $8? Yes, please.) Tucked into the residential neighborhoods are gems like Oak Cafe, Downriver's original craft beer bar.  It's all here -- and it's catching the eye of developers looking to expand south of Detroit. Just this year, we saw the opening of multiple new spots including Dangerously Delicious Pies, pulled from its Midtown location. Although it's already well-established, and has been for decades, this foodie destination has a bright future.
7. Hamtramck
Essential restaurants: Polish Village, (revolver), Polonia
Few things are as satisfying as good Polish food, and when you want the real deal, you have to head a little south of the city. Hamtramck classics like the Polish Village or Polonia are always safe bets, with the lesser-known Krakus still holding its own. If you're not feeling pierogies and kielbasa, step into Royal Kabob or Yemen Cafe for Middle Eastern favorites, or into a greasy spoon like the Conant Cafe or Campau Tower for casual, quick bites. Despite the loss of Rock City Eatery to Midtown, the area still houses plenty of hip spots like Bon Bon Bon chocolates and Cafe 1923, keeping the historic area young. Pair that with venues and pubs like Kelly's Bar or Whiskey in the Jar for a seriously underrated dining-out destination.
6. Mexicantown/Southwest
Essential restaurants: Evie's Tamales, Telway Hamburgers, Taqueria Lupita's
Frankly, there's no better place to find good Mexican food than in Southwest, and everyone has their own fiercely defended favorite restaurant. But no matter if you visit Armando's, Mi Pueblo, Los Altos, or El Asador, you're in for a satisfying meal of massive proportions. Other hole-in-the-wall joints like Evie's Tamales, Pupuseria y Restaurante Salvadoreno, and Duly's Place have been long adored by locals. You can even find fish & chips in Southwest at the Huron Room. The only thing keeping the neighborhood farther down on the list is walkability. Southwest is huge with spots scattered throughout. Don't let that deter you, however. It's well worth the drive.
5. Eastern Market
Essential restaurants: La Rondinella, Vivio's, Roma Cafe
Between the gorgeous murals and general walkability, Eastern Market is a prime location for food. The Market is an obvious choice when it comes to purchasing fresh produce, meats, fish, cheese, and more, but new eateries entwined with local institutions make it a dining-out haven as well. Spots like La Rondinella, the sister eatery of neighboring Supino Pizzeria, have been impressing tough food critics around metro Detroit, and even-tougher-to-sway average eaters. Classic spots like the Roma Cafe and Vivio's are known for their famed food and drinks, including one of the best damn Bloody Marys in the city at the latter. Limited hours for favorites like Zef's and the Farmers Restaurant are the only thing keeping the location down.
4. Ferndale
Essential restaurants: One-Eyed Betty's, Public House, Imperial
Of course, we have to show love to our suburban friends gently hugging Detroit's borders. (Is this a soft enough approach to such a touchy subject?) Ferndale is home to countless personal favorites like One-Eyed Betty's, The Fly Trap, Imperial, Star of India, and Anita's Kitchen, to name a few. Some newcomers are flourishing in the highly competitive market, like Pop's for Italian, which recently announced it will be taking over the space which housed fellow recently shuttered newbie, The Daily Dinette. Take a cruise down Woodward or Nine Mile to pick a spot. Options like vegetarian and vegan cuisine at GreenSpace Cafe and Om, meaty sliders at Public House, and cheesy pasta at Assaggi Bistro are all nestled close to Downtown. Make it an event and top the night off at one of many popular dive bars or even a renowned distillery -- Valentine Distilling was named best in the world by none other than the World Vodka Awards.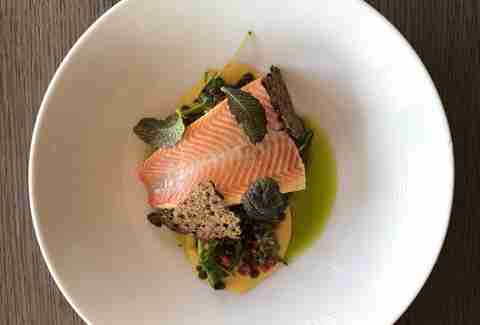 3. Royal Oak
Essential restaurants: Redcoat Tavern, Bistro 82, Ale Mary's
Downtown Royal Oak has long been home to foodie favorites like the Redcoat Tavern, featuring one of the best burgers around, Bigalora, Vinsetta Garage, and Jim Brady's. While upscale spots like Bistro 82 specialize in dishes like Alaskan king crab legs and steak tartare, the Downtown area has plenty of casual options. Fresh favorites like The Morrie join other gastropubs like Ale Mary's and the admittedly bro-y Blackfinn, and new openings seem to be always eminent. HopCat recently confirmed it will have a new three-story location on 5th St that's set to open in 2017. Beyond the sheer number of high-quality dining options, Royal Oak's high ranking comes down to its proximity to entertainment options. Within walking distance of its Downtown lives the Royal Oak Music Theater, Mark Ridley's Comedy Castle, copious eclectic boutiques, cafes, farmers markets, galleries, and more. Even family-friendly options are plentiful. Take a trip down the street to the Detroit Zoo, or spend the afternoon in the beautiful Starr Jaycee Park. The combinations are almost endless.
2. Corktown
Essential restaurants: Katoi, Gold Cash Gold, Bobcat Bonnie's
With its cobbled streets and old-Detroit charm, it's hard not to love Corktown. Pair that with its convenient location to bars, distilleries, music venues, cafes, and the picturesque train station, and you've found yourself in the No. 2 best neighborhood for dining out. Options in the area are vast despite its generally small geography. Michigan Ave hosts everything from pickled elegance at Gold Cash Gold, to classic burgers and fries at Mercury, and fresh breakfast options at Detroit Institute of Bagels. Stop into the UFO Factory for live music, or hit up Laika Dog, serving up classic hot dogs during the day and lesser-known brunch options on weekends. PJ's Lager House is another venue touting surprisingly good eats including vegan po-boys. One of the most well-received openings in Detroit this year, Katoi, calls the block home. It's a central point in the city which makes it a cheap cab ride away from Downtown, Midtown, even Hamtramck, turning it into a quite a valuable area in recent years. This summer, two massive developers, including Dan Gilbert, announced major plans for apartment and townhome developments on the corner of Michigan Ave and Trumbull, which is expected to add hundreds of residential units. More businesses and eateries will surely follow. Although it's Detroit's oldest neighborhood, Corktown is anything but old news. If you're craving it, you can most likely find it in this traditionally Irish neighborhood.
1. Downtown
Essential restaurants: Sweetwater Tavern, Standby, Wright & Co.
Sure, it's the obvious choice. But when looking for an evening out on the town, it's a surefire bet -- and Downtown Detroit is so much more than Tigers and Red Wings games. From small plates to all-you-can-eat, wine bars to chicken wings, it is all here, and you most likely won't need to walk far for it. (Though we're still waiting on the QLINE, never fear. People Mover stations are still plentiful.) Brunches from Dime Store, Parks & Rec Diner, and Grand Trunk are always a good place to start. Dinner options are seemingly endless, highlighted by renowned institutions like Republic and Coach Insignia, or historic spots like Cliff Bell's, the London Chop House, or Joe Muer Seafood. Finish out the night with quick eats from Lafayette Coney Island (I refuse to even mention the lesser option, out of principle) or classy cocktails at the Whiskey Parlor. If you can dream it, on a plate or on the town, Downtown can almost surely deliver.
Sign up here for our daily Detroit email and be the first to get all the food/drink/fun the Motor City has to offer.