It seems like every year, eating in Detroit gets better and better (though some things never change). 2014 was no exception. Get yourself to the best places that opened this year as you build up a protective layer of warmth for winter. And if you've already been, these are 11 you'll want to be visiting again:
Recommended Video
You Can Get Reservations for Free Dinner in Taco Bell's Insane Test Kitchen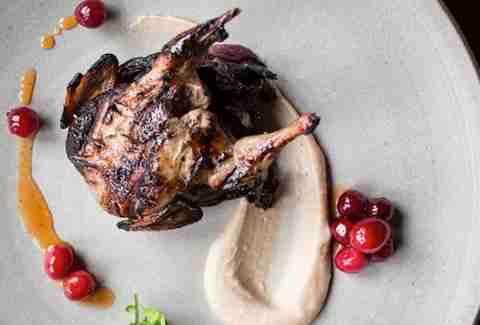 Midtown
Technically, Selden Standard only JUST opened, and having only JUST opened, it might seem a little preemptive to call it the "best restaurant opening of the year". Except it's already being hailed as such by the Detroit's culinary elite: Top Chef Season 12 "cheftestant" and much-loved local Swayze-tattooed Chef James Rigato of The Root called it "the unicorn of restaurants", and pretty much anyone who's anyone who's anyone was at one of the soft opening events and thoroughly reported it to FaceTwiGram. With a dreamteam of everyone behind them – from the design, furniture, and metalwork; to the partnerships with Michigan farms for their seasonal-rustic small plates; to their well-chosen, truly excellent drink offerings – the place has earned its 18+ months of buzz, and just goes to show that, while Michael Symon's name was on the front of the restaurant, it was Chef Andy Hollyday getting it done in the kitchen at Roast all along.
W Fort
Ever since Slows BAR BQ in Corktown became the game-changing Detroit restaurant (that got the city positive press in the New York Times), even in the midst of convicted felon-Mayor Kwame Kilpatrick's sexting scandal and the bailout of the auto industry, Detroiters have been eagerly anticipating the Second Coming of Slows. And now you have it. While Green Dot Stables, the first restaurant from Johnny Noodle King owners Jacques and Christine Driscoll, came real damn close, it's their Southwest Detroit noodle shop that's leveling up. If you're going to be one of those "authenticity" chauvinists, then just hop your ass on the next flight to Tokyo and be done with it already; otherwise, enjoy Chef Les Molnar's borders-be-damned fusion take of pho, ramen, curry, and the like. Despite being located in was once a DESOLATE stretch of Fort Street – it used to be, the only people to be seen on this side of town were truckers coming to and from the Ambassador Bridge – good luck getting a seat here. Like, ever. Seriously, think about getting in line an hour before they open. Screw being the Second Coming of Slows; this place is Detroit's Franklin Barbecue.
Royal Oak
When the longtime Royal Oak restaurant/nightclub institution Sangria closed and the new owner announced plans for the two-level space, there was some... trepidation. This is Royal Oak, after all; restaurants aren't exactly incentivized to be any good, and it's only a matter of time before the Downtown shirks all quirky-independent pretensions to just go straight up Bubba Gump Shrimp (and oh, that time is coming). Which makes Bistro 82 not just a welcome relief from what is too much of a gastronomic wasteland, but also, thanks to exceedingly talented Chef Derik Watson (formerly of Iridescence), puts it on the cutting edge of Metro Detroit's culinary scene. You can resist Royal Oak all you want, but you cannot ignore the beautifully-presented casually French fare of Bistro 82.
Downtown
It would be easy to call Wright & Co. "competitors" with Selden Standard, and by all definitions they are, but for the fact that this is Detroit and pretty much everyone on both teams are BFFs. Wright & Cp/ opened Downtown earlier this year in a beautiful second-floor space overlooking Woodward and could be called Selden Standard's exceedingly cosmopolitan sibling. Wright & Co. also features a talented Chef stepping out from behind the shadow of a much larger name – Chef Marc Djozlija, who worked for Wolfgang Puck for about 20 years – in partnership with Dave Kwiatkowski, of nationally-renowned Corktown cocktail bar The Sugar House. Start with a few snacks, like the warm dates stuffed with smoked bacon, Gorgonzola, and almonds, or the Sriracha chicken skewers with marinated cucumbers and Chinese mustard. Then order up some plates to share, and when in doubt, go raw - the tuna tartare and beef carpaccio are not to be trifled with. Also not to be trifled with is the kick-ass selection of local and international craft beers, natural wines, and signature craft cocktails. Another menu of seasonal small plates, another excellent drink list, and voila – Detroit can really start talking seriously about its restaurant scene.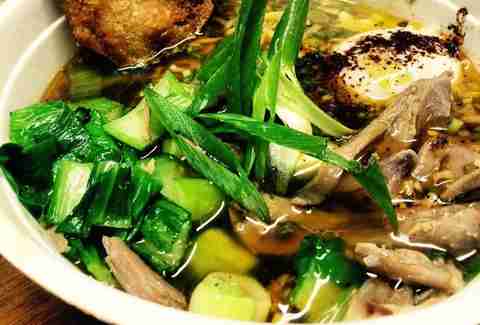 Michigan Ave
In 2013, Chef Brad Greenhill was doing pop-up dinners under the name Righteous Rojo and not enough people were paying attention because that was when everyone was all OH MY GOD GUNS + BUTTER OMGOMGOMG. Since then, he got himself a food truck, changed the name to Katoi and the focus to Thai(-inspired) street food, and now people are talking. In between mouthfuls of smoked duck ramen, that is. Last year at this time, no one in Detroit was doing any kind of Asian-inspired noodle soups. Now Rock City Eatery has a whole noodle menu and Johnny Noodle King has a whole noodle restaurant but, depending on who you ask, Katoi might just be making the best noodle dishes of all. (But again, it's not about competition!). Decide for yourself by checking them out Tuesday-Saturday at Two James Spirits in Corktown.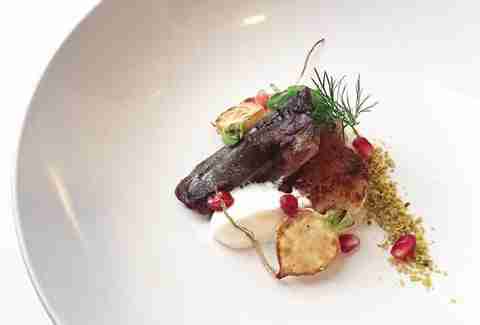 Eastern Market
Last year, Stockyard was functioning primarily as a Pontiac-based monthly dinner pop-up. Now it's primarily based in Detroit, and while they still host private supper club events with stunning dishes (seriously, their food photography is breathtaking – check them out on Instagram), now they also have a food truck, and the food quality and presentation is street-food stellar. Try their take on a bahn mi and also the chorizo poutine, and remember the name Marc Bogoff. Stockyard's slow burn and steady climb might bode better for their longevity than some other splashy flash-in-the-pan concepts.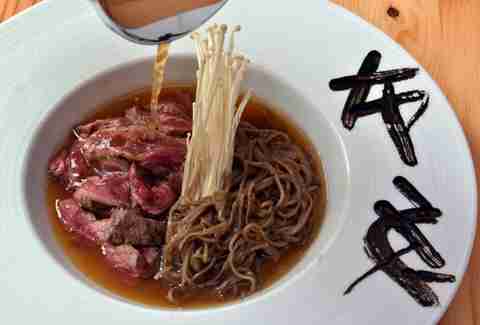 Downtown
2011 saw Joe Muer Seafood reborn inside the Renaissance Center. 2012 saw the re-opening of the iconic London Chop House. And now, 2014 brought the Top of the Pontch back to life, reimagined as an over-the-top Las Vegas-style fine-dining restaurant with one of the best views of any restaurant in the city, sitting atop the recently-renovated Crowne Plaza Pontchartrain and overlooking the Detroit River. Chef Justin Vaiciunas is one of the youngest and most ambitious Executive Chefs working in the city, and Top of the Pontch is the fullest realization of his ambitions to date. With a dining room that could absolutely be picked up and plopped comfortably back down atop the Delano Las Vegas, Top of the Pontch shows Vaiciunas flexing his love of intricate molecular gastronomy presentations and top-tier seafood to create a singularly luxe experience. There are dishes that are smoked and set on fire tableside, and the menu has some helpful tasting notes for unfamiliar items. The stuffed sea urchin is a standout, but if you're feeling splurge-y (and you should, because you're here), order the tasting menu, which changes in size and theme monthly.
Michigan Ave
Corktown's restaurant explosion won't stop until there is one of every kind of restaurant represented, and thanks to Rubbed the 'hood can now check "sandwich and charcuterie shop" off of its list. Reminiscent of a traditional deli or butcher space with a small, casual dining room (okay fine, we got that off the website but that's really the best way to phrase it), Rubbed offers sandwiches – build-your-own or signatures – and charcuterie boards. It's meat and cheese and bread all day everyday, and it's what Corktown was missing.
East Jefferson
OHMYGOD IT'S SO ADORABLE STOP IT! This Eastside Detroit diner is reborn straight-up Pinterest-style as Rose's Fine Food, featuring a made-from-scratch menu of decadent pastries and savory buns and seasonal sandwiches and fluffy pancakes with real Michigan maple syrup and old-fashioned egg creams and TAKE MY MONEY (but not my tips! Because they are a gratuity-free restaurant, promoting the idea of fair compensation for employees instead of the highly problematic long-valued system of consumer-dependent tipping).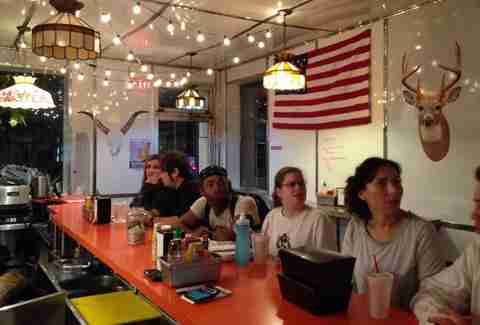 Hamtramck
Not every long-time, much-loved Detroit dining institution given new life this year was as splashy as Top of the Pontch. Over in Hamtramck, Nikita Sanches (formerly "Santches," now without the "t") and Jessica Imbronone of Rock City Eatery adopted the shuttered 24-hour Campau Tower diner and reopened it as an "Americana eatery", featuring the same greasy-spoon-diner food the old location was known for -- towering "Tower" burgers, giant hot dogs including Detroit-style and Chicago-style (named "The City That Blows" – because come on, we all know it's true), sandwiches, and because this is still the folks from Rock City, authentic street tacos and an inventive spin on bao buns. Once open 24 hours, Campau Tower is now limited to long afternoons and late nights, while Rock City is strictly dinner.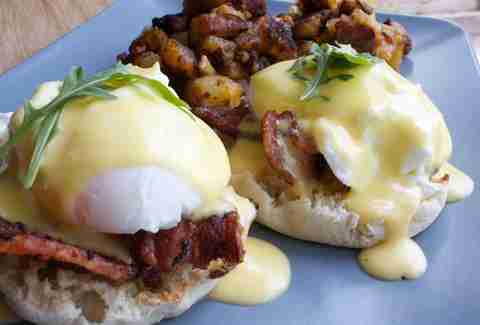 Downtown
It was amazing it even before it had its liquor license. Now that it does? The Dime Store "brunch bar" (but also lunch! and dinner!) is just all kinds of happy-making. While other restaurants have their definite niche and target a certain kind of style or clientele (and hey, there's a place for every taste and that is A-OK), the Dime Store is kind of like a warm hug. Good, hearty, rib-sticking Midwestern gastropub fare (though less pub-like and more airy brunch bistro in appearance), always tasty, always reliable. Some places you might only go to when you're "in the mood for that sort of thing"; this is the place you go to almost every day or when all else fails or just because you're craving that duck reuben or the tasty, bacon-y brussel sprouts salad. It is a food hug for your stomach.
Sign up here for our daily Detroit email and be the first to get all the food/drink/fun Motor City has to offer.