Detroit has been on a restaurant opening tear lately, and already since our last check-in, a slew of new joints have opened (and re-opened!). Time to get with the eating and drinking -- you were never serious about those resolutions anyway.
Recommended Video
Here's Our Travel Guide to This Nation of Over 7,000 Islands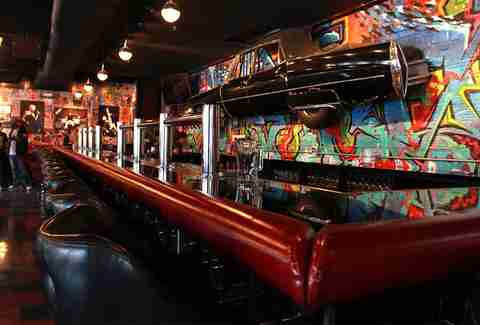 Midtown
For many, many years, the original Hopcat in Grand Rapids was named by every major UGC beer site poll and respected beer publication (including your favorite site) as one of the greatest beer bars in the world. Now the brand is rapidly expanding all over the Midwest, with locations in East Lansing, Indianapolis, and the latest in Detroit's Midtown, Ann Arbor (opening this month), Madison, Wi. (coming online this spring), and another dozen-ish reportedly in the works.
Hopcat's Detroit opening was one of the most buzzed-about bar openings possibly ever, and it's located in the former space of one of the most mourned closings possibly ever (Agave, though you would never know by looking at it), with a world-record tap takeover of the inexplicably wildly popular Short's Brewing Company (120 of the 130 available taps). The two-story beer temple also includes an all-season beer garden; a live music venue, the Huma Room; and it is adorned in world-class art, commissioned from local artists.
Corktown
Although it opened as part of the recent Corktown gold rush of restaurants, Gold Cash Gold actually gets its name from the pawn shop that previously occupied the space. They kept the iconic exterior murals and signage and even used salvaged wood from the old shop, along with flooring salvaged from a school gym, factory beams repurposed into benches, and warehouse windows re-welded and set with stained glass. But GCG isn't just another pretty repurposed space: it's also already one of the best restaurants in all of Metro Detroit, with Executive Chef Josh Stockton's "farmstead" cuisine – upscale farm-to-table comfort food without all the gimmickiness of upscale farm-to-table comfort food. Gold Cash Gold done struck itself.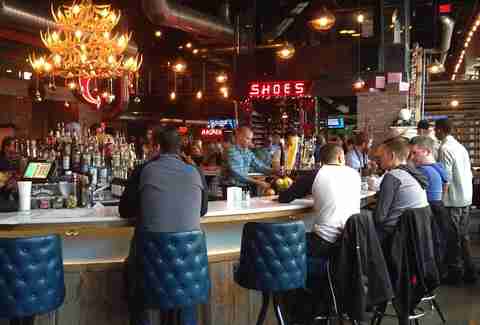 Downtown Detroit
Downtown Detroit is starting to smack a bit corporate-y. That is not an inherently bad thing in and of itself, though there are plenty of people who would argue otherwise. By comparison, most Downtown Central business districts tend to feel excessively polished and corporate, so in a way, it's sort of another sign of Detroit having "made it." (Or at least is in the process of doing so.) Punch Bowl Social is the kind of entertainment megaplex that is big and bold in a way that, just three short years ago, would have felt completely out of step with the rest of the city. Now it fits right in.
The Denver-based chain (with locations in Denver, Portland, and Austin) is sort of an adult arcade with bowling, ping pong, shuffleboard, darts, foosball, arcade & pinball games, karaoke, multiple bars serving craft beer & cocktails, and made-from-scratch food for breakfast, lunch & dinner. It's also open 7am-2am, Monday through Friday, and 9am-2am, Saturday and Sunday... making it pretty much the first of its kind in Detroit based on hours alone.
Gratiot Avenue
So, at least this time, half the staff didn't walk out just a few days after opening.
Hamtramck
Detroit is such a passionate sports town that not only do we celebrate every major sport with a fervor few other cities could possibly understand, but we also support our big cats even when they're down, call ourselves "Hockeytown," and love our semi-pro Detroit City Football Club even though nearly none of us even watched soccer "football" prior to the team's inaugural 2011 season. We love sports so much, we also just go ahead and make up our own damn games. Like fowling. Which is not feather bowling, though the Cadieux Café is one of the few places in the country where you can play that, but a hybrid of football (American version), bowling, and horseshoes. The Fowling Warehouse in Hamtramck, an entertainment megaplex in its own right, is a massive space with 20 fowling lanes, two bars, and a 175-seat beer garden. This is Detroit's homegrown answer to Punch Bowl Social.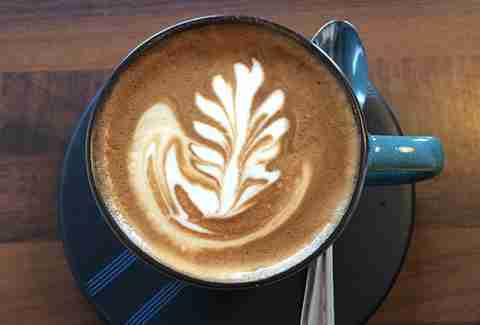 New Center
Everyone's favorite Southwest Detroit coffee shop and hangout spot, Café con Leche, now has a second location to the North on West Grand Blvd in New Center. They serve a selection of Michigan-roasted coffees from Anthology Coffee, Germack Coffee, and the Ugly Mug Café and Roastery. Owner Jordi Carbonell has also purchased a roaster and will soon be roasting, serving, and selling a signature line of coffees. The stunning space is a culmination of the design promise displayed at the Café con Leche del Este pop-up held in Lafayette Park in 2012 (which is now a laundromat... sigh). The new spot serves sandwiches and pastries, much like the SW location, though Carbonell has hopes to expand offerings from the prep kitchen to include some tapas and perhaps even host pop-ups down the line.
Midtown
Maurice Wiggins, founder and former owner of Downtown's Hudson Café, has opened the Addison Eatery in the former Atlas Global Bistro space, where they currently serve breakfast, brunch, and lunch as they await that all-elusive liquor license. If you dig the food at Hudson Café, you'll dig it here. Three words: red velvet pancakes.
Ferndale
There was a time when Crave in Dearborn was one of the hottest restaurants in Metro Detroit. (Really! It was during that whole Asian fusion/sushi-nightclub craze of the early oughts. Those were strange days.) Now Ferndale's John D Bistro has been reborn under a new partnership with Crave ownership as Crave Ferndale, but will keep the same culinary aesthetic as the original, with pan-Asian-fusion-meets-modern-Mediterranean cuisine. An effort was made a few years back to open Crave Birmingham, though it fell flat -- presumably around the same time that Birmingham decided it REALLY hates nightclubs, ultralounges, and anything of that ilk.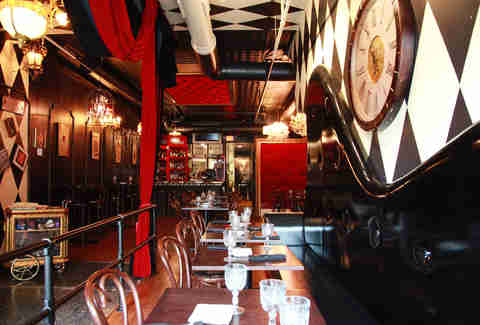 Birmingham
But Birmingham does not hate tearooms, and the new Mad Hatter Bistro is just the right amount of inoffensive grown-up whimsy. It's a charming space with a clearly thought-through themed food and drink menu (including a White Rabbit cocktail made with gin and absinthe, which could conceivably send someone spiraling down a rabbit hole of their own), adding a bit of wonderful madness to the otherwise oft-stuffy dining scene.
Downtown Detroit
It's so... purple! The new AXIS Lounge at MGM replaces the former U.Me.Drink, the circular bar/lounge in the center of the casino. Since the purpose of all bars located in the center of all casinos is really just to provide you with a place to booze-up as you make your way from the slot machines to the buffet, probably no one even knew that last bar had a name, much less that it was U.Me.Drink, nor do they probably care. But hey, MGM just dumped $3mil into making this a very purple place to drink and hear music, so it was apparently important to them.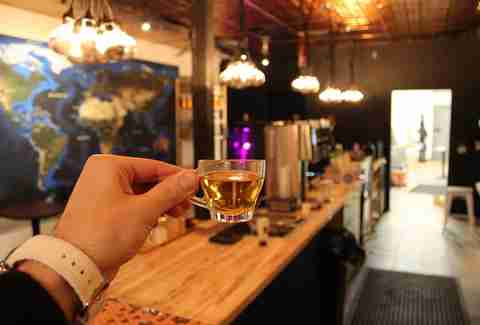 Birmingham
Eli Tea Bar serves natural teas blended on-site and never with any syrups or artificial flavors. Owner Elias Majid opened the tea bar inside the former Cold Stone Creamery on Old Woodward in Birmingham with hopes of furthering tea culture in Metro Detroit, which lags just a wee-bit behind other major North American cities. But we'll get there. We always do.
Sign up here for our daily Detroit email and be the first to get all the food/drink/fun Motor City has to offer.