Since we last checked in, the Detroit dining scene has only continued to grow, following a new, casual trend. The end of summer was a mad dash for new restaurants looking to capitalize on patio weather that's quickly coming to an end. We're still on the lookout for anticipated openings like La Noria and Atomic Chicken, which appear to have missed their mark of opening before fall. Maybe we'll be more lucky come winter. For now, let's celebrate what we did get, shall we?
Recommended Video
This Pizza Dip Lets You Throw a New Kind of Pizza Party
Woodbridge
This former pop-up finally opened the doors of its brick-and-mortar location in late July, directly next door to Woodbridge Pub, where it got its start. This pizza laboratory's rotating menu of less-than-typical pizzas is organized by class: Elementary, Pizza High, and U of Pizza. It recently launched fall menu craft signature pies, like the Fennel Countdown, made with a garlic-oil red sauce, Italian sausage, oven-roasted fennel, caramelized onion, sauteed bell pepper, and mozzarella. Vegans, never fear -- vegan and gluten-free options are in sight for a slight up-charge. Pair any pie(-sci) with a Detroit City fountain soda for the full city-centric experience.
Downtown
Since moving into the old Kales Building, this wine bar-meets-retail shop has become a favorite for small bites and quality wines. The regal location sports an impressive wall of wines (which, yes, are all available to buy) stacked high, nearly to the vaulted ceiling. Glass pours change every other week and are accompanied by snacks like nuts, olives, meats, and cheeses. Beyond great wines and butcher's boards are damn good morals -- The Royce pays its employees a living wage so they won't need to live off of tips. If you still feel the need to give a little extra for great service, a portion of the tips are donated to a local charity, with the rest being split among the staff.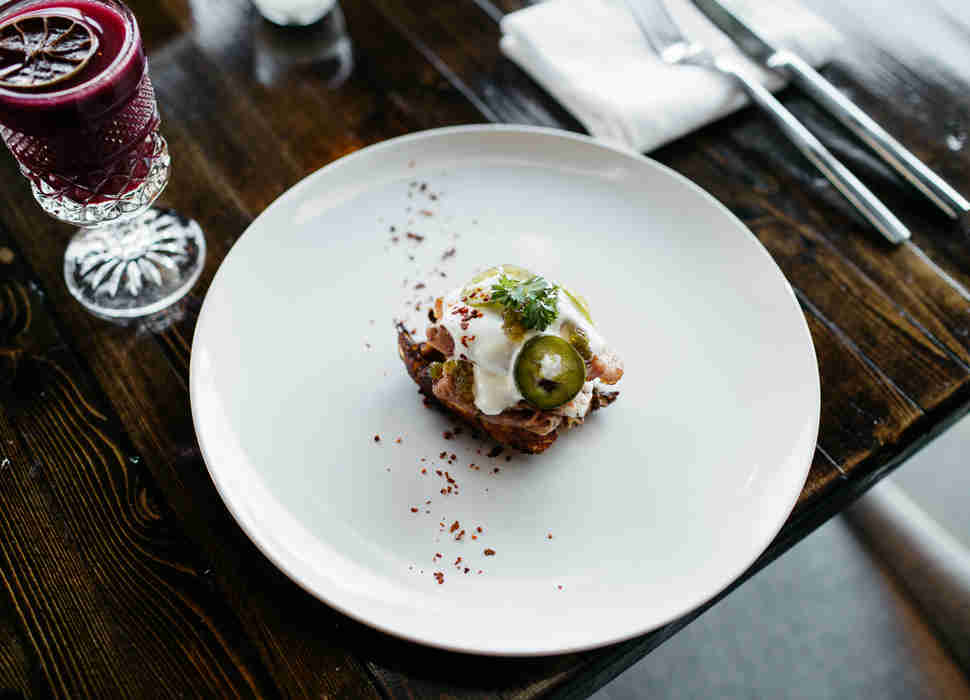 Brush Park
Easily one of the most anticipated openings this summer was Grey Ghost, which opened its doors in the historic Ye Olde Butcher Shoppe in July. Headed by chefs John Vermiglio and Joe Giacomino, the menu is packed with proteins like dry-aged rib-eyes, black forest pork chops, and racks of lamb. The venue pours a variety of signature cocktails served stirred, shaken, or from the tap. Go for the slightly spicy Not Your Libre, made with tequila, chipotle, cola, lime, and Angostura bitters.
Royal Oak
Few things are more appealing than Mexican-American comfort food like warm sopa de pollo or fresh tacos. One of the only ways to really improve on that is to make it available 24 hours a day at affordable prices. Enter O.W.L., one of Royal Oak's newest diners, which debuted in July. In true diner fashion, cooks can be seen behind the counter dishing out plates like avocado toast, chilaquiles, and nachos, as well as American classics like cheeseburgers and chicken wings. The breakfast menu easily steals the show with favorites like habanero bacon, egg, and cheese sandwiches and grilled cinnamon buns. Although we may never know what the acronym stands for, if it keeps serving up dishes like this, it'll be hard to complain.
Midtown
One of the casual chain restaurants that now call Detroit home is Gus's World Famous Fried Chicken. While it's a chain -- chains have notoriously flopped in the city -- the spot has gained quite a bit of traction since its (delayed) opening in August. The Memphis-based chain uses only fresh chicken, served alongside classic comfort sides like fried okra, mac & cheese, and baked beans. The juicy and spicy fried chicken lives up to the hype, leaning on the same recipe that's been used since 1984. Combine the delicious chicken with reasonable prices and speedy service for a new, quick weeknight staple.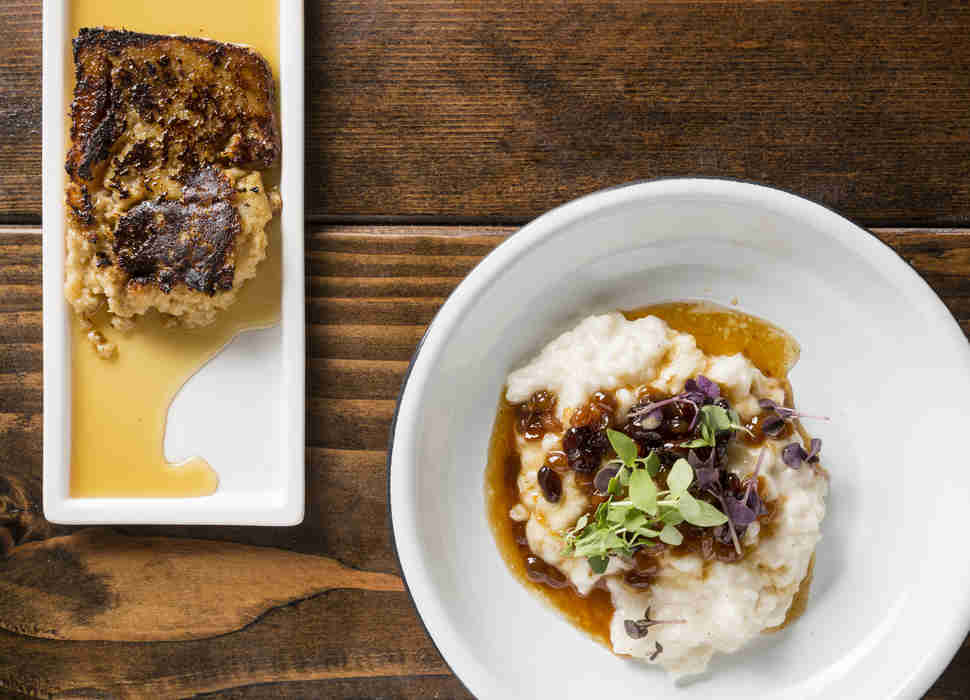 Midtown
Formerly from Hamtramck, Rock City Eatery opened its doors in Midtown in September. The new location on Woodward is more than double the size of its previous venue. Beyond expanding the physical space, the restaurant has blown out its menu, adding an affordable lunch service with 10 new tacos available for $3.50 each or three for $9. The star of the midday menu is definitely the poutine, made with duck fat fries, duck gravy, cheese curds, caramelized onions, and scallions. Top it with a fried egg -- trust us. It may be the best poutine in the city.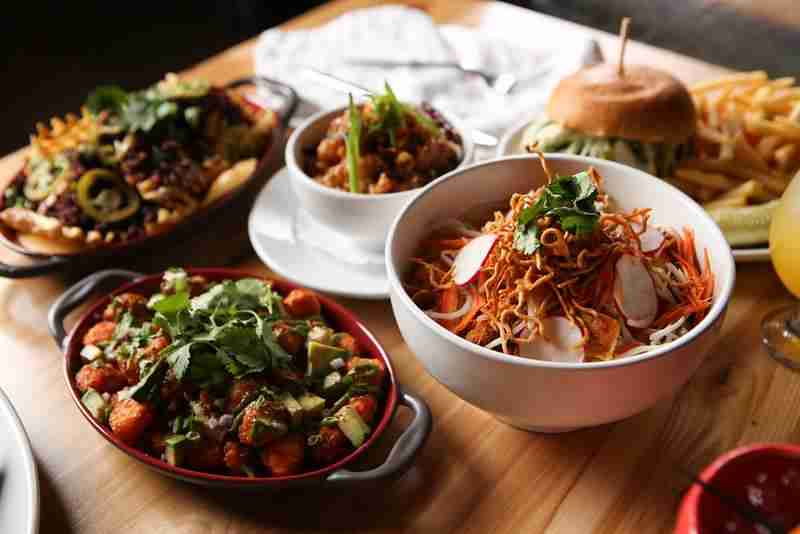 Ferndale
This Royal Oak Rock n' Roll Roadhouse (say that three times fast!) finally opened its doors this September. The casual eatery will also serve as a music venue, eventually hosting regular open mic nights. Vegetarian options like the Kung Pao Cauliflower are as delicious as the meaty counterparts, like the starred brisket-covered waffle fries and roadhouse ribs. Overall, the Morrie is a solid addition to Royal Oak's already bustling culinary scene.
Midtown
Move over, Cafe 78 -- the Detroit Optimist Society has taken over the small restaurant inside MOCAD as of September and has begun dishing out fresh sushi five days a week. Previously of Townhouse, sushi chef Rob Lee challenges the concept that sushi has to be serious with signature rolls like the Californication, made with crab salad, red bell pepper, cucumber, avocado, and sesame seeds, and contemporary cocktails like the Ferrari Collins, made with Campari, Fernet-Branca, simple syrup, lemon, and soda. Grab some lunch. Enjoy some art. Be happy.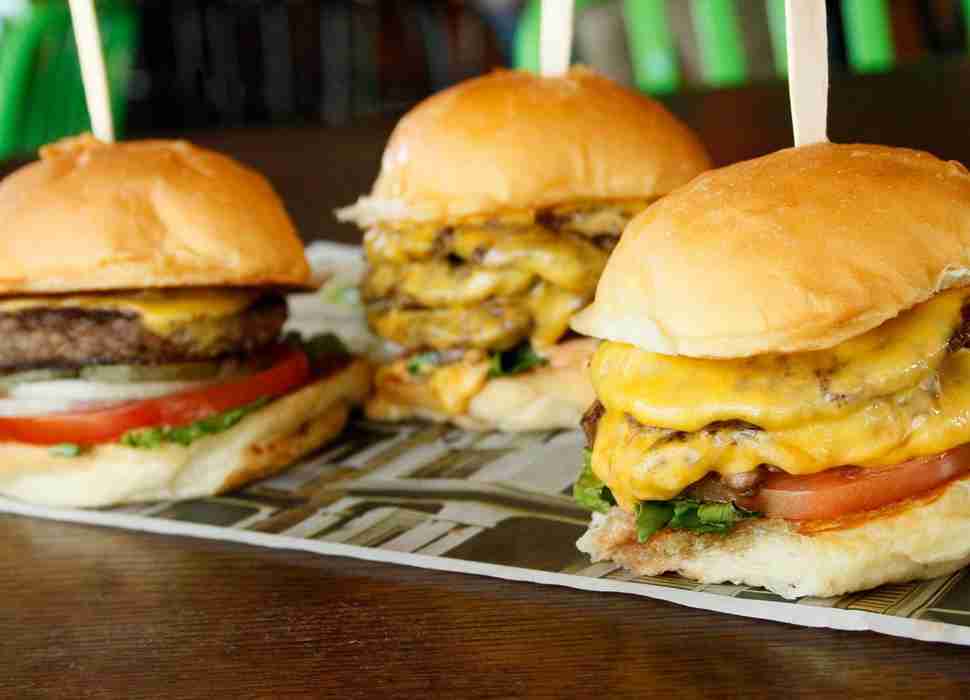 Greektown
It's hard not to roll your eyes at a restaurant like Wahlburgers, but the highly anticipated burger joint opened to a massive audience this month. The franchise, founded by actor Mark Wahlberg's brother Paul, features "family favorites" like sloppy Joes and signature burgers like the 1/3lb Our Burger, topped with house-made pickles, "government" cheese (it's just American cheese), onions, and Wahl sauce, a Sriracha-spiked Big Mac-type sauce. Although small joints like Miller's Bar will continue to be the go-to for a bar burger, Wahlburgers is undeniably a fun place for tourists and out-of-towners looking for a star-studded lunch from Marky Mark and Co.
Sign up here for our daily Detroit email and be the first to get all the food/drink/fun the Motor City has to offer.