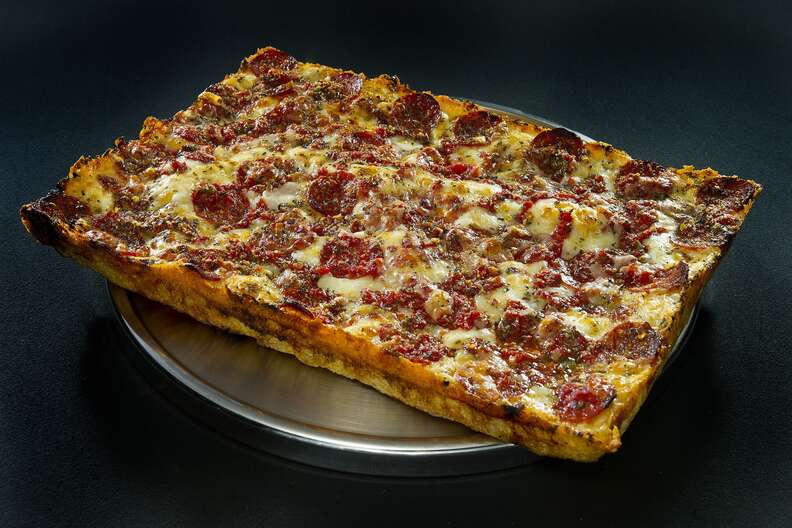 Buddy's Pizza

| Buddy's Pizza
Buddy's Pizza

| Buddy's Pizza
Thin crust, hand-tossed, or deep dish? Vegetarian, or enough meat to choke a carnivore? New York, Chicago, or Detroit-style? You can eat it any way you want in Ann Arbor, a college town that's (unsurprisingly) packed with outstanding pizza parlors vying for the taste buds of students on the go and unhurried townies alike. Here are -- in no particular order -- nine of the best places to get a palate-pleasing pie in Tree Town.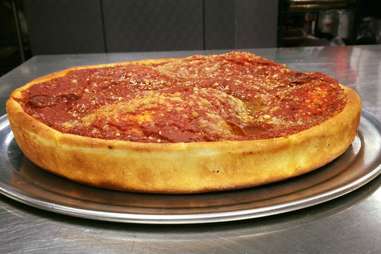 Southeast Ann Arbor, West Side
Local favorite specializing in Chicago deep dish

Founded in 1988, Anthony's has a passionate local following, and while it produces a variety of pizza styles, the place is best known for serving up Chicago-style deep dish pies at least as good as any you'll find in the Windy City. That's right: You can enjoy all those thick, stuffed layers of chunky sauce, gooey cheese, fresh veggies, sausage, pepperoni, or whatever floats your particular pizza boat without ever having to deal with toll roads, heavy traffic, or, well, Chicagoans. The west side location is pick-up or delivery only, but the southeast spot offers seating for dine-in patrons, and while the thick and heavy pies at Anthony's take longer to bake and can be on the pricey side, you'll find no shortage of Ann Arborites saying they're worth the wait and expense.
Downtown
Nationally acclaimed spot serving up Neapolitan-style masterpieces

With a plethora of accolades including shout-outs from the likes of Travel + Leisure, Food & Wine, Iron Chef, and noted Italian guy Mario Batali himself, this stylish-yet-unpretentious eatery in downtown Ann Arbor is no stranger to best of lists, and for good reason. Beyond its well-curated wine and draft beer selections, specialty cocktails made with top-shelf American and Italian spirits, and a menu full of incredibly flavorful soups, salads, and pasta dishes, the main draw here is the pizza. Mani's Neapolitan masterpieces are all baked in a traditional wood-fired oven and served hot and crispy, ranging from traditional margherita to American-inspired supreme-style, to red onions and pistachios with goat cheese and rosemary. Substitutions are frowned upon, but don't worry: You really can't go wrong with ordering any Mani pizza as-is. Reservations are recommended, as the limited dining space tends to fill up fast.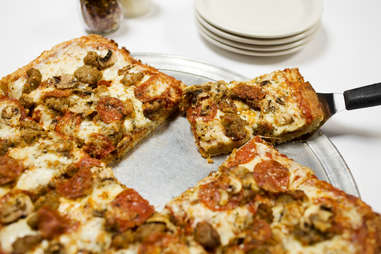 Central Campus
Sicilian-style pies in a comfy, classic space

An Ann Arbor mainstay since 1948, the Original Cottage Inn's claim to fame is not only serving some of the best pizza in town, but also the first pizza ever served here. Generations of Tree Town denizens have enthusiastically gorged themselves on the sesame-crusted, deep-dish Sicilian-style, and hand-tossed pies that spawned a successful regional franchise with locations throughout Michigan and Ohio. But the original restaurant remains the best, with its exposed-brick interior steeped in Ann Arbor lore, great happy-hour specials featuring adult beverages and appetizers, and a menu that goes far beyond pizza to include many other Italian and Greek specialties. And there's never any shame in ordering a Cottage Inn pie to enjoy on the couch at home -- you'll be following in the footsteps of countless students and townies before you.
Central Campus
Big Apple-style slices made with high-quality ingredients

Big, beautiful, hand-tossed slices dripping with cheese and grease are as quintessentially New York City as a Broadway musical. Luckily, though, you don't need to book a flight to the Big Apple to enjoy an amazing take on this style of pizza because Ann Arbor's own New York Pizza Depot fits the bill (and then some). It helps that the three Italian immigrant brothers who founded the pizzeria carry an impeccable NYC pedigree, and it helps even more that they use only fresh, high-quality ingredients in everything on the menu (including meats from local favorite Knight's Market). Sure, NYPD might not be the cheapest game in town, but you can wash your pizza down with a number of excellent craft beer options on tap. Folding your slice over is optional.
Southeast Ann Arbor
Unique Italian pies in an elegant, modern setting

Bigalora's founder, chef Luciano Del Signore, knows his way around a kitchen. The dude collects James Beard Award nominations like black shirts collect pet hair (three to date), and he racked up plenty of Restaurant of the Year accolades for his original endeavor, Bacco Ristorante in Southfield. When he turned his talents toward biga, a traditional Italian starter dough made with water, wheat flour, and wild yeast, the concept for Bigalora (now six locations strong) was born. The Ann Arbor Bigalora features an ever-rotating lineup of 40 draft beers, an incredible wall of booze for making any cocktail imaginable, an expansive wine list, and a wide variety of the pizzas the chain is named for. Whether you go for a red or white base, or all-veggie or mixed toppings, your pizza will slide into the 900-degree wood-fired oven and pop right back out again in 90 seconds -- hot, crisp, and ready to blow you away.
Downtown
Stone-baked gourmet pizzas paired with award-winning brews

Jolly Pumpkin may be best known for its award-winning, nationally recognized, oak-aged and blended sour ales, but the Ann Arbor location is also known for an equally amazing food menu, especially the pizza offerings. JP's stone-baked pies feature a thin, toothsome crust, fashioned from a 100-year-old sourdough starter and range from the Carnivores (pepperoni, fennel sausage, applewood-smoked bacon) to the Truffle (shiitake mushrooms, goat cheese, truffle oil, and arugula dressed with red wine vinaigrette) to the Popeye (farm-fresh spinach, shaved garlic, preserved lemon, extra-virgin olive oil, and cracked black pepper). Belly up to the bar and enjoy a pie by yourself or, weather permitting, take a friend up to the rooftop deck and split one.
Southwest Ann Arbor
The original Detroit-style square pizza

Stop any native of Southeastern Michigan on the street and ask them, "Who makes the best pizza in the state?" Odds are pretty high that the answer you'll get will be Buddy's (and that said native will correct you with "best pizza anywhere"). Founded in Detroit in 1946, Buddy's is credited with introducing to the world what we now know as Detroit-style square pizza. Locals love it, expats crave it, and newbies readily convert to it. What makes it so special? The pies are baked in deep, oiled, rectangular pans -- which may actually be discarded vessels originally used to hold auto parts (we're talking about Detroit, after all) -- yielding pizza with a thick, chewy crust and crunchy, caramelized edges. Buddy's has 12 locations throughout Metro Detroit, with the recently opened bar and restaurant here in Ann Arbor being the newest.
Central Campus
Neapolitan pizza made from old country ingredients

When the moon hits your eye like a big pizza pie... well, I don't know what the hell that means, but if you're looking for amore, you'll fall in love with the pizza at NeoPapalis from the first bite. There's no denying the light, crispy crust made from slow-rising dough (we're talking at least three days here), sauce from San Marzano tomatoes harvested in the shadow of Mt. Vesuvius, and fior di latte cheese, all topped with fresh veggies, house-sliced meats, and/or whatever other items your little heart desires, from anchovies to pineapple to goat cheese. NeoPapalis doesn't do coupons or delivery, but you can build your own pie from a red, white, or green (pesto) base, and there are even options for cheese-avoiding vegans. Pair your pie with one of several excellent craft beers on tap and you're golden. Vita bella!
West Side
Inventive thin-crust pizzas at a multi-tap beer bar

Astute readers may have noticed by now that we here in Ann Arbor really love beer -- so when the 70-tap Session Room opened last year, brew-seeking residents on the city's west side rejoiced. The spacious machine shop-turned-restaurant offers a long bar, a lot of booths and tables, a beer garden, and some pretty damn delicious thin-crust pizza among its many solid, locally sourced menu options. Choose for a variety of pies, including the apple and pork (pulled pork, sliced apple, red onion, tangy house BBQ sauce), the Angry Buffalo (chicken, bacon, grilled jalapeños, roasted red pepper, Buffalo sauce), and the Garden Pizza (roasted tomato and corn, mushroom, green olive, spinach, red onion). For this writer's money, though, the best option is simple pepperoni and mushroom, with spicy, thickly sliced chunks of 'roni as good as you'll find anywhere else.
Sign up here for our daily Detroit email and be the first to get all the food/drink/fun the Motor City has to offer.
David Bardallis lives in Ann Arbor where he eats a lot of pizza and drinks a lot of beer. Follow him at @allthebrews.