Where to Eat and Drink in Dearborn, a Destination for Arab-American Culture and Cuisine
Get to know Detroit's most delicious suburb.
Photos: James R. Martin/Shutterstock, Nagel Photography/Shutterstock; Design by Maitane Romagosa for Thrillist
Arab migrants—mostly Syrian and Lebanese, initially—first began arriving in Detroit in the late 1880s, looking for work and to escape military draft. Palestinian Muslims followed in the 1910s and early '20s, drawn by the possibility of working on Ford's assembly lines as the Model T took off. Ford's largest factory, the River Rouge Complex, was in Dearborn (Henry Ford was born on a farm in Dearborn and had a home there later in life). Catholic Chaldeans from Iraq seeking work and religious freedom soon followed, along with Yemenites. And even when the auto industry jobs declined, Arabs from across the Middle East continued to come to Dearborn through the decades to escape conflict or to seek a better life, due to the already established communities here.
Today, Dearborn has the largest Arab community in the country. Of the city's estimated 94,000-ish people, more than 30 percent identify as Arab-American or say they have some form of Arab descent. (Numbers are hard to verify as the census doesn't include Middle Eastern or North African as a category, something US Rep Rashida Tlaib, an Arab-American representing parts of Detroit and its suburbs, tried to fight).
Dearborn is home to the Islamic Center of America, the largest mosque in North America. Founded in 1963, the mosque's ornate design rivals some of the world's most famous ones, and is the religious center for many in the Detroit Metro area. After the attacks on 9/11, the Arab-American community dealt with serious racism, distrust, and bias. To combat this, the Dearborn community raised thousands of dollars to build a museum they had been thinking about for years: the Arab American National Museum, which opened in 2005. Definitely worth a visit, the museum explores the various cultures, history, and traditions of the Arab World (which includes 22 countries) and people, and delves into the Dearborn community's story as well. The museum also sponsors guided or self-guided Dearborn walking food tours called Yalla Eat! (yalla is Arabic for "let's go").
Thanks to all this diversity, Dearborn has, not surprisingly, become a culinary powerhouse, particularly in terms of Middle Eastern food—although that's not the only cuisine found here. Immigrants from countries like Yemen, Lebanon, Syria, Iraq, and Palestine live in Dearborn, and many have opened up food markets and restaurants serving the food of their native countries. There's also solid Mexican, Thai, and more, making dining in Dearborn an easy decision.
Here are some of our favorite places to eat and drink in Dearborn.
6905 Schaefer Road
Rafic Baydoun's father owned a restaurant in Lebanon and when he was a teenager he perfected his now-famous falafel there. During the Lebanon Civil War, Rafic sent his sons to live in America while he continued to operate the restaurant in Lebanon, finally closing it in 2000. He eventually moved to Dearborn to join his family, and in 2014 his son Hassan opened Rafic's Falafel with his guidance. The restaurant is known for its traditional falafel (of course), as well as their shawarma platters, chicken wings, and shish sujuk (homemade sausage) skewers.
How to order: Available for pick-up and delivery via Postmates and Uber Eats, or call the restaurant at 313-551-5046.
13919 Michigan Avenue
Sheeba, which has another location in West Dearborn, excels in traditional Yemenite dishes like seltah (vegetables with fenugreek), fahsah (shredded lamb and potatoes are served piping hot in a clay bowl), and tahini-topped foul (mashed fava beans). If you're with a group, call for the Sheeba platter, which includes items like haneeth (slow-roasted chicken or lamb) and galabah (chicken or lamb sauteed with onion, tomatoes, green peppers, scallions, parsley, and spices), rice, and fahsah. Use the fluffy handmade flatbread to shovel it into your mouth—no judgment here.
How to order: Available for pick-up and delivery via Postmates, Grubhub, and Uber Eats, or call the restaurant at 313-724-6887.
12710 W. Warren Avenue
Perhaps the most famous of Dearborn's Middle Eastern restaurants, Al-Ameer won the James Beard Classics Award in 2016 for its authentic Lebanese fare. Partners Khalil Ammar and Zaki Hashem and their sons pride themselves on their farm fresh ingredients and authentic dishes like fattoush salad, tabbouli, shish kebab, and insanely good handmade hummus best eaten with the freshly baked pita. The restaurant has been around since 1989 and now has multiple locations.
How to order: Available for pick-up and delivery via Doordash and Uber Eats.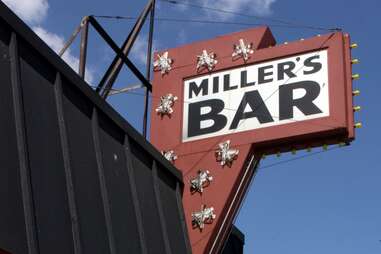 23700 Michigan Avenue
This beloved dive bar has been serving juicy burgers (called a "Ground Round," it's topped with cheese, ketchup, mustard, pickles, and onions, and don't even think of requesting lettuce or tomato) and beer since 1941, racking up many "best burger in town" accolades along the way. Add on onion rings or fries and you'll be good to go. Don't expect any frills and bring cash if you're eating there.
How to order: Available for pick-up via their website.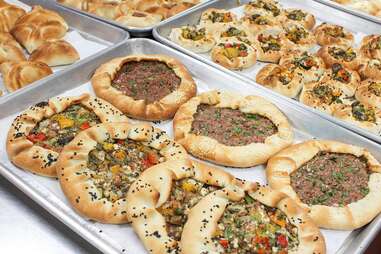 13900 W. Warren Avenue
New Yasmeen is a Lebanese bakery, deli, and market selling delicacies like yakhnet sabanegh (spinach and beef stew), various fried kibbeh, shawarma, maneesh flatbreads with various toppings, and pastries like meat, cheese, and vegetable-filled pies and flaky maamoul cookies.
How to order: Available for pick-up and delivery via their website.
6655 Schaefer Road
Qahwah House opened at the end of 2016, bringing some of the world's best coffee with it. Owner Ibrahim Alhasbani gets his coffee directly from organic farms owned by his family in Yemen, roasts it in house, and serves it in the traditional Yemeni style. Choose from Sana'ani (coffee with cardamom), Jubani (coffee and coffee bean husks with cardamom, ginger, and cinnamon), Mofowar (coffee with cardamom and cream), Qishr (coffee bean husks with ginger and cinnamon), and more. And do not sleep on the Sabaya, a flaky pastry made in-house and drizzled with honey from Yemen just before serving.
How to order: Available for pick-up and delivery via their website.
2450 S. Telegraph Road
It may seem surprising that one of Michigan's best Thai restaurants is in Dearborn; nevertheless, it's true. Before moving to Dearborn in 1996 and opening her restaurant, chef/owner Genevieve Vang lived in Laos, Thailand, and France, where she honed her cooking skills. Popular dishes from the extensive menu include her hot & sour soup, Thai jungle BBQ fish made with grilled catfish, and pad bai gra prow. Portions are large so come hungry.
How to order: Available for pick-up by calling the restaurant at 313-730-8161.
14300 W. Warren Avenue
For flaky, sticky baklava in dozens of flavors, Shatila has you covered. The Lebanese family-owned and run oasis has been baking Middle Eastern delights since 1979. Aside from baklava, visitors can indulge in knafeh, maamoul, kashta, and tea cookies.
How to order: Available for pick-up and delivery via Grubhub and Doordash, or ship nationwide via Goldbelly.
13251 W. Warren Avenue
Hamido's rotisserie chicken covered in Middle Eastern spices is a must-order. The casual Lebanese eatery also has delicious hummus, falafel, shish kabobs, stuffed grape leaves, and shawarma, among other items on their long menu. A second location is in Dearborn Heights.
How to order: Available for pick-up and delivery via Grubhub.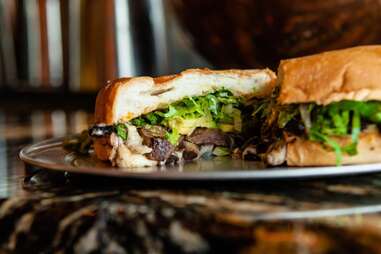 13214 Michigan Avenue
M Cantina's chef, Junior Merino, became known in the industry as an award-winning mixologist and spice master who goes by the name the Liquid Chef. He opened M Cantina in 2017 and nods to the local clientele by serving halal meat and offering menu items like Tacos Arabes, with spiced and marinated chicken drizzled with a cucumber-cilantro-yogurt-sauce and served in a gyro-style flatbread. It's found alongside Mexican and Latin American street food classics like esquites corn, tlayuda, maduros sweet plantains, tacos al pastor, chapulines, and escamoles.
How to order: Available for pick-up via their website.
21367 Michigan Avenue
A burger and beer joint paying homage to Ford's heyday, Ford's Garage is designed to resemble a classic 1920s service station, including vintage Ford vehicles, gas pumps, and fixtures. And although seeing the step-back-in-time décor is half the fun, the juicy burgers branded with the Ford logo, mounds of onion rings, and classic diner food like meatloaf and macaroni and cheese ensure satisfaction. The extensive selection of Michigan craft beer completes the experience.
How to order: Available for pick-up via their website or delivery via Doordash.
7721 Schaefer Road
This halal meat shop offers a multitude of cuts of chicken, beef, and lamb ready to buy and cook at home, but locals know that the dine-in experience is worth indulging in. Select your choice of meat to be charcoal grilled along with sides like tabouli, baba ganoush, and hummus, and enjoy the wait as the shop fills with the tantalizing scent of fired meat.
How to order: In-store only, or order raw meat to be shipped via their website.