Over the past few years, several new restaurants specializing in vegan and vegetarian cuisine have sprouted (pun definitely intended) around Metro Detroit. With the diverse options ranging from soul food comfort favorites to Japanese-inspired noodles and rice bowls, herbivores and omnivores can happily dine at the same table. Whether you subscribe to the #plantbased4life lifestyle or just want a change of pace from the meat sweats, these are best restaurants around town to eat your veggies.
MORE: Check out the best restaurants in Detroit, period.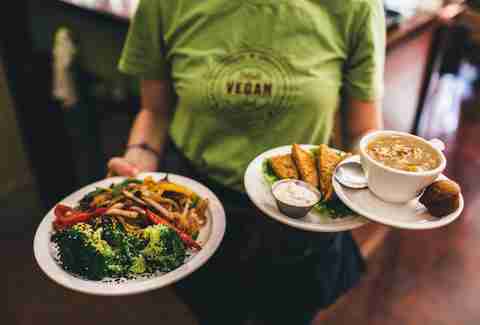 West Village and Grandmont Rosedale
Soul food meets whole food
Partners and founders Kirsten Ussery and Erika Boyd were inspired to break the vicious cycle of diet-related diseases in their family to create a 100% plant-based, healthy take on their loved ones' favorite dishes. The result? The perfect blend of soul food and whole food. Over at the original West Village location, the pair built up their reputation with comfort food favorites such as mac and cheese, catfish tofu, and seitan pepper steak. Their success spawned a second location in Grandmont Rosedale, which offers many of the same favorites as well as brunch. On the savory side, there's the signature catfish tofu, which comes with polenta vegan cheese grits. For those with a sweet tooth, the sweet potato pancakes with maple syrup and sprinkled with cinnamon and walnuts won't disappoint.
Midtown
Stalwart of Detroit's vegan and vegetarian scene
Seva is one of the OG's of Michigan's vegan and vegetarian restaurants, with its Ann Arbor spot satiating plant-based palates since 1973. Seva didn't reinvent the wheel when it opened its Detroit location. But restaurant favorites, such as the General Tso's cauliflower and the pad Thai, quickly became staples at the Midtown location. The rotating specials are worth a look, but you can't go wrong with the classics like the tempeh reuben with chargrilled tempeh, sauerkraut, tomatoes, Swiss cheese, and smoked mozzarella. In nicer weather, the patio is an oasis in the city, the perfect spot for relaxing with a fresh juice or a glass of wine or a pint of beer during happy hour.
Corktown
Now you can get poutine and drinks at this Corktown favorite
For Canada's most beloved tater dish, the poutine doesn't get more legit than Brooklyn Street Local. Poutine can be customized, including (and especially) vegetarian-style, replete with organic cheese curds, or vegan, topped with Daiya vegan cheese and smothered in mushroom gravy. Brooklyn Street Local does plant-based dishes as well as more meatier counterparts in its signature fresh diner fare that highlights local and seasonal ingredients. Creative vegan options include a kale quinoa salad and the beloved Ashley's Veggie Burger, a house-made vegetable and lentil patty, garnished with pea shoots, red onion, vine-ripe tomato, and aioli. Now open for dinner, you can get your plant-based poutine fix all day along with an adult beverage.
Cass Corridor
College-friendly, artist hangout with eclectic fare
This art gallery/café has long been a staple among Wayne State students on a budget and artist-hipster types in search of moderately priced coffee, cocktails, and eclectic food all in one place. Peruse the paintings from some of Detroit's up-and coming artists before digging into the house specialty -- the lentil burger, a flavorful patty crafted from lentils, ground walnuts, and Parmesan cheese, all nestled atop a warm onion roll. Other standouts include the roasted beet and poached pear salad, the tofu club with artichoke chutney, and the lentil penne pasta (they are masters of lentils here if you haven't noticed). The beer menu ranges from the classic budget-friendly classic of PBR to local craft beers.
Corktown
Sandwich institution with a plethora of plant-based options
Corktown sandwich staple Mudgie's may be more famous for its massive Lobster Roll week in the summer but don't sleep on its vegetarian and vegan offerings in its expansive sandwich repertoire. The Hippie Dippie Sh*t Man is the perfect example of Mudgie's creative approach to the tried and true carb vessel plus filling formula with a whole wheat wrap, avocado, baby spinach, sunflower sprouts, walnuts, dried cranberries, diced apples, shredded carrots, and cucumber, tossed in raspberry vinaigrette. No need to be a hippie to partake. There's also several other options or feel free to build your own. Wash it all down with a local beer or curated wine selection. 
Royal Oak
Pioneers of vegan and vegetarian cooking in Michigan
When it comes to the godfather of plant-based dining in Metro Detroit, Inn Season Café is the Don, serving the vegan and vegetarian crowd since 1981. Its menu spans diverse cuisines and flavor profiles, from Mediterranean to Mexican. The constant is the dedication to sourcing the freshest local produce and creating as much as possible in house from scratch. Feast on hearty dishes like the botana (like nachos, only better, with blue corn tortilla chips topped with beans, green pepper, tomatoes, olives and guac) or the Shanghai Noodle Factory, whole wheat noodles with shiitake-miso sauce and your choice of tofu, tempeh, or sea vegetable.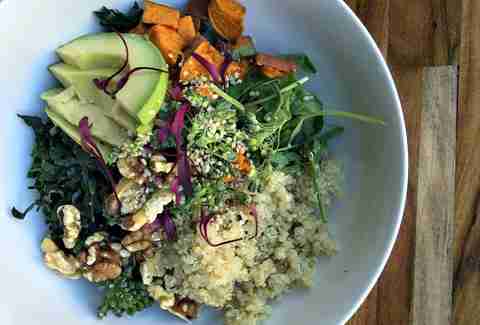 Ferndale
Doctor's orders: craft cocktails and veg-centric cuisine
Founded by a doctor, this stylish space in fashionable Ferndale is the prescription for your vegan and vegetarian dining needs. The spinach tortellini features lentil, pink peppercorn, and parsley while the hearty polenta is packed with rainbow chard, squash puree, and pumpkin. The craft cocktails are next level -- try the Cease Fire with strawberry-infused gin, Lillet Blanc, honey-cayenne simple syrup, lemon, rosemary, and a pinot noir float. It's what the doctor ordered.
Canton and Troy
A taste of Indian street food in the 'burbs
Neehee's has the vegetarian Indian street food market cornered in Metro Detroit from Canton to Troy. The menu is vast and overwhelming, so allow us to make a few suggestions. You can never go wrong with samosas, fried pastries with flavorful potato and green pea filling paired with a fresh and herbaceous cilantro mint sauce. On the hot side, the Gobi Manchurian (deep fried cauliflower in chili sauce) is a fiery blend of Indo-Chinese seasonings. Cool off with one of the homemade ice creams, which come in flavors you won't find elsewhere such as dry fig and cardamom.
Farmington
Creative takes on plant-based fare
Taking a few cues from Portuguese and Western European flavors, Chive Kitchen features creative plant-based, scratch-made fare. Don't believe us? How about some apple butter cheese -- house-made silky coconut cheese, apple butter, candied jalapenos, pepitas, and grilled ciabatta for starters? Or the mole de nata penne with creamy coconut tomato-calabria sauce, coconut bacon, artichokes, and cremini? With flavors this bold, no one will ask where's the beef again.
Hamtramck
Vegan and vegetarian comfort food that rocks
Classic comfort food with a vegan or vegetarian spin is the hallmark of this food truck turned brick and mortar in the diverse enclave of Hamtramck. The Lady Fantastic Coney Carrot Dog takes the classic coney and subs in a marinated carrot dog topped with the requisite chili, onion, and mustard. Mac + Greens + Shrooms add up to one tasty vegan carb dream with grilled cashew mac paired with collards and mushrooms. Nursing a wicked hangover? Drag yourself to weekend brunch and soak up last night's booze with the Chick'un and Waffles, boasting Chef Bee's Chick-Un wings glazed with maple sriracha on top of a housemade waffle. Rock on!
Brush Park
This vegan and vegetarian eatery cuts the mustard
If there's a quintessential Michigan dish, it's arguably the coney dog. But if you're vegan or vegetarian, you were out of luck. Enter Chili Mustard Onions. The namesake Chili Mustard Onions is pretty self-explanatory but this vegan and vegetarian emporium takes classics and makes them plant-based friendly. The Big Mock is the Royale with Cheese for vegans and vegetarians with Beyond patties, special sauce, and "cheeze." The gyro is made with housemade seasoned seitan with pita, tzatziki sauce, sliced onion, and tomato. One of the more creative offerings is the beetball sub with housemade beet-based meatballs with marinara sauce, mozzarella, and cashew parmesan cheeze. The vegan wine and spirits are a good complement to the feel-good fast food.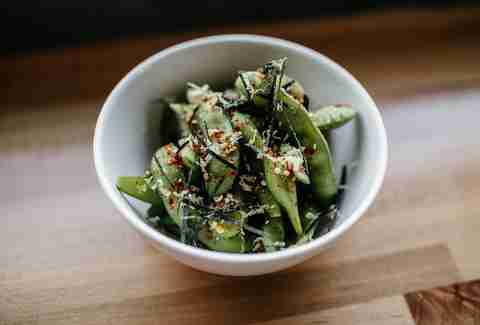 Corktown, Madison Heights, and Midtown
Thoughtful veg-forward Japanese-inspired noodles and rice bowls 
Since opening the original Corktown noodle shop in late 2016, chef Michael Ransom has been slowly but surely taking over Detroit with his Japanese-inspired ramen, udon, and rice bowls, and we happily submit. While the flavorful soups and newer menu additions like the soon-to-be legendary spicy chicken kaarage sandwich have made Ima a quick favorite on Detroit's dining scene, it's the thoughtful vegan and vegetarian dishes that have earned Ima a loyal following among the plant-based set. Plenty of the staples such as Ima tacos can easily be made vegetarian with roasted tofu, but there are plenty of offerings that cater specifically to vegans and vegetarians. With porcini broth, roasted tofu, and smoked trumpet mushrooms, the forest udon is teeming with umami.
Corktown
Plant-based salads and sandwiches in a dive bar
Dive bars aren't usually seen as plant-based havens, but this Corktown institution has some of the best vegan and vegetarian offerings around. The reuben transforms into vegetarian with tempeh smothered in Swiss cheese, homemade coleslaw, and Thousand Island dressing atop grilled marbled rye. Or check out the banh mi Vietnamese salad with deep fried tofu triangles served with lettuce, cucumber, carrot, and jalapeno slaw and homemade peanut sauce. Don't settle for stale popcorn and pretzels as your only plant-based options at the bar again.
New Center
Fresh and flavorful lunch options in a cheerful and modern space
From 11am to 2pm Tuesdays through Fridays, chef Quiana Broden aka Que opens up her cooking class space for lunch. The vegan fish sandwich hits the spot with fishless filets on a pretzel bun with homemade tartar sauce and kale, while the buffalo cauliflower tacos combines two already perfect foods with buffalo "wings" in a taco vehicle. Grab some lavender lemonade or matcha green tea to wash it all down and never sit down to another sad desk lunch again.
Palmer Park
Airstream/pop-up finds a brick-and-mortar home 
Originally an Airstream trailer turned summer pop-up restaurant, Meiko Krishok has taken her Guerrilla Food concept to the next level with her farm-to-table carryout restaurant offering grab-and-go options and a rotating hot foods menu. While the menus change with the seasons, you can bet on Guerrilla Food staples such as rice balls and rice bowls packed with a cornucopia of local produce. And don't forget to grab a slice of spiced vegan apple cake (you can thank us now).
Sign up here for our daily Detroit email and be the first to get all the food/drink/fun the Motor City has to offer.