Let's face the tender truth: when it comes to restaurant dining, Detroit is a veritable meat market. Until only recently, the choices for vegetarians and the veg-curious around the metro area were limited at best, and the fare was, well, pretty much the worst.
But if you haven't had yourself a meal at a meat- and dairy-free table in the last few years, you're missing out on a whole new world of flavors. With exciting twists on comfort foods and intriguing reinterpretations of old plant-based favorites (no more boring quinoa bowls!), these 10 restaurants are crafting vegetarian cuisine in the city in ways that are far less miserable than you remember it.
Recommended Video
This Taco Spot Unites Tex-Mex & Filipino Food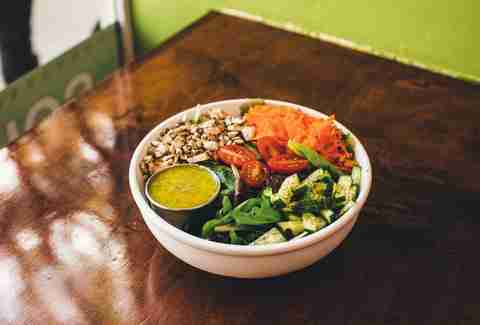 West Village
Over in West Village at the tasty intersection of soul food and whole food, Detroit Vegan Soul is a comfort food-lover's dream. Partners and founders Kirsten Ussery and Erika Boyd were inspired by a personal loss to conjure up a 100% plant-based, healthy take on their family's favorite grub. The end result is barbecued, heart-conscious contentment on a plate: gooey mac & cheese, collard greens, and tempting tempeh catfish that's light on fat and cholesterol, but heavy on Southern flavor.
Midtown
Feast alfresco at Seva, in the resplendent sunshine, while sipping on summery sangria or a tart Michigan cherry-lime rickey, and you'll be hard-pressed to imagine a life better lived, anywhere, outside of the D. Seva didn't reinvent the wheel when it opened its Detroit location; the Ann Arbor spot has been thriving since 1973. But old restaurant favorites, such as the General Tso's cauliflower and the pad Thai, have become new delights to the eager vegetarian crowd in Midtown. Order the TLT, a wrap bursting with chargrilled tempeh, cheddar, guacamole, tomatoes, and shredded romaine, and absolutely add a side of crispy yam fries with spicy mayo.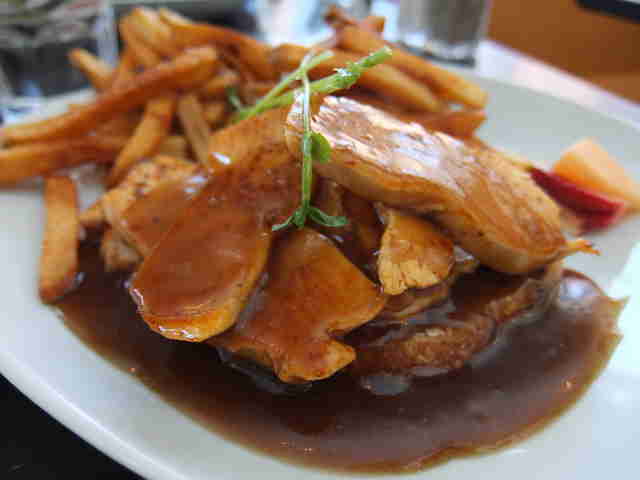 Corktown
Forgo the passport and unnecessary irrational nervousness at the border -- find Canada's most well-known gravy-laden spud dish right here, in Corktown. The mushroom gravy poutine can be ordered up any which way you like, including (and especially) vegetarian-style, replete with organic cheese curds, or vegan, topped with Daiya vegan cheese. Brooklyn Street Local is diner fare done fresh, creating a bright palate of plant-based dishes, including a kale quinoa salad and the beloved Ashley's Veggie Burger, a house-made vegetable and lentil patty, dressed up with pea shoots, red onion, vine-ripe tomato, and aioli.
Cass Corridor
Head to Cass Cafe for the moderately priced, vegetarian-friendly food; stay for the unbeatable drink specials ($2 PBRs? Yes, please!). You'll likely find yourself meandering among paintings from some of Detroit's up-and coming artists -- Cass Cafe's gallery-restaurant showcases exhibitions from local studios as a festive backdrop to its eclectic fare. A longtime haven for Wayne State students on a budget, the menu has enough variety to captivate vegetarians and omnivores of all ages and stages. The lentil burger is the house speciality, a flavorful patty blended from lentils, ground walnuts, and zingy Parmesan cheese, slid atop a warm onion roll. At $6.50, it's an unparalleled deal that you don't have to be a broke college student to appreciate. If you have a few bucks to spare, grab a pint of Ghettoblaster for a top-notch burger & beer combo.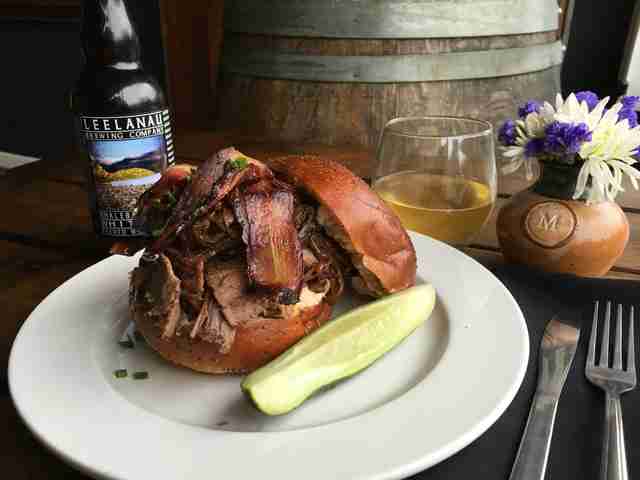 Corktown
It's a tiny joint, but even if ALL THE PEOPLE are feasting on Mudgie's expansive sandwich repertoire, you will not have to wait long for a table at this veggie-friendly, only moderately hipster Corktown eatery. Come hungry, in an assemblage of friends with diverse tastes -- there's a sandwich appropriate for every man, woman, and hippie in Detroit. Free-loving flower children, herbivores, and even non-vegetarians all wax poetic over the Hippie Dippie Sh*t Man whole wheat wrap, a melange of ripe avocado, baby spinach, sunflower sprouts, walnuts, dried cranberries, diced apples, shredded carrots, and cucumber, tossed in raspberry vinaigrette. Far out, man.
Royal Oak
Expect to wait for a table on a weekend night at Inn Season Cafe, and expect it to be worth it. Inn Season has been serving vegetarian cuisine for so long that it surpasses all similar restaurants in metro Detroit in one crucial domain: consistency. The menu is extensive, so take your time, grab a personal pot of house-made chai tea, and peruse the offerings. Consider an initial foray with the Santorini Plate (enough tabbouli, zesty red pepper hummus, and roasted beets to inspire you to start searching for cheap airfare to Greece) and culminate your meal with the hazelnut and mocha scrumptiousness of the Opera Cake. You'll be out of your seat, demanding an encore (see what we did there!).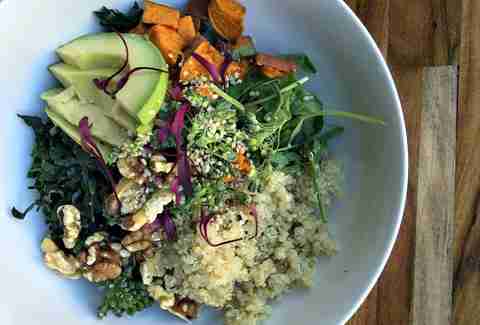 Ferndale
A regularly changing menu and meticulous attention to service are the cherry on top of the vegan cake at GreenSpace, which opened in November of 2015. The tamale pie features warm layers of organic white masa intermingling with black beans, red bell peppers, zesty enchilada sauce, and fresh corn, topped with ripe avocado and a dollop of the pièce de résistance: cashew sour cream. Pair it with a craft cocktail (the Michigan Beet is un-beet-lievable (we're sorry)) constructed from Drought juice next door, and then veg out in the ambiance of one of Ferndale's finest new eateries.
Eastern Market
If you've gone down to Eastern Market on any sunny Saturday morning to nab a few fresh-from the-farm leeks or imbibe one of the meal-in-a-glass Bloody Marys at Vivio's, you've probably seen the line of people snaking out from Russell Street Deli and wondered just what the hubbub was all about. Russell Street whips up soups and sandwiches ideal for for the masses: hearty portions in a busy, neighborly setting. The avocado sandwich, with its simple sprouts, imported Swiss, crisp veggie mix, and house-made ranch on whole wheat bread, is a notable delight, but the vegetarian soups, which rotate daily, are the real standouts. Check the online menu the night before and meander down to the Deli for the most extraordinary selections, including crushed lentil, cream of spinach, black bean, and the savory curried yellow split pea soup.
Canton
Neehee's in Canton has crafted up a menu that will tempt a duality of audiences: those in search of authentic, Indian street food, and vegetarians (or the veggie-curious) who simply crave flavor, texture, and spice. The prices are modest, and though the lines are frequently long, it will give you ample time to strategize your selections from the extensive menu. The Gobi Manchurian (deep fried cauliflower in chili sauce) is a swirling, heady blend of Indo-Chinese seasonings, and the fresh-squeezed cane juice is the perfect balance of just-right sweetness and quench-your-thirstiness.
Farmington
Two James spirits, suds from the Farmington Brewing Company just a block away, and locally sourced, farm-fresh ingredients meld in the parfait menage a trois of community flare at Farmington's Chive Kitchen. Don't be fooled by its strip-mall locale -- once you enter the scene, you'll be whisked away to a Portuguese bistro, where the fare is all vegan, and your paleo boyfriend, with his pint of Griffin Claw brew firmly in his mitts, will barely notice that his coney dog is actually a phony dog. As for you, you're getting the corned beef seitan Reuben and a North Peak Diabolical IPA.

Sign up here for our daily Detroit email and be the first to get all the food/drink/fun the Motor City has to offer.