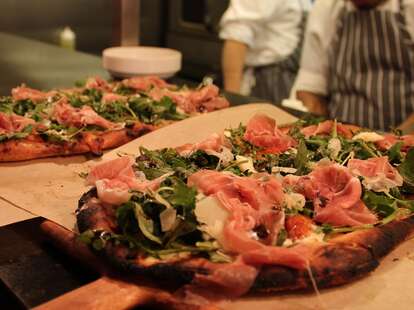 Chef'd by Michelin-magnet Jacques Van Staden, Bistro Joe's is the first-ever sit-down effort from Papa Joe's, which's carved out of a second floor mezzanine above its Birmingham market, and dropped in an accessible, knick-knack-filled restaurant-cum-bar where you can down dress-it-yourself Angus sliders w/ truffle fries and vodka cocktails with chocolate pearls in them (!!). We spent the night behind the line taste-testing absolutely everything before settling on three things (other than the sliders, duh) you absolutely have to order at this place:
1. The Lamb Sandwich
This guy's made in their wood-burning oven (oh yeah, they have a wood-burning oven), and packs garlic yogurt, sumac, and fresh cucumber into a crispy dahl. Also: fries!
2. Roasted Free Range Chicken
This massive oven-roasted is super sexy (look at all that leg it's showing!) and served alongside a bed of fingerling potatoes, shiitake mushrooms, and rapini.
3. Literally Anything from the "Butcher's Block"
The adorably innovative cutting boards -- which leave plenty of room for meat, and plenty of room for more meat the accessories -- feature everything from grilled churrasco steak, to pan-seared filet mignon, to what you practice in sheep karate classes (lamb chops).