Chicago has its deep dish. New York has its thin crust. Detroit pizza may not be as widely celebrated throughout the country, and it rarely finds itself in the midst of any celebrity culinary brouhahas, but it's every bit as delicious, if not more so. From the square and crispy to the thin and greasy, Detroit pizza is a force to be reckoned with. Here are the 10 best pie-slingers in the city, ranked for your convenience.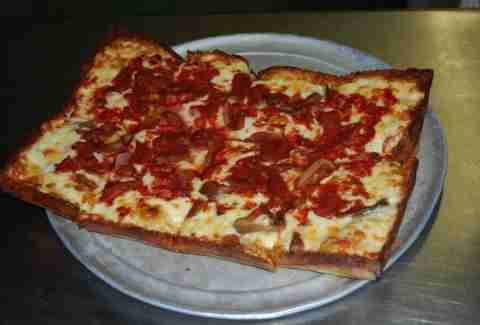 10. Loui's Pizza
Hazel Park
The appeal of Loui's is twofold. First, their authentic Detroit-style pizza is deliciously rich, smothered in cheese, and loaded with ham, bacon, and peppers (unless you didn't order those, they're not crazy). Second, the classic hole-in-the-wall feel with ancient chianti bottles hanging from the ceiling somehow makes it all taste even better.

9. Niki's Pizza
Greektown
If you find yourself in Greektown and you're thinking, "yes, right now what I need is a genuine Detroit-style square pizza", you are a smart man, and Niki's has your solution, and -- if you want to stay authentic to the 'hood -- you can even get a feta-topped number, or a Greek (which gets lamb, onion & tomato in the mix). Either way, they're there for you until 2am (and 4am on Friday and Saturdays).

8. PizzaPapalis
Multiple Locations
Just because we love our squares doesn't mean we don't have some deep dish game. PizzaPapalis nails the combo of gooey cheese, tangy sauce, and at least an INCH worth of meats and veggies, holding its own against any genuine Chicago-style pie. One slice is a meal. One pie will feed you for a week.
7. Ottava Via
Corktown
Though relatively new to Corktown, Ottava Via's Neopolitan-esque pizzas have rightfully gained a loyal following. Thin crusts, garlicky veggies, the presence of ingredients like arugula and pancetta jam… this isn't the place you go to grab takeout and then park yourself in front of the Red Wings game on your couch. Take a seat and savor every crustalicious bite like a proper grownup.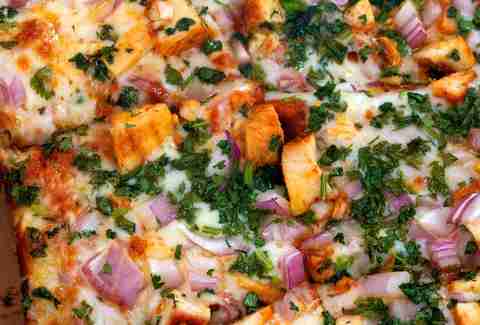 6. Amar Pizza
Hamtramck
Two words: Ghost Pizza. More words: tandoori chicken, red onions, cilantro, and ghost sauce. Amar's most notorious pizza comes with a warning to eat at your own risk, but it's only because at Amar Pizza, they care about your well being. "Amar" translates to "my" in Bangladeshi, which is to say, as their slogan goes, "my pizza is your pizza." Don't let the cross-cultural translations fool you, though, they know their way around both thin crust and square cut deliciousness.
5. Pie-Sci
Corktown
Pie-Sci is the greatest pizza in the city without a permanent home. Every Sunday evening at Woodbridge Pub, well-textured crusts are topped with the likes of blackened shrimp, pulled pork, coney dogs, and other original ingredients that emerge from the Woodbridge kitchen. 2014 may be the year these masterpieces find a home… keep watch.
4. Motor City Brewing Works
Midtown
Good beer. Good pizza. It's a combination that has proven effective over generations of important research. MCBW understands this, which is why they create tastily charred brick oven pizzas like the Godfather (pesto, goat cheese, red peppers, garlic) and the Bronx Bomber (bacon, Italian sausage, pepperoni, four cheeses, and more). You don't NEED to enjoy a beer with them, but, well, you're already there, right?
3. Sgt. Pepperoni's
Midtown
Where else can you bowl, catch a show, AND stuff your face with some fantastic pizza? Sgt. Pepperoni's, that's right. The food counter serving both the Magic Stick and Garden Bowl can do the classics damn well, but their specialty pizzas are really what make them stand out, like the nameless chorizo/ cheddar/ tortilla chip pizza above. Selections also include the BLT, veggie pesto, and occasionally, the Greater Mac. You know, like a Big Mac but greater?
2. Supino Pizzeria
Eastern Market
When it comes to the round variety of pizza, you simply aren't doing any better in Motown than Supino's. Hand-tossed dough, fresh toppings from Eastern Market, smoked gouda, smoked turkey, ricotta -- the ingredients and the flawless hybrid American/Neopolitan-style crust make Supino's a Sup-erior (!) specimen.
1. Buddy's Pizza
6 Mile
Life may not get better than a crunchy corner slice of Buddy's pizza, and if they didn't top this list, we would be doing a disservice to pizza consumers everywhere. From the BBQ chicken to the Detroiter (cheese, pepperoni, and Buddy's Sicilian spice blend), their square pan-style pizzas with perfectly crisped crust represent the apex of Detroit-style pizza craftsmanship.