In honor of football, drinking, America, and YOU, we proclaim the Monday after the Super Bowl shall henceforth be known as National Hangover Day. It's a day for hangovers to be celebrated, embraced, and combated in the most enjoyable of ways -- namely, eating delicious food, and possibly drinking more. The ultimate goal? Getting the entire country a day off work, a beautiful dream you can help make happen by signing this petition to our sports-loving President right here and tweeting it.
The immediate goal? Fixing that hangover with Detroit's best remedies from epic breakfasts to big-time Bloody Marys.
Grand Slam
Onassis Coney Island, Corktown
Onassis is the go-to place to cram into a booth with last night's fellow booze enthusiasts and recount the night's debauchery over a big ol' plate of eggs, bacon, hash browns, ham, and toast. Sure, you could get a similar plate at Denny's, IHOP, or another Coney joint, but Onassis' coziness, location, and hash browns (mmm, hash browns) make it the prime go-to.
Bloody Mary
Vivio's Food & Spirits, Eastern Market
The Bloodys at Vivio's are legendary for good reason. They're satisfyingly spicy, generously portioned, and they're served complete with pickle, lime wedge, and a beer back. They'll also spice it up more for you with habañero vodka if you ask nicely. Look, we know you aren't feeling great, but still ask nicely, okay?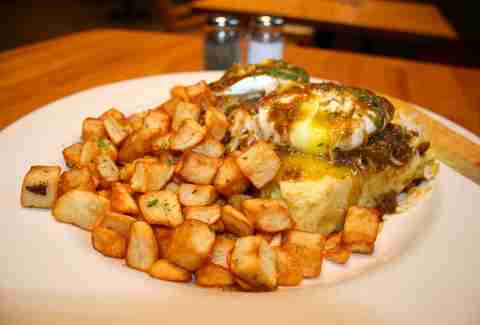 Voodoo Eggs Benedict
The Hudson Cafe, Downtown
What kind of dark, mysterious magic is this, Hudson Cafe? Two eggs draped over house made corncakes and topped with chorizo, cheese, and ranchero sauce, you say? Will eating it inflict pain on the idiot who made me do that last round of shots last night? Fantastic.
Just About Everything
Honest John's Bar & Grill, Midtown
No matter when that hangover strikes, Honest John's is there to comfort you on any day of the week from 7am to 2am (9am on Sunday's… but what would you be doing up that early on a Sunday, anyway?) with enormous omelets, toasty chicken 'n waffles, cheap burgers, and Hoovers -- that's cranberry/ orange/ pineapple juice spiked with vodka, not the popular vacuum cleaner manufacturer.
Hangover Special
Brooklyn Street Local, Corktown
The Hangover Special at Brooklyn Street Local is specifically engineered (by scientists? MAYBE!) to restore you to optimal condition. Two eggs, toast, bacon, ham, peameal bacon, chicken sausage patties or tempeh (nope), and roasted potatoes or green salad (also nope) are your choices. It's all local and they even have your pesky vegetarian friend covered if need be.
Breakfast Burritos
Evie's Tamales, Mexicantown
No breakfast burrito this delightful should cost 99 cents. So, you know, buy five or so, and stuff them with chorizo, ham, potatoes… and… pretty much everything else delicious, and prepare to rejoin society. The chilaquiles and huevos rancheros here are equally restorative.
Pizza
Buddy's, Various Locations
Buddy's might be more of a later-in-the-day remedy, but it's not like you were up all that early anyway. Perfectly crispy, cheesy, saucy -- it may well be responsible for more Detroit hangover cures than any other foodstuff. Pair it with a Vernor's and nothing will stop you.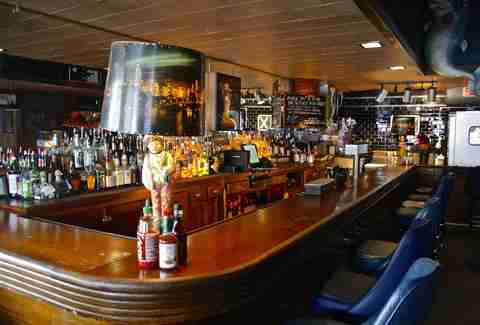 Bloody Mary Bar
Bronx Bar, Midtown
If you're more the "take matters into your own hands" type, Sunday afternoons at the Bronx belong to the Bloody Mary bar. Pickles, celery, various spices, and all the fixin's you desire. Pair them with such delicacies as… an entire plate of bacon, fried pickles, or some deliciously meaty burgers.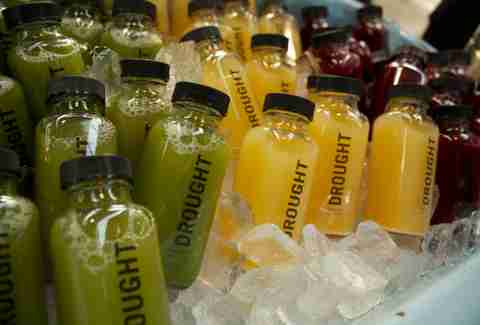 Pear Cayenne Juice
Drought, Midtown
In truth, the most effective hangover cure is hydration, so… juice is a good choice! Drought makes some seriously tasty combinations of organic cold-pressed goodness, with the pear cayenne adding in some spice to help you sweat it out. Truth be told, just about anything here is probably going to help you out significantly.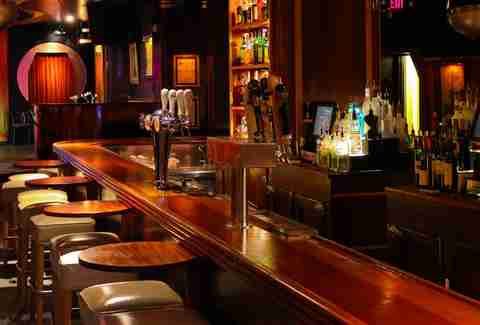 Sunday Brunch
Cliff Bell's, Downtown
If it's Sunday, and you're feeling hungover but still think you have the wherewithal to dine in a proper establishment, Cliff Bell's is the place. $10 bottomless mimosas and Bloody Marys will take the edge off, and steak and eggs served over potato gratin deliver meat/ egg/ carb goodness while still letting you feel fancy.