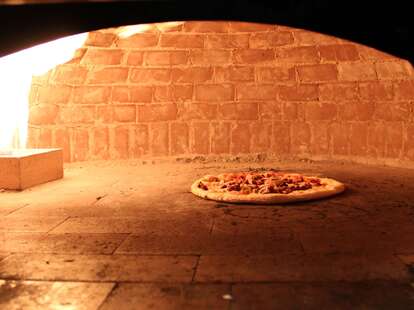 Set in the historic Dime Savings Bank building on Eighth, Corktown's Ottava Via is a rustic Italian standard-bearer helmed by the same chef who opened Seva, and is co-owned by one of the dudes behind Mercury Burger & Bar, with boot country staples like wine, bocce ball (!), and, you know, PIZZA.
All made in a super-sexy brick oven, the pies're 10-13 buckaroonis apiece and include this Salsiccia with house-made Italian sausage, peperonata, smoked Provolone, and fresh cry-your-eyeballs-out onions, and are doused in what balsamic asks for at the spa (a sweet vinegar wash).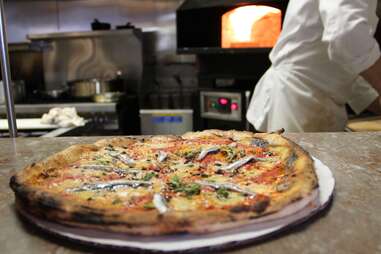 This is the thankfully-non-Seattle Marinar, a disc loaded with San Marzano tomato sauce, fresh garlic, fresh oregano, and white anchovies.
Ottava Via is rustic, but not that rustic. Case in point: their signature pancetta is cooked sous-vide style at 135 degrees for THIRTY-SIX HOURS.
Prefer less bread with your meat and cheese? Go for the Pecorino cheese plate; it comes loaded with melted Pecorino cheese, fresh pear slices, and... crap... a bunch of Italian bread.
Oh and, duh, there's a full-service bar, making this kinda the perfect place for both pregaming sporting events downtown and pregaming romantic dates downtown.