Set in the historic Dime Savings Bank building on Eighth, Corktown's Ottava Via is a rustic Italian standard-bearer helmed by the same chef who opened Seva, and is co-owned by one of the dudes behind Mercury Burger & Bar, with boot country staples like wine, bocce ball (!), and, you know, PIZZA.
Recommended Video
This Sausage Sliders Recipe Is the Key to a Perfect Italian Dinner on the Cheap
All made in a super-sexy brick oven, the pies're 10-13 buckaroonis apiece and include this Salsiccia with house-made Italian sausage, peperonata, smoked Provolone, and fresh cry-your-eyeballs-out onions, and are doused in what balsamic asks for at the spa (a sweet vinegar wash).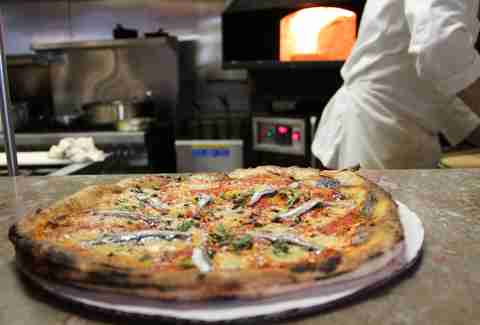 This is the thankfully-non-Seattle Marinar, a disc loaded with San Marzano tomato sauce, fresh garlic, fresh oregano, and white anchovies.
Ottava Via is rustic, but not that rustic. Case in point: their signature pancetta is cooked sous-vide style at 135 degrees for THIRTY-SIX HOURS.
Prefer less bread with your meat and cheese? Go for the Pecorino cheese plate; it comes loaded with melted Pecorino cheese, fresh pear slices, and... crap... a bunch of Italian bread.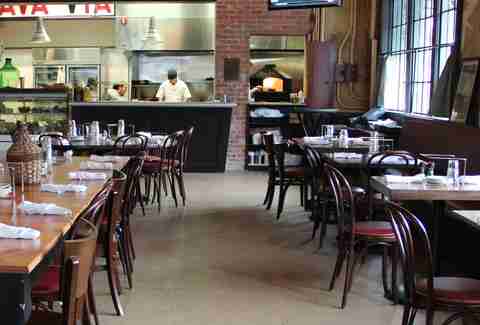 Oh and, duh, there's a full-service bar, making this kinda the perfect place for both pregaming sporting events downtown and pregaming romantic dates downtown.
Previous Venue
Next Venue
Venue Description
1. Ottava Via
1400 Michigan Ave, Detroit, MI 48216
A traditional Italian joint in Corktown that also boasts a backyard with bocce ball, Ottava Via makes tasty Neapolitan-style pizzas cooked in a brick oven, with traditional flavors like the Margherita or catch-all Italian. We won't stop you from trying a classic, but we suggest the Funghi, which comes with portobello, crimini, shitake, and cipollini mushrooms, and Tartufo cheese.