Hayden Stinebaugh/Thrillist
Hayden Stinebaugh/Thrillist
Detroit has exactly one choice for good dim sum, in a location almost no one seems to know exists.
People struggle to find Midtown Shangri-La -- literally and metaphorically. Although at least two local reviewers managed to find it, the place has had a quiet and unassuming existence. But loyal locals swear by it and keep it to themselves, for good reason.
When I moved here permanently in 2013, I asked around about good Chinese, and almost no one offered any solid answers -- though these days, the newly opened Peterboro is certainly making a run for it. But as far as lunchtime options go, reliable choices are still sparse. Many favorites on this side of Cass Ave, beloved afternoon/evening spots near campus, reflect variations on American food: there's Sweet Lorraine's, Slows To Go (meats!), and the Cass Café (veggies!). Shangri-La is the only Chinese restaurant on the block, and its tiny red-brick facade, scarlet awning, and custom red-and-gold star-tipped exclamation mark for a sign give it the look of a '20s hideaway.
Here's where I mention the 20th-century novel I haven't read where the author invented the term for an impossibly lovely and inaccessible place. Detroit can be that sometimes -- the city has many houses that resemble 1920s castles -- tudors and storybooks, especially. Given the multitude of delicious things discovered during one blazingly hot lunchtime in the heart of Detroit, it looks like paradise exists in both classic novels and on Cass Ave in a little red storefront covered in ivy.
For the uninitiated, dim sum is essentially a meal made up of small plates -- dumplings, fried balls of meat and seafood, tulip-like shumai (translating directly from Cantonese as "touch the heart"), small fried game birds, etc. -- delivered to your table via metal carts circling the restaurant. Originating in Southeast China, it's a staple in Cantonese cuisine, traditionally served as part of the tea meal called Yum Cha often enjoyed as lunch or brunch. The concept already has found plenty of popularity in bigger US cities like New York, Boston, and San Francisco.
In any proper dim sum restaurant, a cart approaching is an excitable moment. Servers open the steaming tops of bamboo or metal trays to reveal small treasures: the waxy white teardrop shapes of steamed pork dumplings against bright green cabbage leaves, golden fried shrimp balls in little paper cups, golden orb-like buns. You're free to take it or leave it at your choosing.
Shangri-La is no grand dim sum hall; just a modest space near Wayne State, a Detroit outpost of the original spot hidden all the way in Bloomfield. When you find your way inside, you're greeted by a hostess who leads you to the restaurant's tiny sparse first-floor dining room. The second upstairs dining room makes the most of large windows overlooking the street. The second floor has its charms, too, with its open format and tropical treehouse vibe. At lunch, even late, the place is crowded, and it always feels like we're getting the second-to-last table.
At my last dinner (including a truly succulent duck box with bok choy and rice), the place was crowded, the diners a chicly eclectic group of Detroit professionals and Chinese college students. These wonton-wrapped bulbs are available via the cart for lunch daily from 11am-3pm, but they're prepared to order later in the day. Along with its large menu of recognizable Chinese favorites, it's also one of the only places in Detroit that serves congee, a savory rice porridge/soup made with a variety of meat and fish stock. For the adventurous, there are pork chitterlings, cold jellyfish salad, and durian (an East Asian fruit known for mild sweetness and its terrible smell) and unnecessary but solidly delicious hand-rolled sushi.
But before you resign and dive into the larger menu, try the dim sum. We recommend making these classic selections from Shangri-La's dim sum lunch yours before the place truly takes off and the second-to-last table becomes a 20-30 minute wait.
In its delicate casing, these shrimp dumplings are delicious to start with. Other bites of pork and herbs come wrapped in translucent dough twisted into perfect nautilus shapes.
When this plate arrived, there was a little gasp -- these deep fried shrimp balls were huge, crisp and golden outside and spongy-salty inside.
Massive fried ovals of dough are crisped in peanut oil until golden. They look a bit like the noses of missiles, with rich, slightly sweet pork filling tucked inside like the prize in a hollow plastic Easter egg.
The beef balls appear to be your standard meatballs, but they're wrapped in bright green sprigs of fresh watercress. The greens add a spicy bite that contrasts nicely with the dense, peppered beef.
The flaky, buttery crust of the vegetable and pork buns hide bits of meat stewed in a sweet sauce and could be lunch by itself. They combine the lightness of a good bun with the method for making a donut hole. The barbecued pork is a classic dim sum dish.
We've all had these irresistible pork dumplings. The potstickers at Shangri-La come just three to an order, but that's not a problem because they're both gargantuan and delicious.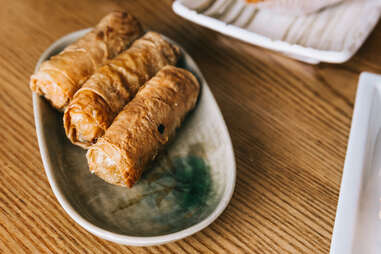 Like good crepes, the long, thin fried shrimp rolls have a gorgeous crispy brown exterior. Inside, small shrimps, a little bit of soy, and fresh scallion make the dish a little sweet, a little salty. And you can never go wrong with these egg rolls.
The leisurely pace of dim sum lunch means that each plate arrives slowly, gradually crowding the table with an enviable feast.
Sign up here for our daily Detroit email and be the first to get all the food/drink/fun the Motor City has to offer.
Rebecca Golden is a freelance writer and editor whose work has appeared in Salon, the Times of London, and the Atlantic. Follow her Twitter made entirely of Election 2016 live tweets and amateur food porn @GoldenReb