Detroit is a city that keeps its secrets well. So to shine a light on why our food culture is the way it is, we dug deep to find some of the more interesting facets of Detroit's culinary past and present. Here are a few of the best kept secrets of Detroit's food history, and the places where you can uncover many of them.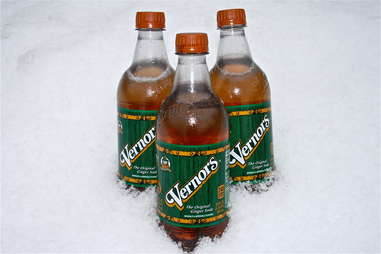 Vernors is as old as the Civil Rights Act of 1866
The Civil Rights Act was signed in 1866, after that first batch of Vernors had already been quality tested. First made in 1862 by Detroit pharmacist James Vernor, the very first batch of ginger ale was stored in an oak barrel while he went to fight in the Civil War. Upon his return, he found the aging process had given his experimental product a milder flavor while still retaining its ginger potency. He started selling the soda in 1866, eventually bottling it 30 years later. It's currently the oldest, continually produced pop in the country.
The American/Lafayette Coney feud is overhyped
Having drama served up along with your hot dogs makes for good TV and a compelling story to tell out-of-town guests (including those from Novi), but really, the feud between Lafayette and American Coney Islands is not quite as exciting as we've been led to believe. The two Greek brothers who opened the side-by-side coney joints back in 1917 pulled more of a clever business move (the two served slightly different recipes of chili sauce) than actually starting a family feud. Of course, a friendly sibling rivalry has existed over the years, but it's always been more about bringing the buck home than fighting. I mean, we're talking about hot dogs here.
El Salvadoran street food has an appreciative home in Detroit
Wandering past the slew of Mexican restaurants in Southwest Detroit will land you at a couple pupuserías, no-frills restaurants specializing in pupusas, the primary street food of El Salvador. Pupusas, tasty and affordable, are thick, handmade corn tortillas stuffed with cheese, pork, beans, and whatever else you want in there and topped with salsa. With violence running rampant through El Salvador over the past few decades, many Salvadorans fled to Detroit for a fresh start. The result is a healthy immigrant community that's gracious enough to share its delicious specialities with us.
Yemeni cuisine has a place here, too
Hamtramck is a different town by day and night. You're more likely to encounter Muslims wandering the streets in the daylight and the leather-clad, chain-smoking rockers stumbling around at night. The former are among those responsible for yet another level of Hamtown's foreign cuisine: Yemeni. This enclave is the nation's first Muslim-majority town. Check out the strip known as Little Yemen along Joseph Campau, south of Holbrook. Fair warning: the chili peppers of Yemen are known around the world for their ruthless spiciness.
Henry Ford's gross racism is more or less responsible for our bevy of shawarma
So, it turns out that Henry Ford was kind of shitty dude. A known anti-Semite, Ford was even cited in Hitler's Mein Kampf as an inspiration for the future of Germany. Ford allegedly preferred hiring Arabic Christian and Muslim immigrants because of his disdain for Jews, African Americans, and basically all other immigrants. In a rumored encounter with a Yemeni port worker, Ford said there were good-paying auto factory jobs in Michigan and the word spread throughout Arabic countries. There was a mass migration to southeastern Michigan in the early 1900s as thousands of Middle Easterners emigrated to work for Ford. These days, Metro Detroit has the highest population of Arabic people in the United States.
Detroit's urban agriculture produces vegetables you've never even heard of
Before Detroit's agricultural revolution, who had honestly heard of dragon carrots, pink boar tomatoes, or sunshoots? These were all this season's harvest offerings from Rising Pheasant Farms, one of Detroit's urban farms that produces all organic and 100% GMO-free vegetables. In addition to taking up vast swaths of previously abandoned, neglected, or misused land in some of the city's most crumbling neighborhoods, urban agriculturists are doing their best make Detroit a self-sustaining city and to increase nutrition awareness and availability to fresh produce in a city that's been called a food desert. There's more fast food than there are supermarkets in the city -- that's a health crisis reality. Find the cure at Eastern Market, where you can become acquainted with these fruit and veggie do-gooders.
Detroit's Mexican cuisine is largely from Jalisco
All of those tamales, tacos, and tortillas you can find in Southwest Detroit primarily get their flavor from the traditional cuisine of Jalisco, a mountainous state in central Mexico from where the majority of Detroit's Mexican immigrants hail. Because of this, you can find authentic street tacos, pan dulce (sweet bread), carne asada (grilled steak), and lots more without needing to renew your passport. There's even a few mariachi brunches across town (try La Terraza). Mariachis are a cultural export from all of Mexico, but specifically related to Jalisco where you wash your hangover away with a michelada and some caldo de camarón (shrimp soup).
You'll find the most delicious curry in town in a basement
A favorite gathering spot for professors and students from Wayne State University and College for Creative Studies, the basement of the International Center is sparsely decorated and, at times, downright empty. But the family who runs the cafeteria downstairs has provided Detroit with its best curry (of the three-bean and chicken variety) for more than a decade. They do their best to make the regulars and newbies feel at home among old copies of National Geographic fading under fluorescent lights.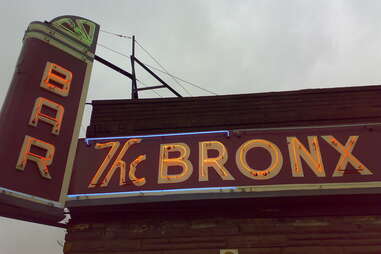 A dark dive bar is a vegetarian's best friend
It used to be that if you could make it past the curtain of smoke upon entering the Bronx Bar, you could maybe find a seat and order a drink in its darkened atmosphere. These days, the tobacco enthusiasts are relegated to the outdoors and you're much more likely to be able to fully enjoy the offerings of this classic joint. The bartenders are cantankerous, the beer is cheap, and the jukebox is loud. It's not quite the place you'd expect to find a solid vegetarian sandwich -- certainly not the place you'd expect to find the best vegetarian sandwich in the city. But here it is: the Veggie Machine, composed of ingredients like spinach, cucumber, and tomato piled high on two thick pieces of buttered bread with a side of dill ranch. Trust us, it's what you wish you could get at some of these newer fancy joints.
Most of the richest BBQ isn't found in restaurants
Arguably, Detroit's best barbecue is being prepared in the backyards of its residents. African American migrants from the South who came looking for work in Detroit's industrial mecca in the early part of the 1900s brought their traditions with them and have passed them along through the generations. Cruise around the main and side streets on any given summer afternoon -- especially on a weekend -- and you'll see families selling their exquisite barbecue in front of their homes and businesses. If you're lucky, you'll stumble upon a spot that has homemade collard greens and mac 'n' cheese on the menu as well.
Order the best soul food from behind bullet-proof glass
Motor City Soul Food looks more like an upkept bank than it does a soul food joint, but it doesn't matter. Peer beyond the bullet-proof glass, ask for the pork chops, and select your sides, from mashed potatoes to green beans. Expect a long wait and big portions at this nondescript classic off Seven Mile Road.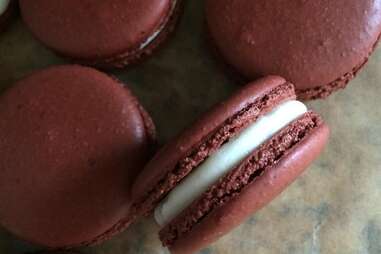 Pop-ups are the answer to high rents and upstart costs
Opening a restaurant involves meeting a mass of regulations and paying huge fees. Unable to afford such gratuitous upstart costs, many of our most creative and experimental chefs skirt the system by first guesting at restaurants already in existence before pursuing an unstable brick-and-mortar. We have some excellent options for pop-up restaurants at venues hosting a variety of chefs preparing a diverse selection of cuisines that are not so easy to find in your average, sit-down restaurant.
The least exciting suburbs are where you'll find the best ethnic cuisine
No, really. Madison Heights has Vietnamese restaurants out the wazoo. Novi specializes in Asian cuisines. Farmington has the best Indian food you'll find this side of Calcutta. Dearborn, of course, has its myriad options for Middle Eastern food. Southfield has Jamaican take-out restaurants that will make you actually look forward to stopping at one of those bland strip malls. Macomb County is where you'll find the most authentic Italian restaurants in the region. Step outside of the city and into a world of flavors.
Sign up here for our daily Detroit email and be the first to get all the food/drink/fun the Motor City has to offer.
Megan Frye is a writer based in Detroit and Mexico City, who will drive 45 minutes into the burbs for cauliflower manchurian. Tweet her your favorite secret food spots in Detroit at @fryechild.