Summer is in the rear view, and it's time to start packing on the protective layers of blubber that'll allow you to survive another harsh Michigan winter. Luckily, Detroit's been blessed with plenty of exciting new establishments ready and waiting to feed you (and serve you drinks!), as Detroiters cannot survive on Vernors alone.

Zenith New Center
Zenith exudes a "doesn't give a #$%@" effortless cool. It's the Ziggy Stardust of Detroit restaurants. Zenith is all punk rock ambiance and Polynesian Tiki gods, with a creepy clown room thrown in for good measure. The food is a mix of Southwest/Mexican and down-home Southern. Because whatever, man. They also now have a full liquor license AND they'll soon be opening a heavy metal karaoke club in the basement called The Wrecktory. So now you can carve "SLAYER" into your arm while enjoying some "Insane Catfish Posse" tacos.
Recommended Video
The Most Overlooked Mediterranean Paradise in Europe
East Jefferson
As Midtown, Corktown, Downtown, and Eastern Market approach the closest thing to a critical mass of bars and restaurants the city has ever seen, the most enterprising of food entrepreneurs are pushing out into the "other" neighborhoods -- i.e., everything that isn't Midtown, Corktown, Downtown, or Eastern Market. Rose's Fine Food is an airy, old-school diner located on East Jefferson that serves dressed-up diner food made from scratch, including their donuts. It's so cute you'll want to pinch its counter, then get back to your Toad In The Hole (aka grilled cheese with an egg fried right into the middle).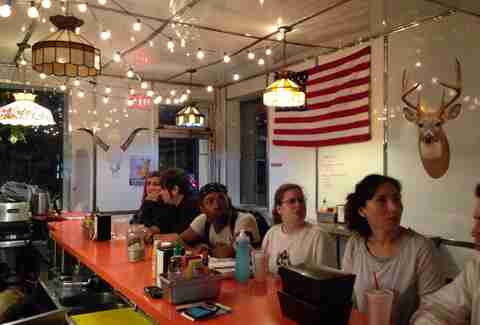 Hamtramck
Brought to you by the fine folks behind Rock City Eatery, Campau Tower is also an old-school diner reborn, but this one is decidedly more masculine, gritty, and, well, Hamtramck-y. This "Americana Eatery" still looks like the beloved, decades-old 24-hour dive diner it once was, and while it's still a dive diner, the hours have changed to lunch and late-night (until 4 am) and the greasy-spoon food now includes classed-up versions of burgers, hot dogs, and shakes, as well as the kind of menu twists regulars of Rock City Eatery might expect -- like bao buns -- because owner Nikita Santches does what he wants.

Hamtramck
Bon Bon Bon describes their coconut bonbon as "lightly toasted, just like us". So. Bon Bon Bon is an artisan chocolate and confection manufacturer with a tiny storefront in Hamtramck that's only open for their "Hot Mess" retail Saturdays. The "Hot Mess" is another bonbon flavor, only available in-store, but we can probably go ahead and assume it also describes some of the people you'll spot there on Saturdays.
Royal Oak
By contrast, absolutely nothing about DROUGHT -- or its devotees -- will make you think "hot mess". Because, you know, healthy. The newest DROUGHT cold-pressed raw juice retail location has opened in Royal Oak, to be followed by its fifth spot in Birmingham next month. It certainly seems like DROUGHT is in anything but a dry spell, though it's probably for the best that the company is based in Michigan -- in California, where juicing is king, the name "DROUGHT" might seem a little insensitive right now.
Southwest Detroit
If you want to throw Detroiters into a tizzy just ask them about whether or not "Our/Detroit" is really "ours" (in the sense of being authentically Detroit enough). Whatever, it's another new bar, to which we say: YAY ANOTHER NEW BAR. (Technically it's a distillery with a tasting room. To which we say: YAY ANOTHER NEW BAR.)

Downtown
Detroiters are blessedly free of brunch shame. In Detroit, brunch is not an ethical dilemma. It is a cause for weekly celebration. It is a valid excuse to get after it in the middle of the day (much like a Tigers game or a Lions game or a World Cup game or a Detroit City Futbol League game or the St. Patrick's Day Parade or Paczki Day or the Marche du Nain Rouge or the Hamtramck Labor Day Festival or Saturday or any other weekday). The Dime Store in Downtown Detroit calls itself an "American Brunch Bar", which means Benedicts come in varieties such as pork belly, smoked salmon, and cheesesteak, and sandwiches include geniuses like the "PBLT" (the "pb" is for pork belly) and a duck Reuben. The only thing wrong with Dime Store is that they don't have their liquor license yet, but we are told patience is a virtue, and proper brunch is worth the wait.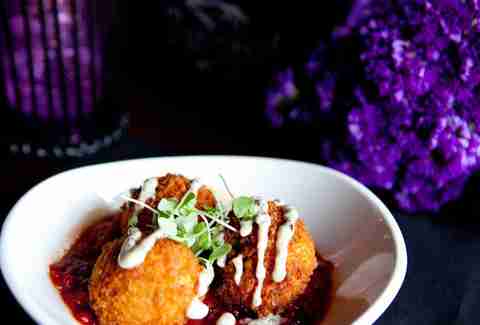 Ferndale
Boogie Fever, the quintessential nightclub for all Detroit-area phallus-themed bachelorette parties, has closed. Long live Boogie Fever. In its place, the owners have opened Twisted Tavern, a restaurant in front and party in the back (with Twist Night Club). They're billing it as a from-scratch small plates tavern (think polenta fries and pork belly flatbreads), but some questions remain, including: now where will all the cougars coug? And the dudes who try to prey on sad, single bridesmaids, only to end up cougar food? This is a delicate ecosystem!

Ferndale
Located in the old VFW Hall in Ferndale, M-Brew is part Up North-y lodge -- with pine walls and ceilings and a wrap-around porch -- and part Atari-era teenager's dream basement -- filled with vintage pinball machines and arcade games known fittingly as "The Basement" -- made all the more awesome with the more than two dozen Michigan craft beers on tap upstairs. Which is way better than any Atari-era teenager's basement ever could have possibly been. There're also Michigan-made food products for sale, plus Detroit-style pizza, rotisserie chicken, ribs, and pastries for dine-in or carry-out.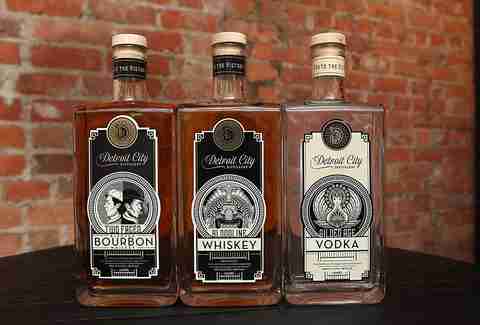 Eastern Market
Another distillery! And, lucky for it, this one's inherent Detroit-ness is not in question. Detroit City Distillery is a small-batch artisanal distiller of whiskey, vodka, and gin, using locally sourced ingredients from area farms and Eastern Market, where the distillery and tasting room is located. The branding really plays to Detroit's prohibition history, and the cocktail list is fairly extensive. To which we say: YAY ANOTHER NEW BAR.
Sign up here for our daily Detroit email and be the first to get all the food/drink/fun Motor City has to offer.