We've already given you our picks for Detroit's best brunch, but what do we know? We know that when it comes to something so important, it's good to hear from the experts. That's why we asked six sweet Detroit-area chefs to pick their favorite brunch spots, and tell why you might catch them dining there this weekend. Feast your eyes...
His pick: Brooklyn Street Local (address and info)
Corktown
Molnar has had a busy year with the opening of the second Green Dot Stables in Malaysia (!) and his upcoming Huron Room (which will be heavy on Michigan produce, meats, and Great Lakes fish). But when he has time for brunch, you'll probably find him eating the Canuck sandwich with house-made peameal bacon at Brooklyn Street. "I'm partial to (it) because they opened around the same time Green Dot did," he tells us. "They try hard to keep it fresh and keep it local. They make good-tasting and healthy food, which I like in a brunch."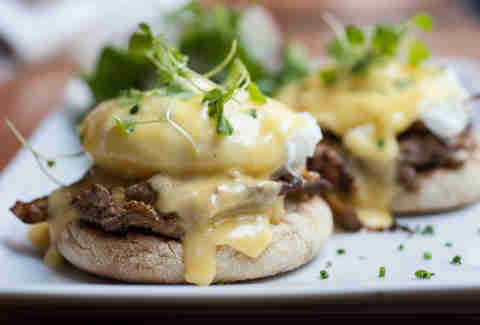 His second pick: The Dime Store (address and info)
Downtown
Touted as an "American brunch bar," this 2014 addition to the city is centrally located and is "an inviting place," according to Molnar. "You kind of forget that you're in downtown Detroit for a minute," he says about the space. The Dime Store's quality ingredients stand out, and Molnar recommends the duck Reuben with a hand-crafted Bloody Mary to wash it down.

His third pick: The Bronx Bar (address and info)
Midtown
One of Detroit's seminal dive bars, the Bronx has one of the best Bloody Mary bars in the city. It's where Molnar goes if a liquid brunch is what he seeks.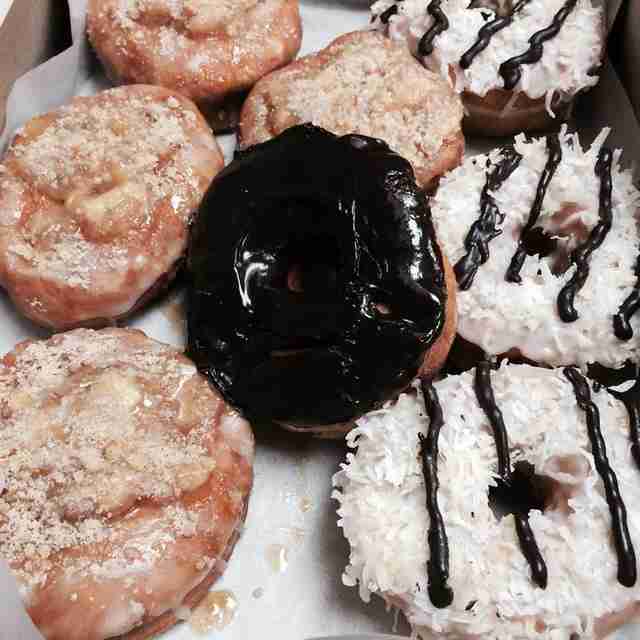 His pick: Chocolate Gallery Café (address and info)
Warren
Schave sings the praises of this charming, off-the-beaten-path diner with "standard brunch fare done very well." It's good enough to get him out of bed early on a weekend to make the trek to Warren -- which let's be honest, no one wants to do. The food is that exquisite, he says. His favorites are the French toast with mascarpone cheese and fresh berries, and he says the café serves some of the best omelets known to man. "It's really a hidden gem," Schave says. "The clientele is all over the board -- lots of regulars. A lot of times with some of these new, hip brunch places, you feel you're paying a whole lot of money for a little bit of food and a lot of attitude, and this place isn't like that at all."

His second pick: Yemans Street (address and info)
Hamtramck
As a chef who has served his food in a number of Detroit's pop-ups, Schave recommends this rotating, weekend brunch pop-up. "It doesn't necessarily get super expensive but it does get pretty funky. Like cookies 'n' cream pancakes, bacon all over everything, a donut bar... for lack of a better term, avant-garde. Just fun, funky food in a great atmosphere."

His third pick: Café Muse (address and info)
Royal Oak
This Royal Oak hotspot has one of the most consistent brunches around and is "just always solid." Schave says this is a great spot to hit if you're looking for a slightly more "fine dining" feel, which "the other two lack." He recommends the steak & eggs, which is served with a grilled hangar steak, as well as the exotic mushroom scramble with Boursin cheese and truffle oil.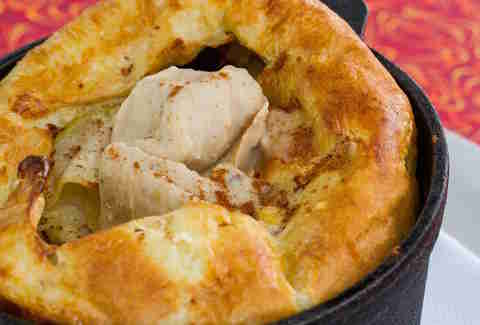 Chef Travis Waynick and Chef John Breeland of Rochester Tap Room
Travis' pick: Parks & Rec (address and info)
Downtown
Waynick gives praise to Chef Kate Williams who helped open this new brunch spot in the theater district: "She's doing some cool things, like old-school crepes and popovers," he says. "Everything is just very fresh -- all the breads and everything are made in-house."

Travis' second pick: Gold Cash Gold (address and info)
Corktown
Waynick can't speak highly enough about the pickle brine fried chicken & waffles -- a Detroit staple -- at this new Michigan Ave restaurant. He loves GCG's modern food with an old farmhouse twist, and that everything is made in-house. "That is the kind of stuff I go for," he says. "I don't want to go eat somewhere where they are buying their product elsewhere and just reheating it for me. Everything is very intricately done here."

John's pick: Connor's Family Dining (address and info)
Plymouth
Breeland recently started doing his own Sunday brunch at Pontiac's new shared kitchen and pop-up space, The Menagerie, as well as running his own catering business, all of which keep him very busy, but he still has time to hit his favorite breakfast spot -- this old-school diner West of the city. He always orders the corned beef, and one of two monstrous three- to five-egg omelets (The Beast, or the Son of the Beast) stuffed with five ingredients for $7.50. "That's what I throw down and my wife watches me act like an idiot," he says. "It's a cool place."
Chef Greg Reyner of Café Muse
His pick: Rose's Fine Food (address and info)
Detroit
The executive chef and owner of Café Muse is usually neck high in brunch orders himself, but when he has a weekend morning free, he heads to Rose's Fine Food. "The baked goods are amazing," he says. "They'll do eggs with kale and potatoes -- it's pseudo, almost healthy which is always a good thing." He also digs the intimate setting and the retro vibe.
His second pick: The Beverly Hills Grill (address and info)
Beverly Hills
Reyner says when wants to go someplace a bit more old school, he heads to this swanky restaurant in the Northern suburbs. "They've been doing brunch far longer than I have, and it's always amazing," he says. With things like whole-wheat pancakes with strawberry peach syrup, and Skuna Bay salmon hash on the menu, it'd have to be.
Chef Mike Barrera of Townhouse
His pick: La Dolce Vita (address and info)
Detroit
LDV has long been an intriguing, off-the-beaten-path site for Detroiters in the know -- but one of its best offerings is a killer brunch, Barrera says. "There's no one set dish that's way better than another," he says. "(But) they have bottomless mimosas, which is always a bonus, and kind of the beauty of brunch. The coolest thing about that place is where it's located, it's kinda tucked away with this beautiful atrium."

His second pick: Selden Standard (address and info)
Detroit
One of the darlings of the new Detroit dining world is also one of Barrera's favorite brunch spots. The secret to Selden's success, Barrera says, is having a smaller menu. "When the menu is more precise, it's going to have a lot of pop and flavor," he says. "An oversaturated menu seems to be watered down." He almost salivates when describing his favorite dishes: pastrami hash, eggs Benedict, and the tortilla Española.
Sign up here for our daily Detroit email and be the first to get all the food/drink/fun Motor City has to offer.

Megan Frye is a writer/world traveler who lives in Detroit, and will totally have brunch with you. Follow her: @fryechild.