The worst restaurant decision you can make in Detroit is... well, one of these 10 things... but then only eating at restaurants that are actually in Detroit is a pretty bad decision too. That's why we rounded up the 15 best restaurants in the suburbs just for you. Feast your eyes...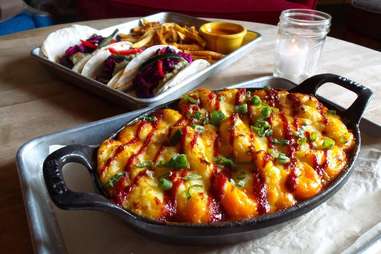 Clarkston
Slows BAR BQ in Detroit gets a whole lot of buzz from national press, but all the rest goes to the Woodshop, named the best barbecue restaurant in metro Detroit by local pitmasters, as well as the best barbecue restaurant in the state by us. Between the wood-smoked meats, the wood-fired pizzas, the Michigan craft beer, and the upstairs bourbon house of worship, there's a reason this place was featured on Diners, Drive-Ins and Dives and why it has a two-hour wait, like, always.
White Lake
Take I-75 north to Pontiac, turn left, and drive another 30 minutes down M-59 until you get to a shopping center with a Kroger, a Marshalls, and a Famous Footwear. There you will find The Root, arguably the most famous restaurant in Michigan at the moment. Executive Chef James Rigato has built the restaurant's reputation, one butchered locally and sustainably raised animal at a time. He was also voted the Great Lakes regional winner for "People's Best New Chef" by Food & Wine for 2015 and was a contestant on last year's Top Chef. He'll be moving on this summer to open his own restaurant concept, Mabel Gray, in Hazel Park, but he will still be involved with The Root, so it'll still be worth the drive.

Grosse Pointe
In the era of rustic farm-to-table menus and cleverly repurposed barn-wood bar tops, the contemporary European restaurant has taken a backseat to slavishly trend-driven Etsyfied millennial sensibilities. Marais cares not. Located in Grosse Pointe, it knows its audience -- i.e., not so much the same people who flood Corktown every weekend -- and has a clear sense of identity. In the same vein as Michelin-starred Old World European restaurants, it is probably the top, true, fine-dining destination in Southeastern Michigan. It's not cheap, and it doesn't need to be, because that's not the restaurant it's trying to be. Chef David Gilbert has previously been a James Beard semifinalist for Best Chef: Great Lakes during his time at Forest Grill, but Marais will most likely clinch it for him.
Royal Oak
Chef Derik Watson, previously of Iridescence, is behind one of the greatest culinary experiences to be had in the 'burbs, all in a city that isn't exactly known for its sophisticated dining culture. Bistro 82 gently toes the line of an old-school steakhouse with the emphasis primarily on beef and seafood, but the influence of Watson's traditional French and Japanese training is very much evident all over the menu, and the space is a FAR cry from Sangria that came before it.

Clarkston
Before there was Union Woodshop or Vinsetta Garage, there was Clarkston Union Bar & Kitchen, the restaurant that started Union Joints' upscale comfort-food empire and one of the first significant historic preservation restaurant projects. It was also one of the first places that got metro Detroiters from far and wide to drive ALL the way out to Clarkston (which is ALL the way from anywhere that isn't Clarkston) just for some mac & cheese.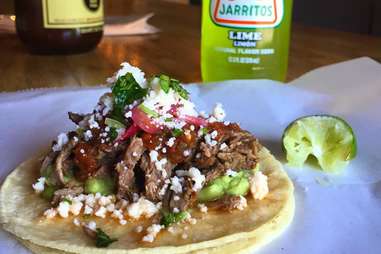 Ferndale
There's nothing fancy about Imperial -- it's got tacos and beer and bourbon -- but it is one of the trendiest, all-inclusive, all-appealing restaurants in all of metro Detroit and has set the gold standard for neighborhood bars. It's the ultimate hangout spot, which also happens to have exceptional, creative tacos, tortas, and hot dogs, plus a fantastic hangover brunch, as well as vegan menu options for all the Ferndale moms.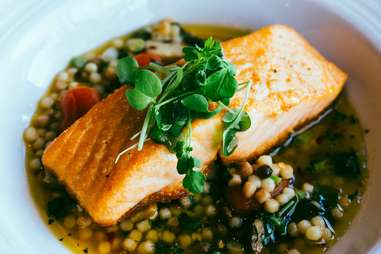 Southfield
There are many Italian restaurants in metro Detroit, and many of them are great. Bacco beats them all. Chef Luciano Del Signore has three times been a James Beard award Best Chef: Great Lakes semifinalist for his elegant contemporary Italian cooking/exquisite wine list, and Bacco has long been a splurge-worthy destination for the food savvy (and Oakland County's well-heeled), but thanks to some recent buzz from the local culinary establishment, Bacco is also becoming trendy amongst the hipster/foodie set. It only took 13 years.

Royal Oak, Southfield & Ann Arbor
Chef Luciano Del Signore's casual pizzeria concept is one of the best places for Neapolitan-style pizza in Southeastern Michigan, serving thin-crust pizzas made from a proprietary biga dough, a healthier substitute for the heavy (but delicious!) butter-soaked, cast iron-baked, square-pan pizzas that Detroit is best known for. The centerpiece of all Bigaloras is the custom-built, wood-fired brick oven, where all the pizza toppings, from the locally sourced vegetables to the house-made charcuterie, are oven roasted before topping the pies, which are all Italian-minded by nature. Finish your meal off with a house-made gelato and enjoy a craft cocktail or Michigan craft beer on draft while you're here.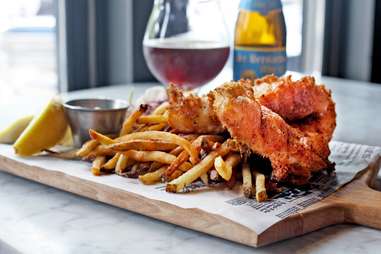 Plymouth
Got oysters? The Sardine Room has fresh ones for days and the best way to enjoy 'em is to take a seat at the bar and sip some classic cocktails for only $4 during its tremendous buck-a-shuck happy hour. It also does seriously sweet seafood with a dash of Big Easy flair (and excellent non-fishy items like duck sliders and roasted bone marrow) and it is by far the best restaurant from here to Ann Arbor. Literally. As in anywhere near that stretch of highway between Detroit and Ann Arbor. Pro tip: don't miss its bottomless mimosa brunches and "Big Shrimpin'" Sunday hip-hop dinners.
Royal Oak
Remember when "sushi lounges" were all the rage in the early oughts? It seems like the sushi craze is finally behind us as a country (because ramen, and also pho) and, necessarily, only the strong have survived. Ronin is the strongest. Boasting an effortlessly cool and sexy space (thanks to impeccable-without-being-over-the-top design), Ronin also has one of the top sushi chefs in Michigan, Kaku Usui, who devises singularly unique rolls that are a far cry from the usual avocado/cream cheese/eel sauce permutations you find at other places. The full menu includes things like Ahi tuna pizza and hoisin-glazed baby back pork ribs, plus the wait staff looks like they all also work part time at Black the Salon down the street, which is to say they all have a vaguely punk-Goth-rockabilly look with lots of tattoos and really cool hair. It's an aesthetic experience as much as a culinary one.

Dearborn & Dearborn Heights
If it's good enough for Bourdain, it's good enough for you. There is an abundance of excellent Middle Eastern food to be found all over the tri-county area, but thanks to a large ethnic Arab population, some of the best Arabic restaurants to be found anywhere are in Dearborn, and Al-Ameer reigns supreme. You'll find Mediterranean and Middle Eastern favorites like shish kafta, shish kabob, shawarma, stuffed lamb, tabouli, fattoush, and raw and fried kebbeh, all served with warm, house-made pita bread. Al-Ameer is 100% halal so you won't find any alcohol here, but there is a premium juice bar serving smoothies and raw juices.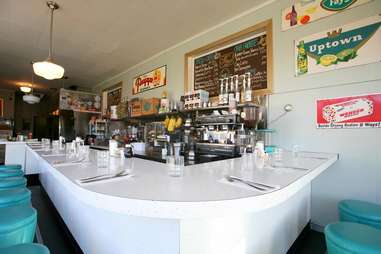 Pleasant Ridge
Mae's has been a long-time local favorite for elevated home-cooked diner food made with lots of love and butter in an atmosphere that can only be described as "totes adorbs." While the original owners recently sold the restaurant, the new owners -- from the Whistle Stop in Birmingham, another local favorite breakfast joint -- promise to continue serving the menu items Mae's devotees love, as well as adding a few of their own. Oh, and they'll still be serving Bloody Marys and mimosas.

Dearborn
On one side of the Italian dining experience is Bacco. On the other is Roman Village. Best known as one of the throwback eye-talian restaurants of Detroit's olden days, Roman Village has been around since '64, and serves steaming platters of homemade pastas made fresh in its on-site pasta "factories" daily, and topped with rich cream- and meat-based sauces. Best of all, there are baskets of piping-hot garlic bread for each table. It's pretty damn old-school and pretty damn delicious, but if that's not enough for you, check out its sister restaurant Antonio's Cucina Italiano in Canton, Dearborn Heights, and Farmington Hills.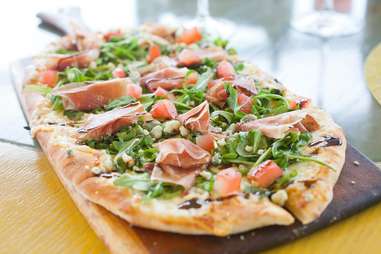 Birmingham
It's a restaurant on the mezzanine of a grocery store -- weird, right? Maybe, but with the accomplished and renowned Chef Jacques Van Staden at the helm, the globally inspired menu at Bistro Joe's is always evolving and never disappoints. Dude's got access to all of the fresh produce, meat, and seafood literally right downstairs at all times, so this place is kinda what would happen if you gave an award-winning chef an unlimited budget and unlimited inventory. Within reason... this isn't Las Vegas, where Van Staden worked previously and earned Michelin stars.

Ferndale
The brunch competition in metro Detroit has become fierce, but the Fly Trap in Ferndale is still a perennial favorite. Described as a "hipster dive diner" but with a decidedly intentional vintage atmosphere, the Fly Trap is yet another stamp-sized breakfast, lunch, and dinner spot in Ferndale serving a variety of "blunch" items that range from a sizable omelet selection to a popular veggie burger to quasi-Thai eats, just because. There are lots of diners out there, but this one is finer.
Sign up here for our daily Detroit email and be the first to get all the food/drink/fun Motor City has to offer.