These days, it seems you can't throw a coney without hitting a newly open or soon-to-be-opened restaurant in the Motor City. And while we're all about the brick-and-mortar, we also toast to innovation in the culinary world, a lot of which is coming from the kitchens of the pop-up restaurants that have besieged the city in recent years. Before the pop-up trend meets its critical mass, or the transients find their forever homes, here are the pop-up restaurants -- and chefs hosting them -- that you need to know about, and how to find them.
When: Shoot him a text and make it happen. We're not kidding.
Where: Two James Spirits Distillery
Chef Esteban Castro started serving his varied Latin stylings out of his Southwest Detroit apartment. Now, he's slinging fried bologna sliders, Cuban sandwiches, and all manner of quesadillas around town.

Náp Boulé
When: First Tuesday of the month
Where: St. CeCe's; regular appearances at Two James Spirits Distillery
Jerk chicken, pork ribs, and cod paté are just a few Haitian foods you can expect to see on a takeover menu from chef Christian Noel, of Haitian descent, and his enigmatic crew. Expect spicy, exotic dishes like vegetarian curry pasta and plantains up the wazoo.
When: First and third Saturday of the month
Where: TBD
Because macarons are a woefully underappreciated treat in the Detroit dessert world, Blu Kitchen provides these sugary little minxes in their finest form by way of pop-up (the only Detroit pop-up dedicated solely to dessert) while it waits for its full-time home.

When: Sunday nights
Where:Vernor Coney Island
Once a week, you can trade your chili dogs for vermicelli salad and other Vietnamese delights when this crew takes over a beloved coney dive. Not driving all the way to Madison Heights to get your pho fix, not to mention the delightful "How is this happening?" ambience of this pop-up, is hard to beat.

Chef Brion Wong
When: You'll have to find out by word of mouth
Where: Wherever "they" tell you; or, at the soon-to-be-opened Peterboro
New York chef Brion Wong didn't leave Detroit when he peaced from Antietam. Rather, he's been launching a series of pop-up dinners around the city and will be chef de cuisine at one of Detroit's most highly anticipated new restaurants. Wong specializes in mouthwatering Asian cuisine, with a recent pop-up dinner featuring "Japanese after-work pub fare."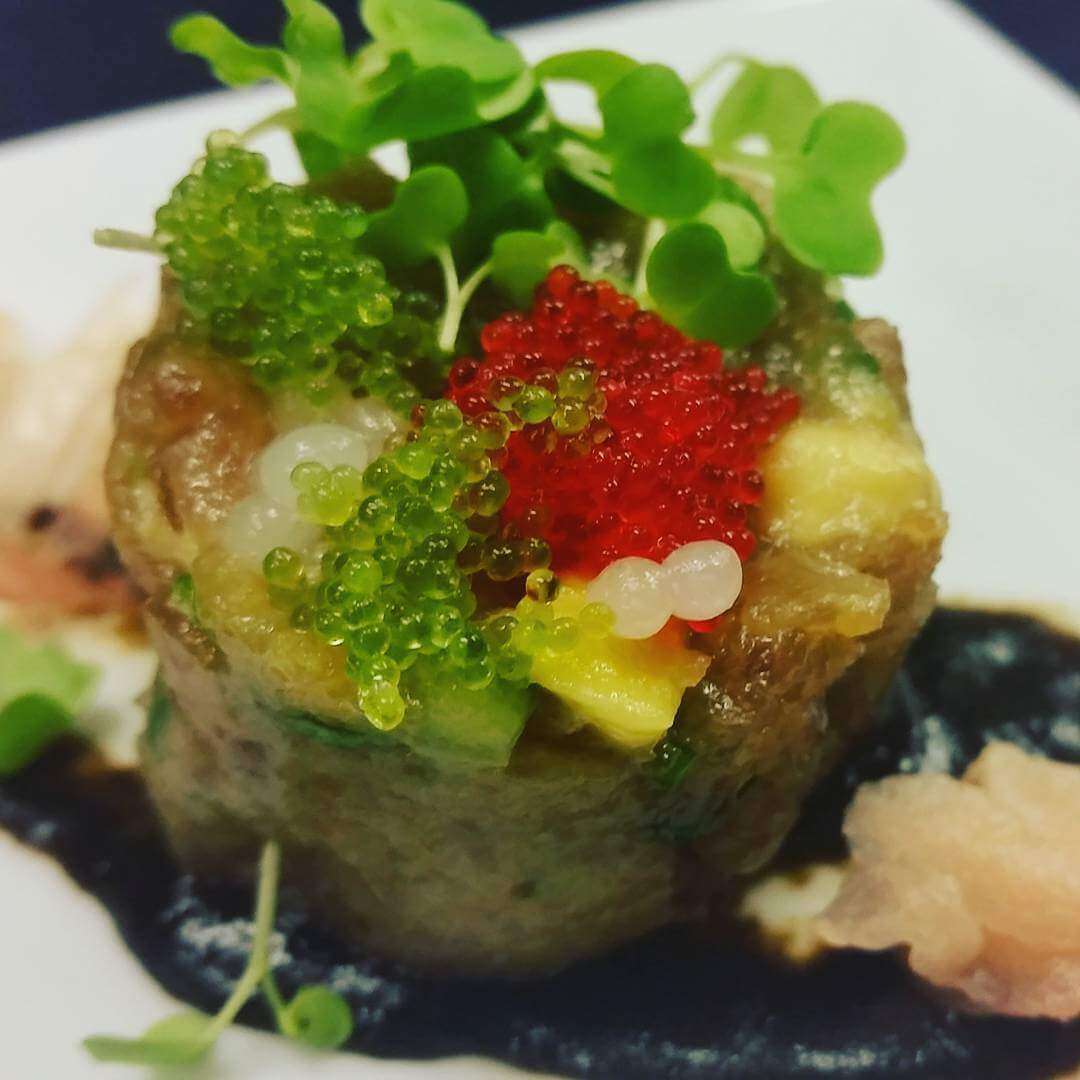 When: Every last Tuesday of the month
Where: St. CeCe's
Featuring eco-friendly sushi -- meaning all fish are approved as sustainably harvested by the Monterey Bay Aquarium Seafood Watch -- Dr. Sushi makes exactly what you presume, at places you might otherwise not expect to find raw fish this good. He's been preparing sushi since becoming addicted to it at a young age, but also specializes in other Japanese delicacies. He even throws sushi karaoke parties! What else could you want in your slice of Tokyo?

Timmy's Tacos
When: TBD
Where: Find him at Kelly's Bar, The Painted Lady Lounge, and Corktown Tavern, among others
Musician Timmy Lampinen whips up authentic Mexican street food-style tacos at Timmy's Tacos, one of Detroit's oldest pop-ups, which sets up outside a number of dive bars across town. Hey, there's nothing we love more than cheap tacos and punk rock. Grab a $2 taco with marinated shredded chicken or pork, and some of Timmy's homemade salsa. But don't forget your cojones: he uses ghost and Anaheim peppers, and poblano and Thai chilies.

Corktown Jesse
When: Regularly
Where:Motor City Wine
We don't know much about the enigmatic figure known as "Corktown Jesse," aka Jesse Knott, but we do hear he whips up some pretty mean eats. Having served as the Saturday brunch chef at Detroit City Distillery for a hot minute and in Mudgie's kitchen, he's gained a reputation around the city for being a go-to for good eats.
Visit website for upcoming dinner dates and locations:

Aimed at introducing Detroit to the flavors of the Philippines, Sarap prides itself on sourcing locally and sustainable meats and veggies. It's a regular at POP supper club and Brooklyn Street Local. A vastly underrepresented cuisine in Detroit, Filipino dishes offer a bit of a melting pot, combining the flavors of other Asian countries, such as soy and coconut, with Spanish influences, like tomato-based stews.

Dubbed the "Ghost Tour," these guys (and they are guys, with nice haircuts) have a meat-centric menu with a fancified twist on Midwestern comfort food. Check out their pop-up dates before they get settled in their brick-and-mortar.

Power trio Nate Bonkowski, Esteban Castro, and Christian Noel are serving up soul food along the lines of gumbo, four-spice fried chicken (drool), and roast squash soup (double drool) as The Cook's Crossing, which is making its way around town, from Cass Cafe to Corktown Tavern.
Chef Graham Schave specializes in preparing seasonal menus with locally sourced vegetables and meats, with past events at The Menagerie and Yemans Street. He typically goes for a Michigan-themed meal, but has been known to woo guests with more exotic fare, like Moroccan cuisine.

Get fine French foods without the fuss of a restaurant at Les Deux Dachshunds, which raises money for animal shelters while tinkering with its mise en scene. Catch chef Erin Sabo at Yemans Street pop-up club, among other locations, and expect professional wine pairings and classic recipes from the French countryside. To this, we raise our berets, tickle our poodles, and say "bon appetit!"

Dubbing itself "Detroit's roving private pop-up supperclub where great food, people, and art intersect," We CraVe Detroit exhibits its fair share of variety, teaming up with local chefs and creating intimate dining club experiences in non-traditional venues, like someone's bedroom or a firehouse. Past pop-ups have included menus based heavily on Michigan ingredients along the lines of lake trout and garden tomato Caprese salads.
Chef Matt Tulpa's previous takeovers have included Yemans Street, The Menagerie, and The Oakland, where he's shown off playful menus, with concoctions like a "PB&J" (pear, Brie, and jamon) and horseradish ice cream. Working with local farms to provide the utmost fresh ingredients, Tulpa is also rumored to be starting an ice cream pop-up called Vicecream expected to launch this spring.

Chefs are taking on Detroit with authentic Asian-inspired delicacies of the Far East. Upcoming events include a Hong Kong-themed banquet dinner, billed as "a high-end take on street and soul foods." As with many of Detroit's pop-ups, Kung Food is working on developing a full-on restaurant, which keeps its outside escapades modest for the moment. When it does come out of hiding, get some "saffron curry fish skewers, Melo Farms pork belly and foie gras fried rice, Szechuan-spiced karaage steamed buns... and that's not even the impressive shit."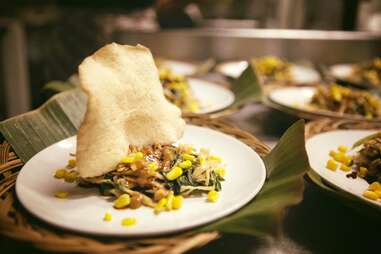 Specializing in Indonesian cuisine, Komodo Kitchen aims to introduce Metro Detroit to the culture of the island nation. Past takeovers have included a Bali Hai St. Valentine's Day dinner at Gold Cash Gold and a vegetarian meal at Ferndale's Om Cafe. Where else are you going to get a dessert made with jackfruit, palm fruit, and coconut?

This mobile cafe serves up Caribbean-inspired meals with special attention to dietary concerns, and doesn't skimp on the vegan or gluten-free options, even when it comes to soul food. Don't even get us started on the 7 Up waffle with bourbon syrup and marinated fried chicken.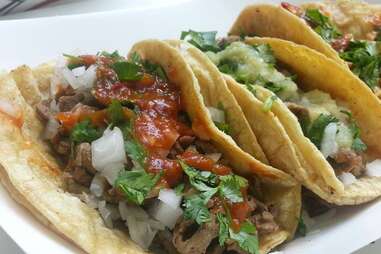 Known for its traveling array of "Mexico-style street tacos, quesadillas, [and] bacon-wrapped hot dogs," among other things, Chavo's makes its home at a variety of indoor and outdoor locations around the city, including recent stints at St. CeCe's. The chefs are even kind enough to drop off a bag of 50 tacos at your party by request.
Sign up here for our daily Detroit email and be the first to get all the food/drink/fun Motor City has to offer.
Megan Frye is a writer based in Detroit and Mexico City. When she's out not riding bears and shooting flamethrowers, she can be found retweeting David Crosbyisms at @fryechild.