With the constant parade of new restaurants opening, the need for a primer of what to do -- and what not to do -- in Detroit restaurants is ever-more apparent. Luckily our list of the worst decisions you can make in the D is right here...
Eating coney dogs after 2am
It might sound like a good idea at the time, but you will regret it more than all the beer and cocktails that came before it in just a few short hours.
 
Eating coney dogs before 2am
Like Taco Bell and White Castle, coneys have their time and place, and this ain't it.
Refusing to try something that sounds disgusting
Look, Detroit has changed, man, and as the dining culture has matured from gawky Midwestern teenager filling up on burgers and wings and hot dogs (er, coneys) to a more sophisticated young adult who might not be very good with chopsticks, but can still tell you where to get the best ramen, it's time you grew up with it. Try the things that are unfamiliar. Hell, try the things that sound downright gross: roasted bone marrow. Veal sweetbreads. Beef tongue/heart. Tripe. Head cheese. Foie gras. These things have been around since long before Detroit got "cool," but now you have no excuse not to try them.
 
Assuming service has matured at the same rate as the food
It hasn't. We look forward to the day when the "Oh, did you want something?" Detroit service standard is also a distant memory. Until then, patience will serve you best.
Not trying all of the restaurants
Yes, ALL of them. (This is not the patently unachievable task that it would be in Chicago or New York or San Francisco; bless your heart, Detroit.) Every year in Detroit the bar gets raised higher, making every decision to skip a new place a little worse. And sure, if the pace of new restaurants and foodstuffs and storefronts keeps up at the same rate for the next several years there will eventually come a time when it is impossible to hit all of the new places, but that's a good thing.
 
Forgetting about the older restaurants
We all love things that are shiny and new, but the five-minute trend-seeking attention span isn't doing any favors for the long-established Detroit icons and institutions. They might not be hip, or trendy, or sexy, or buzzy, or serve locally sourced gastropub fare in a LEED-certified building designed with sustainably sourced reclaimed wood from deconstructed houses/barns, or have an amazing craft beer list, or a hot young namedrop-worthy chef, or even someone with the title of "chef," and it might be that the cash register is behind bulletproof glass, but these old places -- the ones for which the most recent recession was just another turn of the screw -- are an integral part of Detroit's history and cultural legacy, and many of them do actually serve good food.
Not taking advantage of the rotating local, seasonal menus
There was a time in Detroit -- and it is still such a time throughout most of the rest of the state -- when everyone has that one dish at that one restaurant that they always ordered and that was it. Menus never changed and the food never changed and places like these are frozen in time, sometimes in a charming way but mostly in a creepy Stephen King "we've always been here and always will be" kind of way. Even Applebee's changes its menus, you know? So instead of eating the same old thing you should try touring the bounty of Michigan's agricultural products as well as the diverse talent of Detroit-area chefs. Just try it.
 
Assuming you can get a table at the hot new restaurant in Corktown at 8pm on a Tuesday
Those halcyon days of dining rooms full of empty seats and having a whole bar to yourself on a Saturday night are (sadly) over.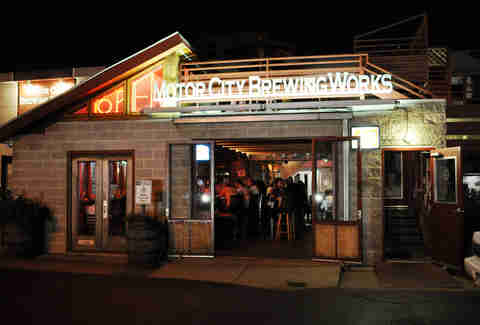 Assuming every place that opens in Detroit is good by virtue of having opened in Detroit
Detroit, it's time we got a little real here. Not every restaurant that opens in Detroit is a good restaurant. Yes yes yes, we are all obligated to support every new business that opens in Detroit because it was just a few short years ago we were living in such desperate times that every single restaurant that opened got an "A" for effort. But let's be real here: not every restaurant is good. You can still be a Detroit lover without thinking all of these "hottest new" whatevers are going to survive: don't worry, most will close because they're just not good and you know they're not good and that's why you don't go there and neither does anyone else. When that aforementioned bar keeps getting higher, inevitably there will be some that fall far short of it. And that's OK.
 
Not drinking Michigan beer
Seriously, what is wrong with you?
Sign up here for our daily Detroit email and be the first to get all the food/drink/fun Motor City has to offer.