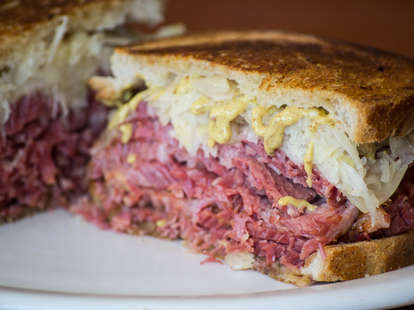 Detroit may not have invented salt-cured corned beef or thick-cut rye bread, but that doesn't stop us from taking the corned beef sandwich mighty seriously, with three big-time suppliers of corned beef -- Grobbel's, Wigley's, and Sy Ginsberg. As St. Paddy's day approaches, these staple sandwiches are just waiting for you to devour them and lay a base for all that green beer.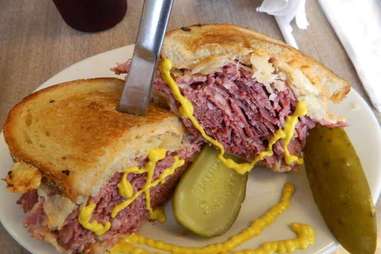 Hygrade Deli
Southwest
This hidden gem lies a mile outside of the ever-growing Corktown, but that doesn't stop them from selling 400lbs of corned beef a week. Their Reuben sandwich includes two different kinds of corned beef, Sy Ginsberg's and Kelly Corned Beef from Chicago. The sauerkraut brings out a sweet flavor from the perfectly seasoned beef duo, all nestled between melted Swiss and crunchy, buttery grilled rye.
Louie's Ham and Corned Beef
Eastern Market
A deli located in Eastern Market with corned beef in the name? How can one possibly go wrong? You can't. With pig statues covering any empty space, you'll feel more at ease eating cow. The Combo Delight combines both Louie's famous corned beef and pastrami between an onion roll, Swiss cheese, coleslaw, and Thousand Island dressing.
Russell Street Deli
Eastern Market
The signature corned beef sandwich is the way to go. Tender, garlicky-sweet Jewish-style corned beef from Sy Ginsberg packs a flavor punch. Local rye is cut thick and three slices make the sandwich almost too big to hold -- but contain the large portions of house coleslaw, Russian dressing, and Swiss cheese. Challenge accepted.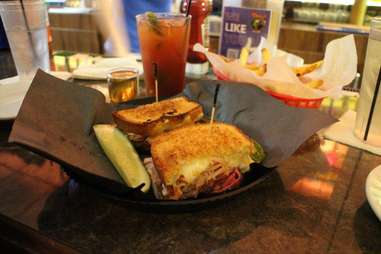 Vivio's
Eastern Market
The Dinty Moore is stacked with Grobbel's Eastern Market famous corned beef, smoked turkey, Swiss cheese, coleslaw, and house sauce on grilled deli rye -- served with a McClure's pickle on the side. Pair this with their infamous Bloody Marys, crafted with house-infused vodka, and say hello to the perfect start or finish to St. Paddy's day.
Gateway Deli
Multiple Locations
Potato Pancake Corned Beef Sandwich. The name says it all, and although the original sandwich comes with Pastrami, they're happy to substitute it with deliciously spiced corned beef, piled high on crispy cakes, then topped with creamy coleslaw and Swiss. Bread is so 2013.