Beer gravy and corned beef goodness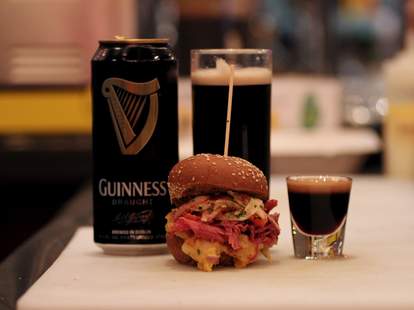 Popping up on Sundays at Ferndale's Go Comedy! Improv Theater, The Sauced Chef is a temporary food-and-drink-slinger that focuses on pairing Jerry O'Connell's two loves in life: booze and sliders. We crashed the test kitchen to see what's cooking
That's Nick (aka "The Sauced Chef") on the left & Scott (aka "The Sauced Chef's Generous Friend Who Came In On His Off Day") going over the finishing details for this month's slider: The Dubliner
Roasted red peppers get a spa-worthy ice bath before being sliced up
Napa cabbage, red onion, and the spa-going peppers make up the bulk of the slaw, which is shown here before it gets tossed with a secret savory/spicy sauce
Nick pouring out a little Guinness for his homies..
... directly onto the corned beef!
These sunset potatoes are a mashed mix of yams and redskins (RG3! RG3! RG3!)
Because cooking with beer can bring out too much bitterness, Guinness is reducing here along with honey, brown sugar, aromatics, and whole chunks of corned beef. Good gravy
While keeping a watchful eye on the stove (safety first!), Scott regales Nick with the time he saw a line cook stab himself through the hand with a kitchen knife
Quick flavor test of the slider's components before packing up to serve at Go Comedy!'s weekly improv and sketch show, Sunday Buffet (tickets on sale here)
And here's that final product again, paired off with the Corktown Mule (Guinness with a shot of vanilla-infused Valentine vodka) and a Baby Guinness shot consisting of Baileys and Kahlua. Sadly, the slider and drink pairing will change monthly, meaning you'll only be able to get this thing until April, even if you start Crying, Man.