More than just the best place to get tacos Northeast of Southwest, Imperial is finally ready to tackle Metro Detroit's biggest issue to date: being on the brink of declaring bankruptcy where to get late-night weekend grub that's just as sloppy as you are. Because Coneys can't always cut it, the Ferndale favorite's offering up options to soften both hangovers and midsections.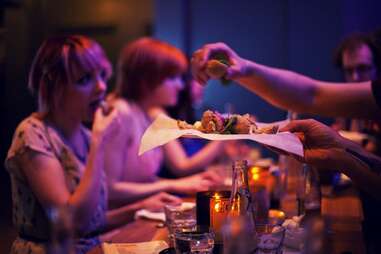 Only available on Fridays and Saturdays from 12a-2a, Imperial's decided to "call bulls#!t" on Mama saying that nothing good happens after midnight.
You Had Me at Balls. Seriously, it's the name of this deep-fried Mexican risotto ball dish with Gouda, chipotle aioli, and a poblano lime cream.
Practically since day one of service, they've heard your cries for nachos. They will now be drowning out said cries with chipotle nacho cheese, chorizo, carne asada, stewed beans, cilantro, queso fresco, and a jalapeno onion relish all piled high onto their tortilla chips.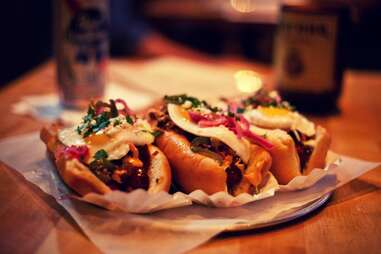 This isn't a dream. It's the appropriately-titled Egg on Your Face -- a bacon-wrapped dog w/ queso fresco, jalapeno onion relish, chipotle aioli, carne asada(!), chorizo(!!), AND a fried egg (!!!).
You might need help getting this fried egg-topped, bacon-wrapped sucka down, so bring a friend, 'cause the one thing definitely worse than The Hangover you're trying to soften, is (Part) II.