One might assume that in the city twice-named "Beer City USA," you'd be drinking a lot of beer and eating a lot of food that is meant to go with beer. And that's true! Grand Rapids has tons of breweries and brewpubs and beer bars and beer-focused gastropubs, several of which we highlight here. But that's not all G-Rap is about! There is a huge focus on farm-to-table cuisine (easy for them, because the city is quite literally surrounded by a hundred miles of farmland in every direction), in-house butchery and charcuterie, and a pointed Michigan mindfulness. And also beer.
 
Here is just a taste of what's in store for you on Michigan's West (best?) Coast, aka Chicago's Mini-Me. 
Recommended Video
Art of the Meal: Chloe Rose Makes Super Mario Bros Art With Hot Sauces
East Hills
Grove offers "earth-to-table" dining, utilizing responsibly sourced products from local, family, and sustainable farms and businesses. And all of that is all well and good, but what about the food? How about house-made sweet potato gnocchi with duck leg confit, or barramundi with pork belly lardons, or roasted lamb leg with green chili-braised collard greens and burnt raisin hot sauce with a fried duck egg? It's sophisticated-rustic Chicago dining at "is this even for real?" Western Michigan prices, which is yet another reason to love Grand Rapids. 
East Hills
Owned by the same group behind Grove, Green Well is an eco-friendly gastropub serving elevated bistro food with plenty of vegetarian and vegan options (such is the case with pretty much every restaurant in Grand Rapids) and a bit of an international flair: lamb vindaloo, Korean-braised beef & noodles, Brazilian black bean stew, Cherry Street posole, quinoa falafel wrap. Or just get down on a Michigan sausage and cured meat plate with German potato salad. It also has a respectable beer list highlighting Michigan brews -- also standard issue at most GR restaurants -- and some choice international and Belgian beers. "Belgian" of course also being international, but in this case separated out into its own category.
East Hills
Marie Catrib's is a favorite local mainstay, and when proprietor Marie Catrib passed away in 2013, the whole city seemed to mourn. Thankfully, her casual lunch-and-dinner bistro continues her legacy, serving salads, sandwiches, and deli sides from her own Mediterranean-inspired recipes made from scratch daily. While meatatarians are by no means excluded (the house-made corned beef is especially popular), Catrib's is also known for its veg/vegan offerings. Don't forget to grab some take-home deli items and baked goods on your way out.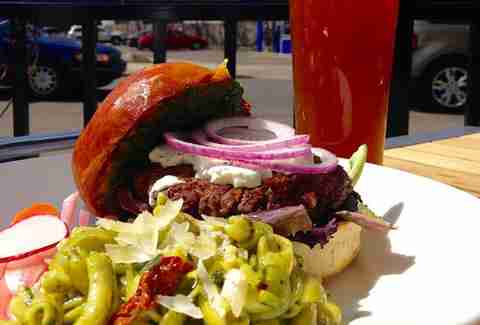 Eastown  
Terra is a locally sourced farm-to-table restaurant hyping the values of "artisan, authentic, seasonal, and healthful." Unfortunately, these have all become misappropriated buzz words in today's contemporary culinary scene, through no fault of Terra's -- they walk the talk with a menu ranging from buffalo cauliflower and red beet & white bean hummus to seared duck breast and maple-glazed pork belly, plus hand-crafted pastas, wood-fired pizzas, and daily butcher specials from an in-house butcher.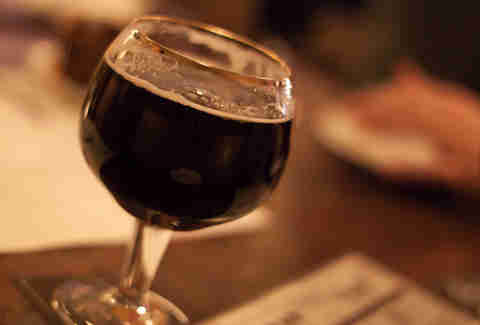 East Hills
Brewery Vivant is worth seeking out for several reasons. The first: this is one of the best breweries in Michigan, period, the end -- but people still don't seem to fully comprehend that. The second: the brewpub is located in a former funeral chapel with the bar in the pulpit, and if THAT doesn't pique your curiosity, well, then... that's just like, your opinion, man. The third: the hearty (and we mean hearty!) Franco-Belgian-inspired pub food suits the oft-frigid Grand Rapids climate and the vaguely monastic atmosphere perfectly, giving a further sense of being "in f***ing Bruges."
East Hills
Basically, if you want to dine really well in Grand Rapids, you have to head to the East Hills. The Winchester is a neighborhood gastropub serving items like roasted bone marrow, pastrami pigs head, pork & beans with Duroc pork belly, and a variety of soups and sandwiches along with a solid selection of beer, cocktails, and wine. None of the menus are large; rather, this is the kind of neighborhood pub you visit with friends for a beer and a bite. The Cheers comparison is a bit overused nowadays, so suffice it to say that this is the kind of place that will immediately feel friendly and familiar. 
Center City
When it comes to Grand Rapids, the focus is all on the beer. But wine is a thing that also exists, and it is also delicious! And you need to go nowhere other than Reserve to access the most extensive wine selection on this side of the state. With a state-of-the-art cruvinet system allowing them to offer 102 wines by the glass, there are wine flight combinations to suit any palate and strong representations from the world's major wine regions (including a few highlights from Michigan). The menu is fine-dining but still very much Michigan, with items like steak & kidney pierogies made with an heirloom breed beef from Michigan's LEA-White Farms. There's also an in-house charcutier making salumi, pates, terrines, and rillettes.  
Heartside
The popular San Chez Bistro serves a large selection of tapas, paella, and other Spanish favorites, as well as a very popular Spanish-inspired brunch with a Bloody Mary bar. It also has almost a dozen specialized menus catering to food allergies and dietary restrictions, which is... interesting. After more than 20 years in business, this place has a strong following, so if you're trying to get in Thursday-Sunday, either make reservations or be prepared to wait. 
Heartside
The third restaurant on this list from the Essence Restaurant Group, which also operates Green Well and Grove, Bistro Bella Vita is of the same ethos -- local produce, local pigs -- with an Italian flavor and an extensive beer list, because this is Grand Rapids and even the Italian places are beer-focused.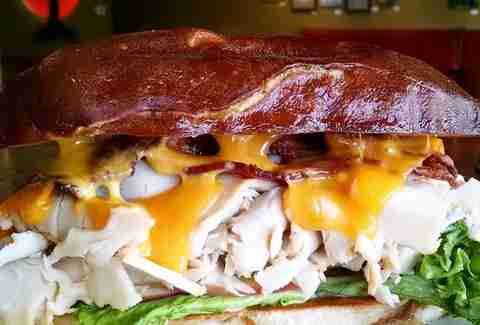 East Hills
In addition to having a really fantastic name, Electric Cheetah also has fantastic food, using high-quality, natural, local, and organic ingredients in their tummy-warming American comfort. It's sort of a gourmet diner... one might be tempted to use the "h" word but that would almost seem dismissive and this place deserves more than that. It does offer 40 kinds of craft root beer, as well as regular craft beer... because this is Grand Rapids.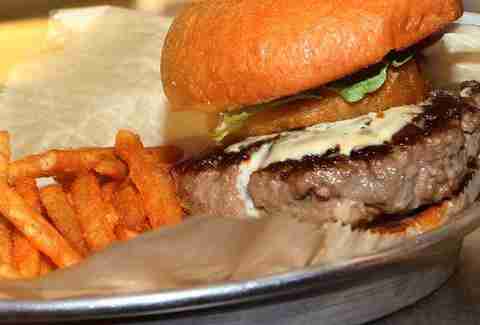 Heartside
Serving one of the best burgers in Michigan (and, according to GQ, THE best in America), Stella's Lounge also offers more than 250 whiskeys and enough beer to keep all that whiskey in check in a retro space with graffitied walls, vintage arcade games, and a rawk soundtrack.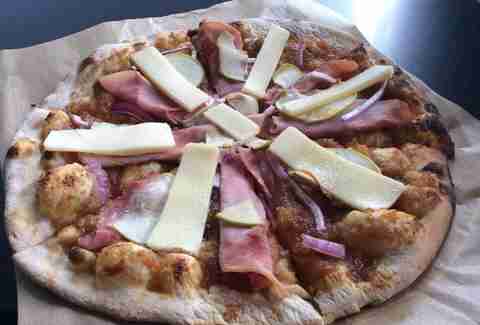 Eastown
Serving as home to some of Michigan's best pizza and utilizing locally sourced products, Harmony Brewing Company is also a brewery (hence, "Brewing Company"), so this is basically the quintessential Grand Rapids beer-and-pizza experience.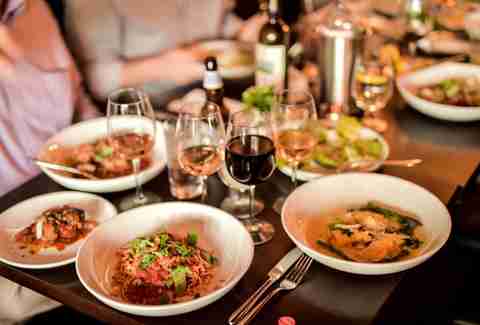 Center City
If you're looking for a more traditionally Italian dining experience, Osteria Rossa abides. But again, this being Grand Rapids, it still pays homage to its Michigan heritage with the "warmth of the Mitten, soul of the Boot," serving Italian-inspired dishes including homemade pasta and wood-fired pizza with ingredients from local Michigan farms. 
Heritage Hill
Farm-to-table? How about farm-to-crust? That's what the folks at Cult Pizza call their inventive pizza creations, and in turn we call them also among Michigan's best. It's about as hyper-local as a pizza joint can be, and it also specializes in vegan pizzas, which is... well, not the reason we order pizza, but that's cool man. 
Sign up here for our daily Detroit email and be the first to get all the food/drink/fun Motor City has to offer.