There are certain times when you leave the bar and there's a tiny voice in your head telling you that it's time to go home, but a much louder voice in your stomach is demanding to be fed. Listen to the second voice, and make him happy with these nine best bets for Detroit dining in the wee hours.
Recommended Video
Thrillist's Best (and the Rest): The Truth Behind the Saddest Cookbook Ever
American Coney Island
Downtown
American Coney Island hasn't changed much in their 87 years of operation, and continues to cook up top-flight Detroit coneys. Still family owned and operated, their generations-old recipes get served up alongside the highest quality Dearborn Sausage links. Not that you'll be thinking about all that history when you're stuffing your face at this 24hr joint.

Lafayette Coney Island
Downtown
Yes, TWO coney joints. It IS Detroit, after all. Lafayette's natural-casing frank arrives on a steamed bun, topped with mild Greek-style chili, chopped white onions, and yellow mustard. It doesn't HAVE to be consumed after 2a, but they ARE open until 3a (and 4a on weekends). Go ahead and spring for extra chili. You clearly aren't bringing anyone home at this point.

Xochimilco
Mexicantown
Pronounced so-she-mil-co. Good luck pulling that one off when you're multiple beers deep. Though it's one of the smaller restaurants in Mexicantown, it's also one of the busiest on the strength of it's abundant, affordable plates of rib-sticking Mexican eats. Botanas and margaritas are a great way to close out the night, or if there's no more drinking to be done, get your taco fix until 2a.

Bucharest Grill
Foxtown/Theatre District; Inside the Park Bar
This is the shawarma haven. Perfectly seasoned beef or chicken, pickles, onions, tomatoes, and enough garlic to cover any hint of beer on your breath (though, it's now replaced with garlic). The line is usually out the door, but it moves quickly, and they even deliver if you're already immobile. Pro tip: the shawarmas even come in six-packs!

Telway Hamburger System
Southwest Detroit
If it's late and you're hungry but you're having some serious financial regret about the bar tab you just closed, this is your spot. Burgers, fries, and coneys each check in around $1 or less, 24hrs a day. White Castle has nothing on these guys. 

Plaka Cafe
Greektown
Need breakfast before you go to bed? This 24hr Greektown diner is your spot. Feed your face with a massive fluffy omelette, or if you're saving that for when you wake up, you can't go wrong with a gyro. The comfy booths may look like they're made for four, but you have 10 hungry friends who think otherwise.
Sgt. Pepperoni Pizzeria & Deli
Midtown; at the Garden Bowl
After a show at the Magic Stick or a late night at the Garden Bowl, nothing complements the boozy, sweaty smell you're giving off quite like some greasy pepperoni pizza. It's said that the perfect window for stuffing your face is seven minutes after it's pulled from the oven -- enough time for the molten lava cheese to become edible.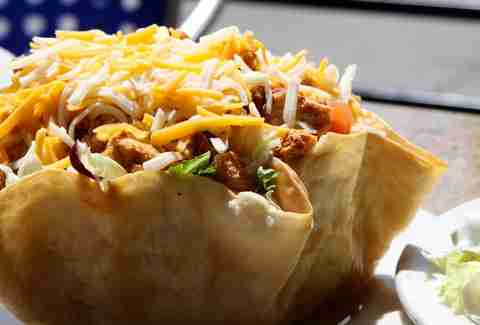 Loco's Tex-Mex Grille
Greektown
Spicy Mexican and Southwestern dishes served while the staff shouts "Ole!" ... just like they do South of the border (probably)! This makes for an ideal post-Comerica stop to fill up on deep-fried tacos or Mexican pizza if you don't want to stray TOO far from your comfort zone. Hopefully business won't be hit to hard with the trading of Prince Fielder. 

Bert's Marketplace
Eastern Market
This jazz club has showcased local talent and served up soul food since the 1980s, and Bert's still draws a late night crowd while also playing host to some serious national acts. You never know who'll show up, but you know you'll be able to mow through ribs, chicken, and catfish doused in assorted special sauces until 3a on weekends.