From the Rust Belt Market Russki behind Rock City Pies, Rock City Eatery is a pies-and-way-way-way-way-more restaurant located in the only city that shares a name with Kirstie Alley's favorite mode of transportation (Hamtramck).
Recommended Video
Flaming Blowtorches And Savory Donuts At The Gastro Garage Pop-up
The nearly 100yr-old building that RCE's set in features exposed original brick on the south wall, plus lounge-worthy tufted leather chairs for drinking rum-spiked horchata in. Oh yeah, they've got rum-spiked horchata.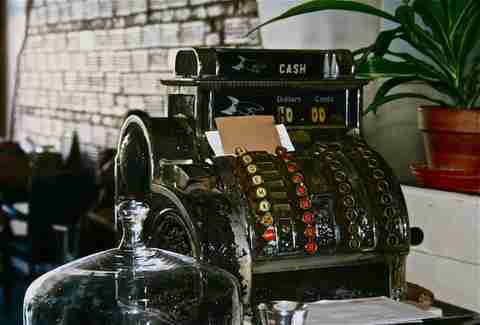 Vintage gear from nearby antique shops provides the décor along with original photos of the godparents of punk (Iggy Pop and Patti Smith).
Iron doors from the original building's basement bomb shelter guard Rock City's secret recipes... against bombs?
Really though, they won't tell you how they do this, but they do it: creamy, gooey, mind-blowing mac 'n cheese served in a crunchy Parmesan bowl. Legend has it four cheeses and beer are involved.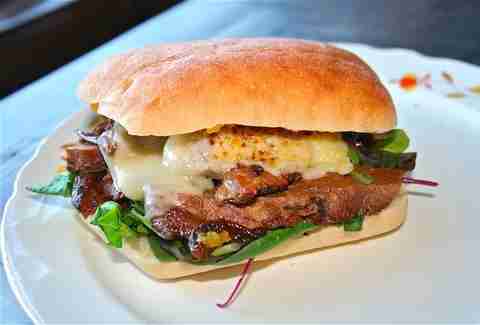 The menu is always changing (late-night ramen on Friday nights!!), but chances are this guy isn't going anywhere: the Un-Kosher Brisket Sandwich is loaded with Gruyere cheese and apricot schmear and only costs a schmear $7.
And since the whole Rock City thing began with pies, they're doing those too, including this butterscotch bourbon pecan pie. Other creations include sweet potato whiskey and other pies you need not care about because, sweet potato whiskey.
Full bar? They've got that too, stocked with mostly Michigan booze that goes into "Lushies" (booze slushies), rum-spiked horchata, boozy milkshakes, and signature tipples like this RC Cocktail -- whiskey, pomegranate molasses, lime juice, and orange bitters.
Oh, and you can also take your pick of Michigan beers: they're stocking bottles of Dark Horse, Bell's, Founders, and a brew no doubt named after where all of the Dutch people would live were the Netherlands to be sucked into a sink hole (New Holland).
Previous Venue
Next Venue
Venue Description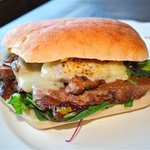 1. Rock City Eatery
11411 Joseph Campau St, Hamtramck, MI 48212
Food, booze, and pies are the pillars upon which Rock City Eatery rests, and the industrial-chic eatery in Hamtramck has entertained a steady flock of regulars because of it. The breadth of the globally-inspired menu attests to the culinary skill of owner Nikita Santches, who proves that it's totally possible to excel at everything from duck fat-fried poutine to Spanish octopus. here's a big emphasis on local solidarity, ranging from regional microbrews behind the bar to the ingredients used in the kitchen, so don't be surprised if certain items on this focused, market-driven menu run out towards the end of the day.