Courtesy of Buddy's
Courtesy of Buddy's
We won't proselytize once again just how much better Detroit deep-dish pizza is than Chicago's Sahara-dry brick of crust hollowed out just enough to pour in a tepid pool of marinara sauce. It totally is, but that's not why we're here.
Detroit deep-dish pizza is as much a reflection of Detroit as it is a revelation in pizza. And sure, most outsiders don't understand it, but Detroiters don't need the validation of outsiders to know what a good thing they've got going on right here. It may be stubborn in its resistance to the typical pizza form, playing fast and loose with the concept of "toppings" and the "order" in which they go on, but its uncompromising individualism is part of what makes it so damn enjoyable. Detroit is its deep-dish pizza, and the deep-dish pizza is Detroit.
And so we're here to pay homage to that most superior of deep-dish pizzas, the deep-dish pizza to which all other so-called "deep dish" pizzas aspire to: Detroit deep dish.
First, it starts with a little bit of automotive history. Detroit might be its deep-dish pizza, but it is even more so the Motor City, and many local innovations over the past century are directly born from its automotive roots. Like our neighborhood-skewering freeways and vast swathes of parking lots. (No one said all innovation was inherently good.)
And so it is that, in 1946, Gus Guerra was looking to add new menu items to his struggling neighborhood bar, Buddy's Rendezvous at 6 Mile and Conant, and acquired a few unused blue steel (not the Zoolander pose, the grade of steel) industrial utility trays from a friend who worked at a factory.
He thought the lipped trays would make a good Sicilian-style pizza, despite their rectangular shape. He happened to be right: all of the characteristics that make Detroit deep-dish pizza distinctively itself are the result of the heavy trays, similar to cast iron skillets, used to bake them. The crunchy exterior crust soaked through with oil and bubbled over with caramelized cheese, the soft and airy interior crust: it's all thanks to these repurposed trays.
Legend gets a little shaky here, but the preferred version of local lore is that Guerra's wife Anna got the dough recipe for their signature deep-dish pizza from her Sicilian mother. The alternative story is that an old Sicilian dude named Dominic taught Guerra the "Sicilian way." Blame the omertà code of honor for the silence and subsequent speculation. Either way, Detroit deep dish's roots are in Sicily, with the unique dough, sfincione, being more akin to a focaccia than what's typically identified with pizza, which seems to be a defining characteristic about Detroit's hot take on the subject. It defies what's considered traditional.
From the Sicilian dough and the rectangular trays, the toppings go directly on top of the dough; the pizza is then piled over with high-fat, semi-soft Wisconsin brick cheese all the way to the edges of the pan, melting over the sides of the crust and caramelizing, bubbling up nice and brown on top and melting in the middle. It gets another layer of toppings after that, and, lastly, the final touch: streaks of thick red sauce over top. The result is a dense deep dish that still manages to be light and airy, packed with flavor and plenty of the coveted corner pieces to go around.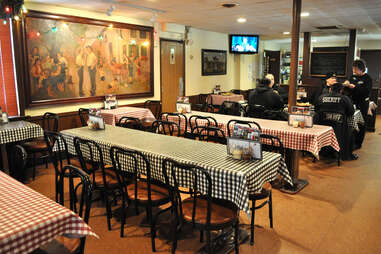 There is no dispute that Buddy's -- now with 11 locations throughout Metro Detroit -- was the originator, and the other local institutions that have made a name for themselves with their own versions of Detroit deep-dish pizza did so through a matter of cultural diffusion.
Just down the street from Buddy's, the owners of Shield's took notice of their competitor's newfound popularity and hired away Buddy's long-time chef, Louis Tourtrois Sr., to make their pies. Shield's has since expanded to three locations in the suburbs (the original Detroit location is gone). Tourtrois eventually moved on to open his own pizzeria, Loui's Pizza in Hazel Park, widely considered among locals to be the best of its class.
Guerra sold Buddy's and bought a place in East Detroit (now Eastpointe) called Cloverleaf Bar & Restaurant, where he and Anna continued the Detroit-style deep-dish tradition. Buddy's changed hands a couple of times while staying true to its roots and widely expanding, gaining national acclaim as one of the best pizzas in America.
Other local players have joined the deep-dish pizza game, including Michigan-based pizza delivery chains like Jet's "the truth" Pizza and Little Caesar's, the first pizza chain to take Detroit deep dish national. (It'll do in a pinch.)
And while the pedigree of "Detroit-style" pizza claims becomes increasingly suspect the further you get from the origin point, it seems like Detroit-style deep dish is following the Detroit diaspora migration pattern, with Via 313 in Austin (who seem to be getting the most recognition), Junct'n Square Pizza in Telluride, Loui Loui's in Louisville (who, for our money, appears to be doing it the most justice), Northside Nathan's in Las Vegas, and incredibly recently, Emmy Squared in Brooklyn.
After years of making like Rodney Dangerfield and getting NO respect, Detroit deep dish has finally taken its rightful place amongst the pantheon of world pizzas, and also happens to be infinitely better than Chicago's. In case you needed reminding.
Sign up here for our daily Detroit email and be the first to get all the food/drink/fun Motor City has to offer.
Nicole Rupersburg misses Jet's Pizza every single day when she is not in Detroit, but realizes this is probably for the best. Follow her on IG @eatsdrinksandleaves where she posts pictures of herself hiking in Target tanks that say "Pizza is Life." ​​​​