The Detroit food pyramid looks something like this: Vernor's, Faygo, and Better Made Chips at the bottom, providing the historical base; Buddy's, Sanders Fudge, and HoneyBaked Ham packed in the middle; and Slow's, craft beer, and just about anything in Corktown near the top.
But at the pinnacle of Detroit's culinary creations stands the meaty, onion-topped, mustard-laced original that is the coney dog. From far and wide, people come to sample the city's most beloved food, and though coneys can be found at literally hundreds of spots throughout the city and state, not all of them are created equal, which is why we've narrowed it down to 10 favorites that represent the highest in coney achievement.
Recommended Video
Ghost Kitchen: How This NYC Restaurant Is Responding to Coronavirus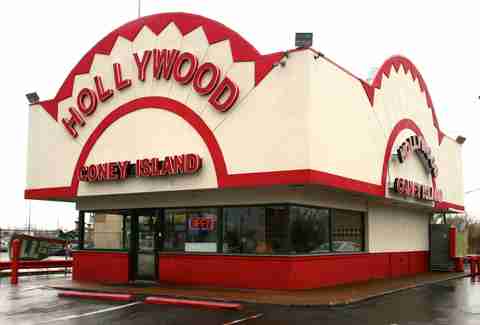 Gratiot Ave
In the coney business, it's not about who you know, it's who knows you, and luckily for Hollywood, there're plenty of folks who know about their dogs, their drive-thrus, and their speedy service. If you're looking for a quick coney fix that sticks to the classic style, Hollywood's the place to be.
Brightmoor
There are several space-themed coneys to be found throughout the city, and Cosmos can be easy to miss to the untrained eye. In fact, you might call it the "pale blue dot" of the coneyverse -- but in this part of the city, it's a hot spot for no-nonsense, authentic coneys available round the clock with its 24hr drive-thru.
Lake View (& Other Locations)
Leo's is home to the comfort coney. Whichever location you choose, you know you're going to get the coney special, you know you're going to eat every last one of those fries, and you know you're gonna wash it all down with a tall, cold Coke. A solid choice available near you, no matter where you are.
Roseville (& Other Locations)
As the oldest coney chain in the state, National still holds its own as a top dog (do we dare? Yes we do) in the ongoing coney competition. You'll find them in the city, in the suburbs, at the fair, and even at Detroit Metro Airport (eat before you fly at your own risk). Despite the ubiquity, they continue to execute their coneys at a high level.
Downtown
Coney purists may disagree, but Bucharest Grill deserves a spot on this list for serving up their coney-like creation, the "Detroiter". Replacing the traditional beef hot dog with a knockwurst and adding cheese to their original coney sauce and grilled onions, they have a unique take on an old favorite that rarely disappoints even the most studied coney connoisseurs.
Midtown
Seeing as how they're open 24/7 and right on Woodward, Detroit One is a critical stop when you're in need of a late-night coney fix. They're an iconic spot with an iconic storefront, and a solid lineup of authentic coneys. Bonus: if you order 20 or more at a time, they're just 95 cents a piece.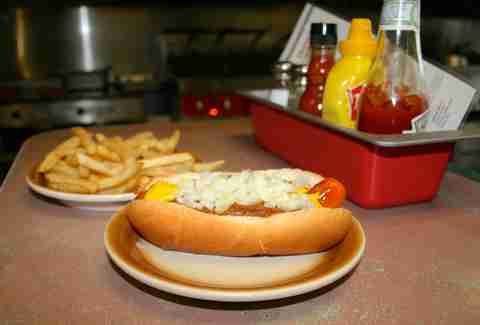 Dearborn
There's a lot to love about Joe's Top Dog, where there's a full bar, an open kitchen, damn solid coneys (particularly on 99-cent coney Wednesdays!), and some of the friendliest people to ever serve a coney. This is where a lot of folks from the Ford Rouge Plant like to come for lunch, and it's where you should, too.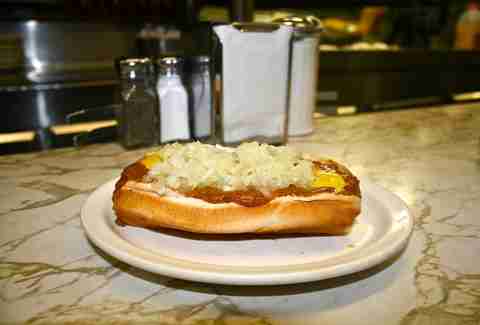 Southwest
Duly's flies a little under the radar relative to some more heralded competition (more on them later), but their Coney's are damn near done to perfection -- with sweet onions, spicy chili, and a steamy bun. With just one row of stools at the old-timey lunch counter appealing to purists, all there is to do at Duly's is enjoy your coney, another coney, and the company.
Downtown
There's no doubt, American makes a terrific coney dog. You know it, we know it, the world knows it. And although it's number two on this list, many others with fine taste have put it at the top. Both spots put out a damn fine dog, but the chili is a bit different, and therein lies the defining taste of each, giving a certain other spot the slight edge in our opinion.
Downtown
When you eat at Lafayette, you join the ranks of Eminem, Kid Rock, Henrik Zetterberg, Nick Lidstrom, Drew Barrymore, and so many more, who've all downed one, or two, or ten award-winning coneys here (not to say they haven't also ventured next door). Maybe it's the diner-like atmosphere, maybe it's the beefier chili or the Spanish onions used to top it all off… it doesn't really matter. Lafayette is simply the best original coney there is.
Sign up here for our daily Detroit email and be the first to get all the food/drink/fun Motor City has to offer.