This restaurant has a 25yr-old chef who's smoking BBQ sauce & whiskey tableside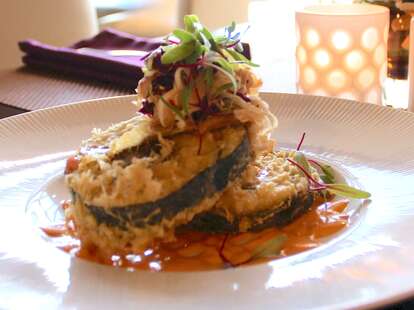 Run by one of Detroit's up-and-coming-est chefs (literally, this dude has been cooking for 13 years even though HE'S ONLY 25 YEARS OLD), The Jefferson House is the latest addition to the newly renovated Crowne Plaza downtown, and home to one of the most forward-thinking menus in Detroit (starting with the tempura braised short rib sushi roll above...).
Outside there's a 40-person patio along Jefferson, while inside, there's a view of... that 40-person patio (!), plus a sort of regal vibe thanks to dark-stained wainscoting and copper leafed ceilings.
Meat is a focal point at TJH, starting with this "salad" of finely shaved prosciutto with a mascarpone cheese base.
... and ending with this 14oz giant-bone-in Berkshire pork chop.
In addition to smoking BBQ sauce tableside (for dipping your roasted airline chicken in, of course), the chef's also mesquite smoking a Knob Creek whiskey cocktail called the Old Smokey (check it out on the blank in back, also: THE CHEF IS MAKING THE COCKTAILS TOO?!?!?). Basically he takes a vaporizer, fills the glass with cherrywood smoke, then you flip the glass over, pour in the whiskey, and enjoy a sort of Scotch-like experience.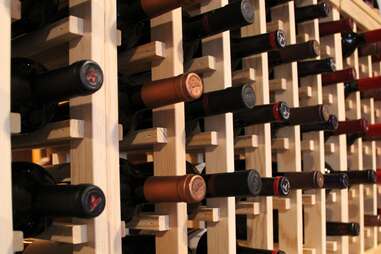 Oh, and grab a wine list: they've got everything from "I just lost my job" bottles starting at $32 to "I just blackmailed my boss" bottles reaching up to $230.