From the mind behind Good Girls Go To Paris Crepes, Rodin's a French-American bar & bistro named after the sculptor whose "The Thinker" emo-gazes over Woodward next door at the DIA. The place feels like a wartime bunker decorated for a long-term stay: cavernous ceilings, copious concrete, and blown-up cinema posters like Belle De Jour, about a French housewife turned hooker (...also a pretty clutch addition to a wartime bunker). Emblematic of a menu full of American takes on French classics, this coq au vin sees whole chicken wing tips cooked in red wine, carrots, and bacon. Raclette and chevre meet in the middle of this apple-buttered brioche served alongside a smoked cherry tomato soup, all making for the most sophisticated grilled cheese you'll ever make your mom cut the crusts off of. Traditionally made as a stew, this braised lamb shoulder is served over brioche and referred to as "sloppy lamb", so -- wait: does that mean that a sloppy joe is made with actual Joe? Wash down these sweet potato-glazed gruyere beignets with wine from a (unsurprisingly) French-leaning bottle catalog, or blow your beret off with something stronger from their menu of Parisian-inspired cocktails, and celebrate fine dining in a place where it seems natural to get bombed.
Previous Venue
Next Venue
Venue Description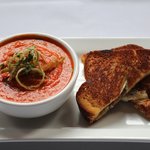 1. Rodin
15 E Kirby St, Detroit, MI 48202 (Midtown)
This bar & bistro is named after the sculptor of The Thinker, and mixes enough Parisian-inspired cocktails to ensure that no one will mistake you for him.