Even though Prince Fielder was shipped outta town, 2013 was still a pretty fat year in Detroit (sorry Prince! It's been real). Check out our favorite moments in heart-stopping excess from the past year as you plan to make 2014 even bigger, even on days when the Rangers aren't here to play.
Recommended Video
This Is NYC's First All Japanese Food Hall
Sausage Tomato Fennel Pie
Dangerously Delicious Pies, Midtown
Approximate Calorie Count: 473 (per slice)
The aptly named (as far as your arteries are concerned) pie emporium touched down in Midtown this year by way of Baltimore, bringing with it an army of sweet and savory methods of fattening you up. The tomato and fennel in this number are all well and good for flavor, but you're primary interests consist of two words: sausage, pie.

Chipotle Sausage
The Grindhouse Food Truck, Varying Locations
Approximate Calorie Count: 535
Since the ubiquitous burrito joint has yet to get into the tubed meats game, Grindhouse stepped in (and probably did a better job anyway) with this guac-, cheddar-, and Cholula aioli-laden beef & pork chipotle sausage.

Egg On Your Face
Imperial, Ferndale
Approximate Calorie Count: 643
Part of Imperial's lineup of late-night, heart-wrecking sustenance, the EOYF is a bacon-wrapped dog w/ queso fresco, jalapeño onion relish, chipotle aioli, carne asada, and chorizo. Oh, and a fried egg, because otherwise how would it live up to the name?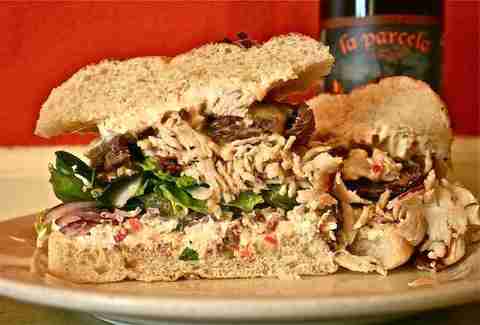 The Mudgie
Mudgie's, Corktown
Approximate Calorie Count: 655
This signature offering from the sandwich institution has their house-roasted turkey (hey now… that sounds suspiciously healthy) sharing the protein spotlight with grass-fed beef brisket and a schmear of their veggie (uh oh… ) cream cheese (phew!).

Dark Chocolate Drizzled Beignets
Beignets 2 Go, Varying Locations
Approximate Calorie Count: 783
Track down this truck (usually found around Eastern Market/Wayne State) and get ready to house this basket of fried delightfulness topped with a Scarface-esque pile of powdered sugar, as well as dark chocolate because, well, otherwise they wouldn't have any chocolate on them!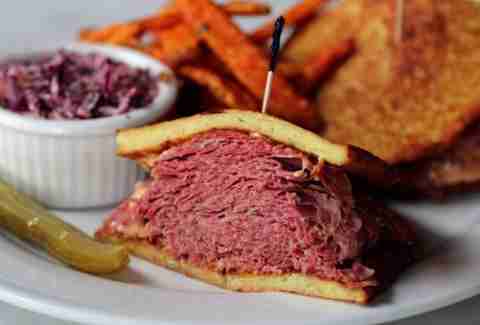 The Midtown
Maccabee's at Midtown, Midtown (clearly)
Approximate Calorie Count: 940
Since any amateur can make a hulking beast of a corned beef and turkey pastrami sandwich in between two slices of rye or pumpernickel or whatever bread they have lying around, the geniuses at Maccabee's upped the ante, eschewing bread slices in favor of two tastily fried potato pancakes. Throw in some Thousand Island and you're certainly gonna be eating a lat… ke.

S'Mores Pie
Blaze Pizza, Royal Oak
Approximate Calorie Count: 1450
Okay, so pie might be a bit of a misnomer -- since this is really just a big damn plate of s'mores served on a pizza sheet. But then again, who wouldn't want a big damn plate of s'mores served on a pizza sheet? Whoever it is, don't hang out with them. Or do, because, more for you!