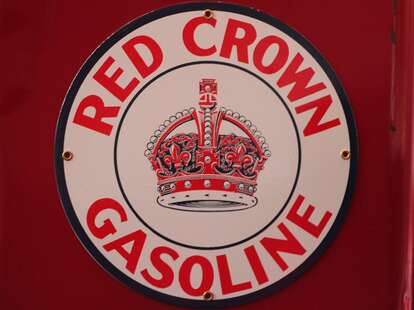 Providing patrons with an entirely new way to fill up at an old gas station, Red Crown's a red and white-bricked remodel of what was originally the Standard Oil building
The space has been softened up considerably, both for adults (massive wine rack!) and bored adults (crayons!)
A namesake Red Crown gas pump is a nod to the former tune-up shop, as are the very-ready-to-open-come-Spring service bay garage doors.
Mostly American comfort fare with a Southern focus, the menu starts with "snacks" like these wood-smoked chicken wings served with a vinegar/pepper dip worth diving into
The classic Red Crown burger comes with L, T, grilled onion, and "fancy sauce", all piled high on buns that will soon be coming directly from across-the-street, to-be-opened bakery, Bona Fide.
Magical meats like house-made hot link sausages, spice-rubbed beef brisket, and the pictured Memphis-style baby back ribs are all done in a local fruitwood & mesquite charcoal-burning beast, and come sided with cornbread and choice of two other sides (shown here with stewed green beans and buttermilk mashed potatoes in the back)
Or just order side dishes for your side dishes (relax, Xzibit), like the braised greens & mac n' cheese
It's served in a cast iron cocotte & incredibly hard to lick out remaining bits of mac n' cheese
These shrimp n' grits invite thick-cut Edwards bacon & a fried egg to the plate party
Coloring break! Oh, and beer. They've got a lot of it, including Brewery Vivant's Farmhand ale, Short's Bellaire Brown, and Motor City Brewing Works' Ghettoblaster, in addition to taps like New Holland's Full Circle Kolsch & Bear Republic's Racer #5 IPA
Cocktails are separated into the stirred and built & shaken, like A Well Lighted Place, a bar original combining Knickerbocker gin, Hennessey VS, Luxardo maraschino liqueur, and Benedictine, along with grapefruit/lime juice & fresh rosemary
They've also built an all-American wine program with a solid selection available by the glass, bottle, and carafe (which they're filling with four rotating kegged vinos), but for those looking to keep things "in the Mitten", ask about the current Michigan winery feature, which'll change monthly.