The best thing about pizza is… no, wait, everything is good about pizza. But it's even better when it's fast, oven-fired, smothered in fancy cheeses, and topped with your all-time favorite toppings like bacon, Italian sausage, roasted garlic, and... bacon again! Annnnnd right on cue comes Blaze Pizza, a Los Angeles pizza chain, serving 100-calorie slices of thin crust, mouth-watering, crispy pizza on Main Street in Royal Oak.
Recommended Video
This Insane Pizza's Crust Is Made With Ramen Noodles. But Is It Really a Pizza?
The concept comes by way of an exec chef nicknamed "The Pizza Whisperer" (not-as-fun-name: Bradford Kent) who touts eight pre-whispered signatures, plus a whisper-your-own option where you can add anything from Gorgonzola and goat cheese to crumbled meatballs and zucchini.
It takes less than three minutes to cook your pizza, thanks to these open-hearth ovens/Maillard reactions that occur when more than 285°F of heat is applied to a substance.
Yes, you can personalize your pie all you want, but when their signature "Meat Eater" turns out like this, there's really no need to mess around with a classic.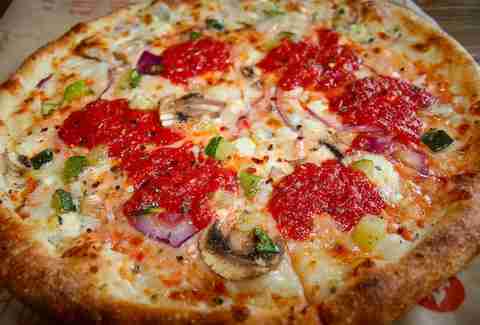 Vegetarians and vegans rejoice! But only a little bit because you don't eat meat and that's nothing to celebrate! Blaze makes a mean veggie pizza with your choice of vegan cheese, a gluten-free crust, and veggies ranging from (A)rtichokes to (Z)ucchinis.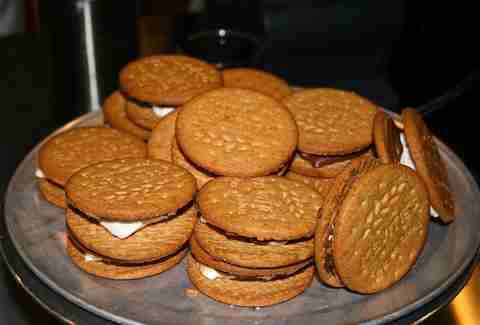 Oh, and then there's the matter of their S'mores Pie -- graham cracker cookies, chocolate, and marshmallows melted to perfection to accompany your larger, cheesier pie.
Previous Venue
Next Venue
Venue Description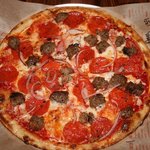 1. Blaze Pizza
112 S Main St, Royal Oak, MI Blaze Pizza
Blaze Pizza, on Main Street in Royal Oak, is home to delicious, oven-fired, customizable pizzas that are finished in three minutes. Do you need to keep things gluten-free or vegan? No problem, Blaze has plenty of options for you too.