The rapid spread of COVID-19 across America dramatically changed all our lives in a matter of days. One of the industries hardest hit by the virus is the restaurant industry. Michigan is one of the states that wisely mandated restaurants and bars to transition to take-out and delivery only. Small business owners and workers are struggling right now, so here's a quick guide to pitching in and helping out the restaurants that make your neighborhood your neighborhood.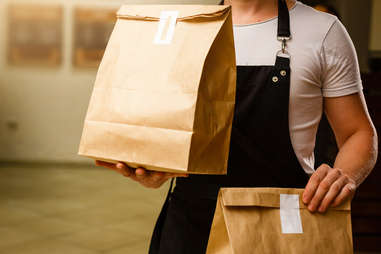 Order from the restaurant directly, not from a third-party app
Right now, it's absolutely worth taking the extra few minutes to call your order in to a restaurant directly, or to check to see if they have their own online ordering. Third-party apps like UberEats, DoorDash, Postmates, and Grubhub take a huge commission -- 15-30% -- from every order they process. These commissions hurt the restaurant industry's thin margins even during good times, but now that orders are running low, that extra cash will prove vital, especially for independently owned establishments.
Check Detroit Food Updates for info
Detroit Food Updates is a brand-new website launched by BEYOND Juicery and BMG Media, entirely dedicated to providing a listing of Metro Detroit eateries and letting you know if they're offering carry out and/or delivery during the COVID-19 epidemic. It'll even direct you to how to order from the restaurant online, if applicable. More and more restaurants will be added to the website, so keep checking for some easy answers on what places you can grab grub from in this weird, weird time.
Remember that "delivery beer" is actually legal here
It seems strange, but it's true. In Michigan, restaurants can attain a license that allows an employee to deliver beer or wine (not liquor) to an ID-touting individual. And, fortunately for all of us, lots of them have this license. Bars offering (or working on) this service include Eastern Market Brewing, Woodward Avenue Brewers, and even dive bar gems like Trixie's. One excellent reason to support this endeavor is that it has allowed many of these bars to keep their staff.
Keep up the new coronavirus hygiene norms
We've all heard the phrase "social distancing" so much in the last few weeks that we're tired of hearing it, but it's beyond important. There are several things you can do to help curb the risk of spreading the virus while snagging your meal: try to remain six feet away from people, avoid going to pick up your order at peak times, order ahead so you're not waiting around in the restaurant, pay with card instead of cash, and wash your hands for at least 20 seconds.
Also, since COVID-19 spreads on surfaces, you should take the extra precaution of tossing away the packaging your food came in as soon as possible and sanitizing all surfaces it touched.
Tip! Tip! TIP!
It's always good practice to tip the restaurant worker and/or delivery person, but since restaurants are getting less traffic and workers are getting less hours, it's more important now than ever. If you're able, take advantage of this situation to tip generously.
Buy gift cards or merch, and support local GoFundMe campaigns
One way to help a restaurant through this difficult time is to, simply enough, buy more things from them. If the restaurant sells merch, buy that T-shirt you've been eyeing for months now. If they sell gift cards, purchase a few to give to your friends and family as presents.
Additionally, a lot of restaurants, venues, and service workers who are struggling to financially keep up have launched relief campaigns on websites like GoFundMe. If you have some extra cash and are relatively stable through this pandemic, giving to these relief funds will really make a difference.
Ask about contactless delivery or curbside pickup
As we all learn what adjustments we need to make to help deter the spread of COVID-19, many local restaurants are taking on new practices like contactless delivery and curbside pickup. In fact, ClickOn Detroit has even amassed a guide (by district!) of some independently-owned local favorites who now offer curbside pickup.
Leave the restaurant a good rating
Independent restaurants are always anxious to receive good reviews on Google or Yelp -- just think of how many restaurants you've decided to give business based on their rating! So if you have some favorite haunts, one easy way to show them some love is to finally give them that five-star review you've been putting off writing. It will help attract business as everyone navigates this altered landscape.
Sign up here for our daily Detroit email and be the first to get all the food/drink/fun the Motor City has to offer.