Tony Soprano once famously said, "I find I have to be the sad clown: laughing on the outside, crying on the inside because I picked a restaurant without reading Thrillist's list of Detroit's 11 best Italian spots." Or something like that. Anyway, here is said list. Prego!*

*That means "you're welcome" in Italian, but it's also how you'll feel after stuffing yourself with carbs at the places below.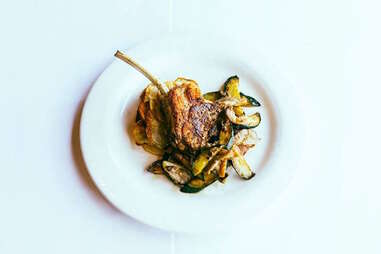 Southfield
Luciano del Signore is the Godfather of Detroit food. Seriously. He's Capone. He's Pacino. He's the kind of guy who walks into a room and you just want him to make you an offer you can't refuse. He's a badass, and so is Bacco. This three-time James Beard Best Chef: Great Lakes semifinalist is now the head of a burgeoning culinary empire with three Bigalora locations under his belt in addition to Bacco. But Bacco will always be his flagship, and is still one of the only Italian restaurants in metro Detroit that takes a modern approach to fine Italian dining -- meaning no red- and white-checkered tablecloths, and no heavily accented waiters in tuxes. Bacco has earned accolades from Gourmet, Zagat, and Wine Spectator, in addition to being named "Restaurant of the Year" by both Hour and the Freep eight years apart. The food is stellar, but also worth noting is the deep, predominantly Italian wine list, which is one of the best in Southeastern Michigan (wine, you guys: still a thing). Luc is the man, and he didn't make us say that we SWEAR.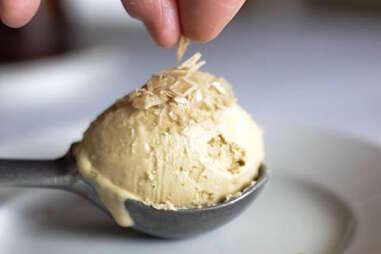 Clawson
Husband-and-wife chef team David and Nicole Seals have created the ultimate "mom and pop" family-owned and -operated restaurant that is homey yet sexy, modern yet rustic, with food that shows contemporary sensibilities while staying true to its Old World origins. The focus here is on Northern Italian cuisine and every single item on the ever-rotating menu is exquisite. You really can't go wrong with anything here, and while you'll be tempted to order one of everything (solution: bring a large group and do exactly that), save a little corner of your stomach for dessert: Nicole's caramel-fennel-sea salt gelato is a thing of legend.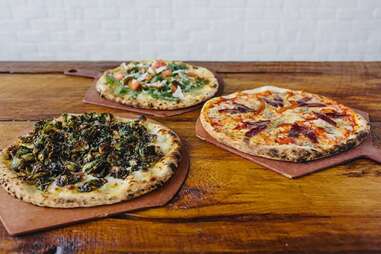 Multiple locations
Presented as a Neapolitan pizzeria, it's really so much more than that: each new location is sexier and more stylish than the one that came before it, all of 'em with a full menu including flavorful salads, hearty homemade pastas, and a small-plates selection loaded with exceptional wood-roasted veggie dishes. Not only is this one of our favorite pizzerias, and one of our favorite suburban restaurants, it's one of our favorite spots, period. Oh, and Bigalora also has excellent craft beer and craft cocktail programs, so it's a good choice even if you're just out for drinks. Though, you know, drinks often go well with snacks, just saying...
Birmingham
Hey Birmingham, what do we have here? What is this charming little café and catering operation hidden in plain sight on Old Woodward? It's a breakfast- and lunch-only spot, is what it is, which means unless you work in Birmingham or accidentally stumbled across the place on a random weekend, you would probably never know about it. The food here is homemade to the momth degree -- as in, it's mom's food. If mom were a really talented chef who made a mean marinara. Try the gnocchi with butter and sage sauce. Seriously. Do it.
Midtown
"BUT SELDEN STANDARD ISN'T AN ITALIAN RESTAURANT," shout the inevitable all-caps commenters. Yes, we know. But even despite that slight discrepancy, Andy Hollyday is making some of the best Italian dishes in the city of Detroit. Squid ink chittara, sweet pea agnolotti, and lamb ragu or GTFO.
Dearborn
One of only two old-school "red sauce" Italian joints that will appear on this list, likely to the chagrin of many readers and the other old-school red sauce Italian joints we snubbed, Roman Village -- along with its sister restaurants, Antonio's -- absolutely nails the old-school red sauce concept with rich, meaty, creamy sauces covering perfectly al dente homemade pastas made fresh in-house daily, served with heaping baskets of homemade garlic bread that will make you say, "But I don't want to fill up on bread" as you shove another piece in your mouth. It's been around for 60 years and as long as it keeps doing it like this, it'll be around for 60 more.
Royal Oak
What a pleasant surprise this place was when it popped up on the scene unexpectedly a couple of years ago! Trattoria da Luigi serves wood-fired pizzas in addition to antipasti, pastas, salads, and entrees. The food isn't fancy but it's flavorful and well executed, and even the small but solidly Italian wine list is a pleasant surprise. While it might not be setting new standards for Italian dining in metro Detroit, Trattoria da Luigi is a welcome addition.
Corktown
Ottava Via fulfilled Corktown's need for a contemporary Italian pizzeria and restaurant that serves formaggi and salumeria -- aka cheese and charcuterie -- along with Neapolitan pizzas topped with items like prosciutto and pancetta, flavorful pastas like truffle butter linguine (which is still delicious despite "truffle butter" taking on a whole new meaning in the parlance of our times), large entrees like a whole branzino and half a chicken, and Berkshire pork belly porchetta. It's meat-centric to be sure, and also quite stylish; the patio with the bocce ball court is just a great place to be in the summer. Corktown needed an Italian place, and Ottava Via handsomely delivers.

Southwest Detroit
And this is the other red sauce joint on this list. Giovanni Cannarsa is the child of Italian immigrants who had a vision to turn her family's pizza parlor into a full-scale five-star restaurant, and while "stars" may be relative (still, 4.5 on Yelp is pretty damn good considering the community can be merciless), there is no denying that Giovanni's has earned its place as a local favorite. Emphasizing ingredients that are fresh and locally grown, Giovanni's also makes an effort at being as close to a "farm to table" red sauce joint as possible, which is kind of a rare thing for this old school style of restaurant.
Farmington Hills
Café Cortina has received accolades from near and far as one of the best Italian restaurants in Michigan, including recognition from the Food Network, Zagat, the Wine Spectator Award of Excellence, and Hour's Restaurant of the Year. But the true magic of Café Cortina is in its ambiance, from the indoor fireplaces to cozy up to in the winter, to the lush outdoor gardens that make this a hugely popular wedding destination the rest of the year. Cortina's Italian countryside vineyard setting is truly spectacular, and feels like an idyllic fairytale escape that's worlds away from suburban metro Detroit. And the gardens aren't just for show, either -- in the summer, 70% of the restaurant's produce, greens and herbs come from their own property.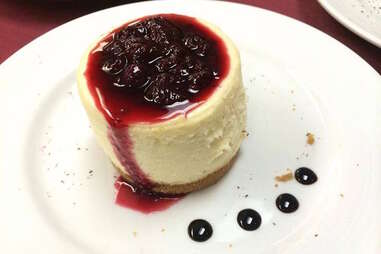 Downtown
Before the recent flurry of restaurant openings made Detroit a very exciting-in-a-good-way place to be, Angelina Italian Bistro was the most exciting place to open during those dark, exciting-in-a-bad-way times. Located inside the Madison Building, and not without some tension with the building's new owners, Angelina has held strong and continues serving modern Italian fare with handmade pastas, house-butchered and house-smoked meats and fish, plus made-from-scratch desserts all in a sexy urban loft space with high ceilings, exposed brick, and floor-to-ceiling windows overlooking Grand Circus Park and Comerica Park. A consistently interesting (and rarely praised) wine list and a nice selection of Detroit beers make this as good a place to hit for drinks and antipasti, or to get a beer before a baseball game, as it is a perfect location for dinner before the opera.
Sign up here for our daily Detroit email and be the first to get all the food/drink/fun Motor City has to offer.